Sunset Leather Wrap Essential Oil Diffuser Bracelet/ Choker Necklace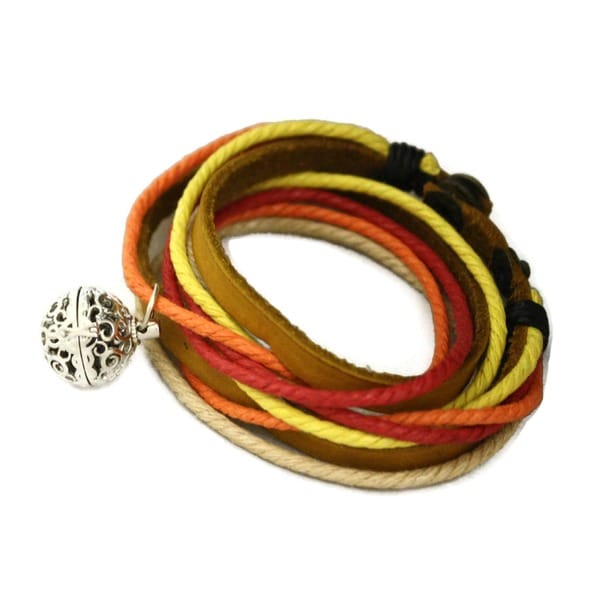 The 'Sunset' bracelet/choker necklace is made of beautiful red, coral, yellow and cream colored leather that emulates a beautiful sunset. This versatile piece can be worn as a bracelet or choker necklace depending on your preference. Attached to the jewelry is an essential oil diffuser charm that will emit luxurious fragrances throughout the day. How to Use: Unclasp the latch and open locket. Remove lava stone from locket. Add 2 drops of your favorite essential oil (or 1 drop of a few different oils to make a custom blend) to the reusable lava stone. Let it absorb for at ...
Buy Now
£16.99

Related Products
$31.49
Allure diffusers use silent ultrasonic waves that work with water and natural essential oils to produce a mist for humidifying and purifying your space. With beautiful and soothing color changing lights, Allure diffusers will help you de-stress on those extra long work days, when you need it the most. The water tank has a capacity of 80ml of water that lasts up to eight hours. When natural essential oils are used with Allure diffusers, they relieve stress and provide relaxing, calming comfort.
$49.00
New Color Apple LED Lamp with Aromatherapy Diffuser. Essential oil into the oil vase of top lamp. White or variety colors are free to choice.2 way of brightness with multi color, Switchable, Cyclic va Style: International Color: Multi-Color Fragrances: Aromatic Age: Adult
£18.35
Balance your Chakras easily and effectively with essential oils and our 7 Chakra Essential Oil Bracelet. By adding one of the needed oils to the essential oil pendant, you can regain balance and live your best life.If you do not follow Chakras- use as a beautiful diffuser bracelet. The stones are so pretty and go with everything! Type: Diffusers Country of Origin: United States We cannot accept returns on this product.