Tribal Dark Brown Triple Wrap Essential Oil Aromatherapy Diffuser Bracelet/ Necklace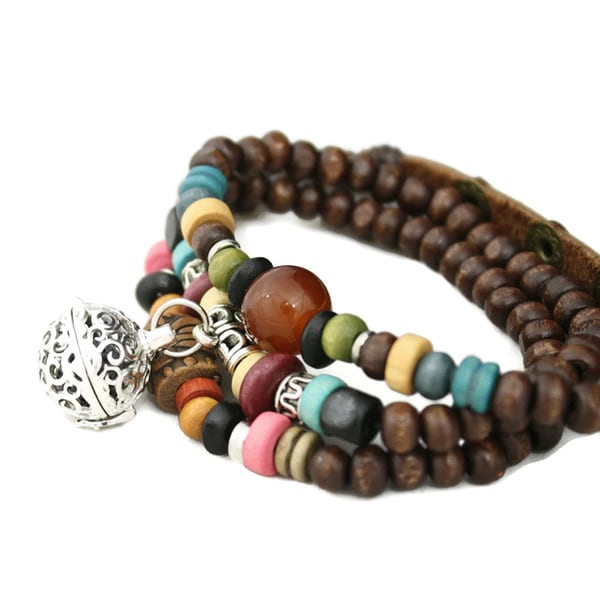 With the fun versatility of this charming piece of jewelry, you can adorn your neck, wrist, or ankle with pizzazz. This wooden bead essential oil diffuser piece can be worn as a triple wrap bracelet or longer necklace. Fill it with your favorite essential oils to leave a lovely aroma wafting in your wake. Material: Wood, Metal States: Iowa Measuring 22-23.5 inches with 3 snap options, this colorful piece is perfect for everyone Size: 7 or 7.5 inches triple wrapped as bracelet; 22-23.5 inches as single strand necklace Diffuser locket size: 0.5 inches x ...
Buy Now
£18.51

Related Products
£12.50
Take the benefits of essential oil aromatherapy wherever you go with this diffuser necklace. A gorgeous cross pendant on a ball station stainless steel 18" chain will last for a very long time. To add oil, just remove the chain, open the pendant, add two drops of essential oil and let it absorb for five to 15 minutes. Wipe off the excess oil with a tissue, reassemble the necklace and enjoy the essential oil all day. Features: Business based in Iowa Cross shape Dark grey lava bead 2 extra lava beads included 18-inch ball station stainless steel chain Rhodium pendant measures 1 inch wide x 1.5 inches tall About the Manufacturer: Welcome to Destination Oils. My name is Kara and I am the owner of Destination Oils, a small essential oil business located in Iowa. We want to bring great, high quality essential oils and unique aromatherapy jewelry to the online marketplace. Our oils are 100-percent pure, therapeutic grade with no fillers, preservatives, or chemicals. Just oil. Pure and Natural- Essentials You Can Trust.
$16.96
OMNIHIL Replacement (8FT) Adapter Charger for GreenAir SpaVapor+ Instant Wellness 150ml Essential Oil Diffuser-(FA7501)
$26.84
SpaRoom Phoenix Essential Oil Diffuser: Coverage area: Up to 200 square feetMist output intensity: high up to 4 hours, medium up to 6 hours, low up to 12 hoursLight mode: solid blue light with 3 brightness level options or offWater capacity: 3.71 fl ozAutomatic safety shut-offPhoenix essential oil diffuser measures: 3.22" L x 4.33" W x 8.07" H