Turtle Boys Essential Oil Diffuser Leather Necklace with Lava Stone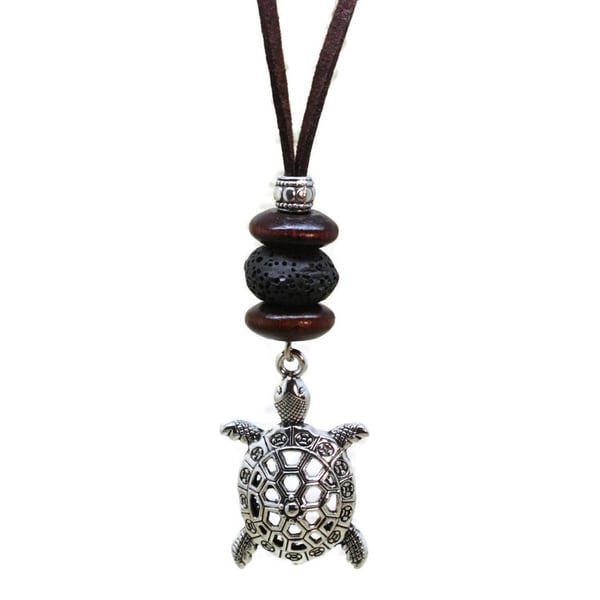 Perfect for boys who might not like other diffuser jewelry, this diffuser necklace features a leather necklace with a metal turtle pendant that holds a lava stone soaked with your favorite essential oil. Just drop a few drops of essential oil on the removable lava stone and experience soothing aromatherapy all day long. This necklace comes with two extra lava stones. Features: Based in Iowa Leather, metal, wood beads 18-inch leather necklace with 2-inch extension 1.5 x 1 inch turtle pendant Includes 2 extra lava stones About the Manufacturer: Welcome to Destination Oils. My name is Kara ...
Buy Now
$18.19

Related Products
$39.99
ABLEGRID® 150ml Ultrasonic Humidifier Purifier LED Electric Aromatherapy Essential Oil Diffuser Style: Antique Color: Grey Electrical Outlet Plug Type: Plug Type "A? (USA, Canada, Mexico, Japan)
£15.02
With the fun versatility of this charming piece of jewelry, you can adorn your neck, wrist, or ankle with pizzazz. This wooden bead essential oil diffuser piece can be worn as a triple wrap bracelet or longer necklace. Fill it with your favorite essential oils to leave a lovely aroma wafting in your wake. Material: Wood, Metal States: Iowa Measuring 22-23.5 inches with 3 snap options, this colorful piece is perfect for everyone Size: 7 or 7.5 inches triple wrapped as bracelet; 22-23.5 inches as single strand necklace Diffuser locket size: 0.5 inches x 0.5 inches Included in package: Bracelet and three 10mm lava stones (assorted colors) Closure: durable snap, 3 positions Materials: Leather, wooden beads and quality cotton cord, rhodium plated diffuser locket Length: 18 inches with 2-inch extender Diffuser pendant size: 0.8-inches circle (20mm) Chain Material: Cowhide, black Pendant Material: Stainless Steel Included in package: Necklace and three 22mm felt diffuser pads (assorted colors) Story Behind the Art: Welcome to Destination Oils. My name is Kara and I am the owner of Destination Oils, a small essential oil business located in Iowa. We want to bring great, high quality essential oils and unique aromatherapy jewelry to the online marketplace. Our oils are 100-percent pure, therapeutic grade with no fillers, preservatives, or chemicals. Just oil. The best quality for a great price. How to Use: Unclasp the latch and open locket. Remove lava stone from locket. Add 2 drops of your favorite essential oil (or 1 drop of a few different oils to make a custom blend) to the reusable lava stone. Let it absorb for at least 5 minutes (15 minutes would be ideal), wipe off any remaining oil with a tissue to protect inside of diffuser locket, reassemble and enjoy the aromatherapy benefits on the go.
$11.49
Cute Bear Air Humidifier Mini Air Purifier Aroma Diffuser USB Charging Mist Maker Essential Oil Diffuser For Car Home brown