Unique Stainless Steel Essential Oil Diffuser Antique Silver 20-inch Necklace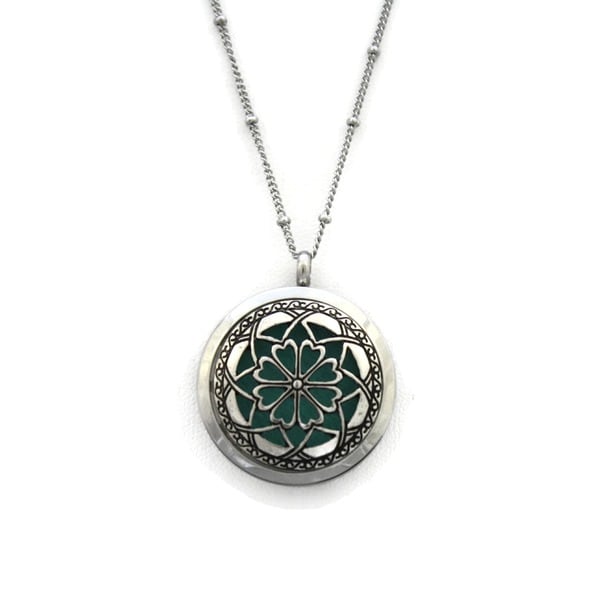 Use this pendant as an attractive accent to your outfit and to experience essential oil aromatherapy wherever you go. The stainless steel pendant opens to reveal a felt diffuser pad. Just drop a small amount of your favorite essential oil on the pad to experience the pleasing scent all day long. Business based in Iowa 30mm stainless steel pendant Cutout design 20-inch ball station style 316L Stainless Steel chain Lobster claw clasp 3 felt diffuser pads Welcome to Destination Oils. My name is Kara and I am the owner of Destination Oils, a small essential oil business located in ...
Buy Now
£24.61

Related Products
£24.61
SCENT YOUR SPACE AND SERENADE YOUR SENSES Relaxation in a Bottle Clean and invigorating, our Classic Breeze fragrance reed diffuser fills your space with an enchanting scent that is beautifully-balanced to make an inviting impression without being overpowering. And our fresh fragrance doesn't just smell amazing, it also treats you to authentic aromatherapy properties that you'll love. Classic Breeze improves your mood, helps you relax, and creates the ideal environment to melt stress away and shed fatigue. Uncompromising Quality We take great pride in giving you products for your home created with impressive quality in mind. That's why we've combined high-grade essential oils with premium packaging to create a reed diffuser stands out. Our oils are VOC & CARB compliant and completely free of alcohol, parabens, or phthalates. And the reed diffuser kit comes packed in a lovely gift box that eliminates the hassle of gift wrapping. If you're looking for a perfect present to crown a housewarming, anniversary, birthday, or the holidays, this premium spa reed diffuser will be a total hit. Here are more reasons to love our non-toxic reed diffuser: - Comes in a 2.5oz. bottle that lasts over 2 months. - Beautiful glass bottle blends into just about any decor. - Very easy to use; doesn't need any electricity or flame. - The intensity of the scent can be easily adjusted by adding or removing sticks. - Diffuser sticks are made using fiber for superior diffusing action. - Backed by our 100% customer satisfaction guarantee. Click 'Add to Cart' now for a home fragrance reed diffuser that smells great, lasts longer, and treats you to genuine aromatherapy benefits!
$30.99
This essential oil diffuser bracelet provides a great base for any charms you want to add. Say what is on your mind and tell your loved one how you feel with our "Charmed" bracelet. Type: Diffusers Country of Origin: United States
$49.95
"Lull" by Quooz provides more than a conventional mist. Depending on the essential oils you use, it can uplift your spirits, assist in relaxation, or ward off infections. "Lull" utilizes the most advanced and effective method of diffusing essential oils, using ultrasonic aromatherapy technology. It doesn't use heat, so the essential oil integrity is maintained. "Lull" is a healthy and safe alternative to synthetic room fresheners and scented candles. Just fill with tap water and add a few drops of your favorite oil. The room will soon be filled with the goodness of your choice. The diffuser will also emit a cool mist and moisturize the air around it, relieving dry cough, sinus, and cold and flu symptoms. This elegant diffuser has a soothing light that can be turned on to your preferred brightness or turned off completely. The light can also be set to "breathing mode"- fading gradually and brightening again. The changing light is programmed at comfortable frequency to vividly simulate human deep breath, providing therapeutic function of relaxing the nervous system. ?The unit switches off automatically when the water runs low ?High capacity- can operate up to 8-10 hours ? Low energy use ?No condensation ? Easy to clean & long- lasting ? Perfect for enjoying the benefits of essential oils or for using just with water ?Creates a soothing, calming atmosphere while beautifying and moisturizing your skin ?Stylish & compact design, shaping a spring flower bud before bloom ?Great for every room in your home, office, hotel- just about anywhere. So, open your senses to the beauty of aromatherapy - a true retreat for the body, mind and soul. Included in the gift box: Lull diffuser A/C adapter User manual