Unique Stainless Steel Essential Oil Diffuser Antique Silver 20-inch Necklace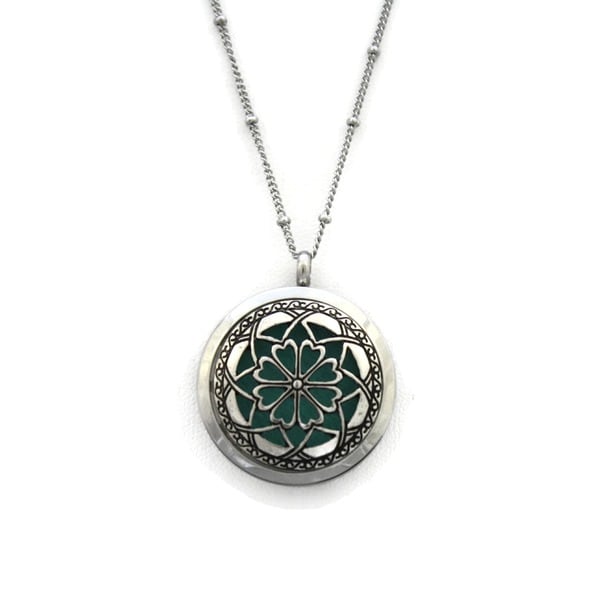 Use this pendant as an attractive accent to your outfit and to experience essential oil aromatherapy wherever you go. The stainless steel pendant opens to reveal a felt diffuser pad. Just drop a small amount of your favorite essential oil on the pad to experience the pleasing scent all day long. Business based in Iowa 30mm stainless steel pendant Cutout design 20-inch ball station style 316L Stainless Steel chain Lobster claw clasp 3 felt diffuser pads Welcome to Destination Oils. My name is Kara and I am the owner of Destination Oils, a small essential oil business located in ...
Buy Now
£20.19

Related Products
$40.00
Allure diffusers use silent ultrasonic waves that work with water and natural essential oils to produce a mist for humidifying and purifying your space. With beautiful and soothing color changing lights, Allure diffusers will help you de-stress on those extra long work days, when you need it the most. The water tank has a capacity of 80ml of water that lasts up to eight hours. When natural essential oils are used with Allure diffusers, they relieve stress and provide relaxing, calming comfort.
£26.93
Activate your senses to soothe and invigorate your mind, body and spirit with this stylish oil diffuser. ZAQ uses LiteMist Technology to break up the blending of essential oil and water into mist of micro-particles and disperses them into the air. Brighten up your home or office with the heavenly mist and warm glow from this ZAQ diffuser. This attractive aromatherapy essential oil diffuser is made from eco-friendly plastic. Choose from one of three vibrant colors: blue, pink or orange. The soft fragrance and radiant light from this ZAQ diffuser make your space exotic and inviting. Intended use: Aromatherapy Brand: ZAQ Color: Blue, pink, orange Eco-friendly Materials: Plastic Dimensions: 4.3 inches in diameter x 8.7 inches high
£17.89
Take your essential oils with you by using this elegant essential oil diffuser bracelet. Multiple metal colors allow for versatility, whether you like gold or silver, this bracelet has both. How to Use: Unclasp the latch and open locket. Remove lava stone from locket. Add 2 drops of your favorite essential oil (or 1 drop of a few different oils to make a custom blend) to the reusable lava stone. Let it absorb for at least 5 minutes (15 minutes would be ideal), wipe off any remaining oil with a tissue to protect inside of diffuser locket, reassemble and enjoy the aromatherapy benefits on the go. Details: Company based in Iowa Bracelet Brown braided leather Gold and silver accent beads 3 lava stones Essential oil diffuser 7 inches long Diffuser measures 0.5 inches x 0.5 inches About the Manufacturer: Welcome to Destination Oils. My name is Kara and I am the owner of Destination Oils, a small essential oil business located in Iowa. We want to bring great, high quality essential oils and unique aromatherapy jewelry to the online marketplace. Our oils are 100-percent pure, therapeutic grade with no fillers, preservatives, or chemicals. Just oil. Pure and Natural- Essentials You Can Trust.