Unique Two-tone Gold and Silver Stainless Steel Essential Oil Diffuser Necklace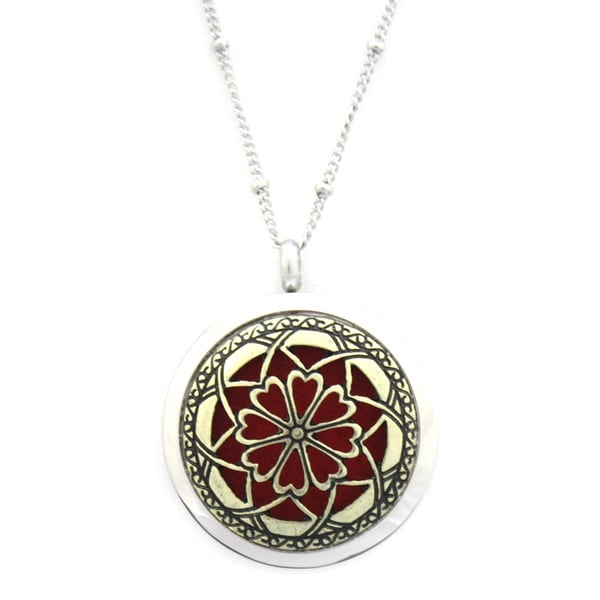 The 'Unique' essential oil diffuser pendant features a two-tone design with gold and silver details. The bright silver and gold with black accents looks so elegant, this is a piece that you will not find anywhere else. Company based in Iowa 316L Surgical Grade Stainless Steel Chain and Locket 20 inches long Two-tone gold and silver pendant Essential oil diffuser Includes 3 felt diffuser pads Pendant measures 1.2 inches in diameter How to Use: Remove felt insert from locket. Add 2 drops of your favorite essential oil (or 1 drop of a few different oils to make ...
Buy Now
$23.29

Related Products
£16.20
The 'Sunset' bracelet/choker necklace is made of beautiful red, coral, yellow and cream colored leather that emulates a beautiful sunset. This versatile piece can be worn as a bracelet or choker necklace depending on your preference. Attached to the jewelry is an essential oil diffuser charm that will emit luxurious fragrances throughout the day. How to Use: Unclasp the latch and open locket. Remove lava stone from locket. Add 2 drops of your favorite essential oil (or 1 drop of a few different oils to make a custom blend) to the reusable lava stone. Let it absorb for at least 5 minutes (15 minutes would be ideal), wipe off any remaining oil with a tissue to protect inside of diffuser locket, reassemble and enjoy the aromatherapy benefits on the go. Features: Company is based in Iowa Brown leather strands Metal essential oil diffuser 3 lava stones Bracelet measures 7 - 7.25 inches long Necklace measures 15.5 inches long Diffuser measures 0.5 inches x 0.5 inches About the Manufacturer: Welcome to Destination Oils. My name is Kara and I am the owner of Destination Oils, a small essential oil business located in Iowa. We want to bring great, high quality essential oils and unique aromatherapy jewelry to the online marketplace. Our oils are 100-percent pure, therapeutic grade with no fillers, preservatives, or chemicals. Just oil. Pure and Natural- Essentials You Can Trust.
$56.64
Zaq Lotus LiteMist Ultrasonic Aromatherapy Color-Changing Light Essential Oil Diffuser: Silently mists essential oils into your space500ml capacity machine runs for up to 8 hours in high mist mode and 17 hours in low mist modeBPA free and made of safe, health -friendly materials.
$59.99
PureGuardian SPA325CA 200ml Ultrasonic Cool Mist Designer Glass Aromatherapy Essential Oil Diffuser