Unite Essential Oil Diffuser Black Bracelet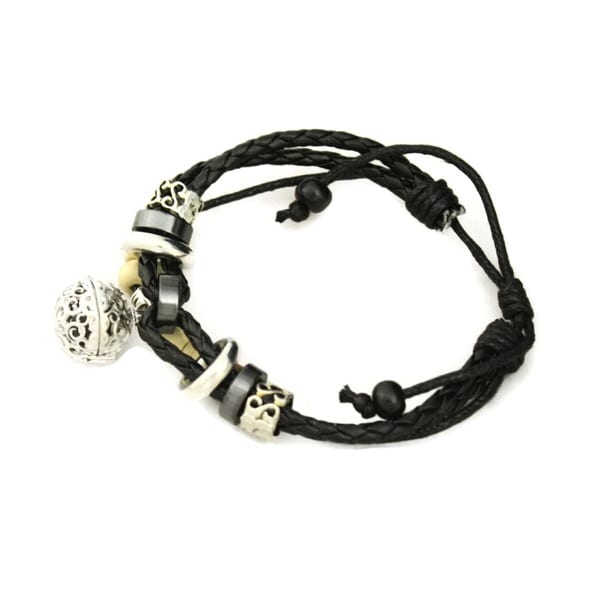 This is one of our newest styles, a soft black leather braid accompanied by metal and wood accents. With an adjustable slide closure, sizing is not an issue. We like how the gunmetal ring unites both sides of the bracelet, so we called it 'Unite'. Features: Company based in Iowa Leather bracelet Metal beads Essential oil diffuser 3 lava stones 7 inches to 11 inches long Diffuser measures 0.5 inches x 0.5 inches About the Manufacturer: Welcome to Destination Oils. My name is Kara and I am the owner of Destination Oils, a small essential oil business located ...
Buy Now
£14.16

Related Products
$39.98
300ml+50ml Aromatherapy Essential Oil Diffuser Humidifier with 4 Timer Settings, 7 LED Color Changing Lamps and Waterless Auto Shut off (350ml, white)
$32.99
ZAQ Sky is the All in One Mini-humidifier, Ionizer, Aroma Diffuser and Night Light to help rid of your child's air of any germs, dust and odors.As a Mid-Sized Diffuser (6.88" x 4.65" x 3.35") - 120 ML, its large enough to moisturize your child's skin and assist in their breathing5 Different Light Mode (No Light Mode) - Warm Night Light - Upto 12 Hours Run Time - Intermittent and Continuous Mist ModeZAQ SKY is BPA Free and Made of Safe, Health Friendly Materials. No Heat So its perfect for Kids and the Whole Family1 Year ZAQ Manufacturer's Warranty - If any problems please contact us and we will get it taken care of as soon as possible. Perfect Gift for Babies, Baby Shower, Christmas, Birthday
£14.74
MONQ personal essential oil diffusers use vaporizer technology to deliver all-natural essential oil blends in classic aromatherapy combinations. The portable diffusers several blends, all of which are free of nicotine, tobacco, GMOs, artificial ingredients, and are 100% organic and vegan. Breathe into your mouth, pause, and exhale through your nose. Plant fragrances pass through your olfactory system inspiring relaxation. MONQ uses 100% naturally extracted and organic essential oils, harvested from eco-friendly farms across the world. Their essential oils are the highest quality, so that every breath is effective.