Unite Essential Oil Diffuser Black Bracelet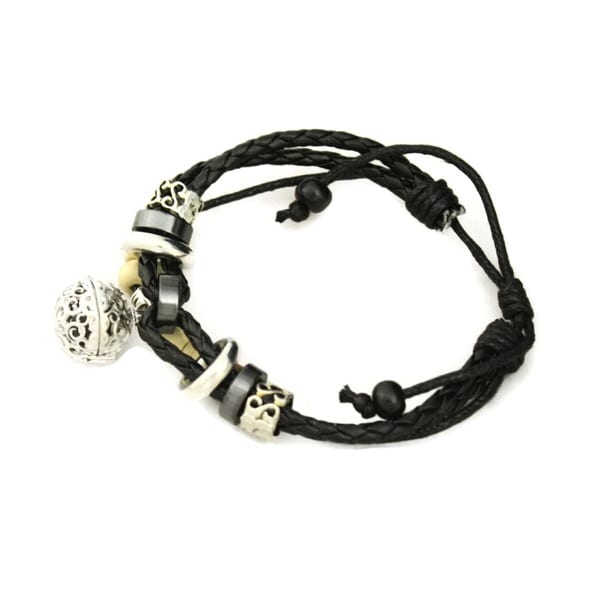 This is one of our newest styles, a soft black leather braid accompanied by metal and wood accents. With an adjustable slide closure, sizing is not an issue. We like how the gunmetal ring unites both sides of the bracelet, so we called it 'Unite'. Features: Company based in Iowa Leather bracelet Metal beads Essential oil diffuser 3 lava stones 7 inches to 11 inches long Diffuser measures 0.5 inches x 0.5 inches About the Manufacturer: Welcome to Destination Oils. My name is Kara and I am the owner of Destination Oils, a small essential oil business located ...
Buy Now
$19.99

Related Products
$39.99
Add beautiful fragrance to your bedroom or favorite relaxing spot with this ZAQ Noor essential oil diffuser. Drop in your favorite pure or blended essential oil, and this aromatherapy diffuser infuses it into a fine mist to perfume the air. The diffuser runs for three to four hours, safely shutting itself off when the water base runs out. Operates up to 3-4 hours; No condensation Intended use: N/A Brand: ZAQ Color: White or green Dimensions: 6.1 inches x 6.1 inches x 7 inches
$7.46
Getting Your FREE Bonus Download this book, read it to the end and see "BONUS: Your FREE Gift"chapter after the conclusion. Essential Oils:(FREE Bonus Included) 40 Amazing Essential Oil Recipes for Diffusers Essential oils play major role in medical research, as a matter of fact, there seem to be no disease that essential oils show no promising abilities to cure. Various studies on essential oils have revealed the potential benefits and potencies of the aromatic nature of the substance in dealing with diseases such as diabetes, cancer, heart disease, High blood pressure, skin infections, Alzheimer, and cardiovascular disorders. Luckily, it is easy to find and make essential oils at home through the process of diffusion. This book has been researched and written to serve as a guide, especially in the making of diffused essential oils and then applying the right quantities of the oils for various medicinal applications. This book will teach you the importance of the world's most potent essential oils, and you will also learn the following: The ingredients and features in each group of essential oils and why they are used for some particular ailments. The best essential oil recipes that has been proven to be effective. Essential oil diffusion basics- mixing your essential oils to get the best result. How to enhance and protect the powers of your essential oil through proper storage and packaging. How to apply the diffused oils to achieve the best possible results. Download your E book "Essential Oils: 40 Amazing Essential Oil Recipes for Diffusers " by scrolling up and clicking "Buy Now with 1-Click" button!
$69.99
Note: Twist upper lid to the right to open diffuser. Align groove inside the lid with bulge on the case, and then twist upper lid to the left to lock until lid and base are tightly fastened. Improper operation will cause upper lid get stuck and can't be opened InnoGear essential oil diffusers are guaranteed to give 100% satisfaction in every way. We stand behind everything we sell. Return anything purchased from us at any time if it proves otherwise. We do not want you to have anything from InnGear that is not completely satisfactory. This is perfect for small to medium sized rooms. Keeping your living space humid helps prevent colds/flu and congestion. Hit the light button to transforms through 7 colors like a rainbow or stays on the color of your choice. Features: Three Settings toggled by the Mist button (Green/Red/Off): * Green - intermittent mist (Mist 30 seconds and Pause 30 seconds) * Red - continuous mist * Off- You may use it as a color changing light without mist Auto shut off when water runs out. Keep essential oil 100% natural without burning or heating. Please add water below the Max line Specifications: Material: Upper parts PP Capacity of water tank: About 100ml Noise Level: less than 35 dB Input Power: AC 100-240V 50/60HZ Most advanced ultrasonic technology: 2.4MHz Working time: 3 hrs continuous mode, 6 hrs intermittent mode Package Contents: 1 x Aroma Diffuser 1 x Wall Charger 1 x Measuring Cup for Filling Water 1 x User Manual *45 Days Money Back and 18 Months Warranty Note: Oil is not included in this package