Volleyball Stainless Steel Essential Oil Diffuser Black Cowhide Necklace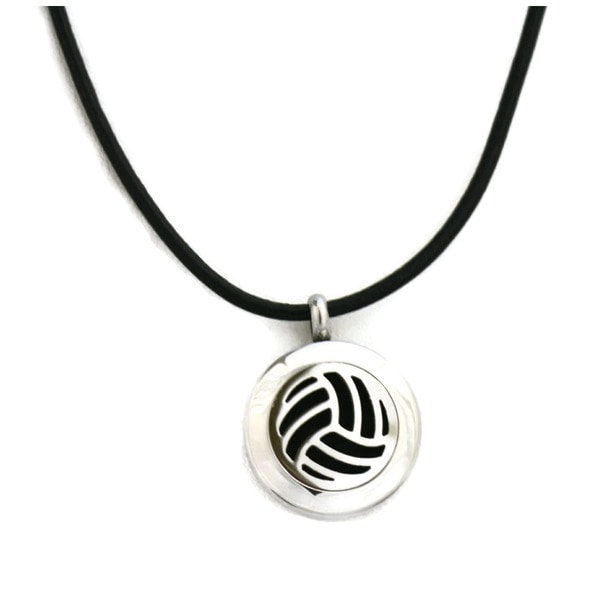 This is a great necklace for you or the volleyball fanatic in your life. The stainless steel volleyball pendant hangs from a black cowhide chain, the pendant is the same diameter as a penny. Also included is three felt diffuser pads in assorted colors, so you can wear you essential oils all day long. How to Use: Open the pendant and remove felt insert. Add 2 drops of your favorite essential oil (or 1 drop of a few different oils to make a custom blend) to the reusable felt pad. Let it absorb for a few seconds, reassemble necklace and ...
Buy Now
$22.29

Related Products
$26.49
A corkscrew design adds interest to this sleek, white diffuser, which can last up to 6 continuous hours using under 5 ounces of water. Lasting up to 6 hours, this diffuser has a soft white light that combine with the aromatic mist to create a relaxing, calming environment. Continuous Run Time: Up to 6 hrs Water Capacity: 140 mL (4.73 fl oz) Coverage Area: Up to 200 sq ft Light Mode: Soft White Power Indicator Power: AC Adapter
$20.57
Simply Diffusers JIRO Ultrasonic Cool Mist Travel Essential Oil Diffuser with LED Color-Changing Mood Lighting, Black: Can be used for your personal home or office space and can also be used by certified aromatherapists, trained massage specialists and by skilled professionals in medicine, psychiatry, career/marriage/relationship counseling, hotels, spas, offices and other public and private locationsCompact, portable and easy to travel withHeavy duty, substantial and equipped with a powerful but durable, energy-efficient electric pump that is virtually silentSmell a little or smell a lot â whichever your preference, you may quickly adjust the amount of scent emitting with a simple push of a buttonSmell your favorite aromas throughout your space (up to 1000 sq ft)Auto Shut-Off feature allows you to fall asleep knowing the JIRO will shut off on its own once it runs low on waterDecorate and upgrade your home or office with a piece of artistic, modern craftsmanship while also getting maximum health benefits and effectiveness from diffusing pure essential oilsPerfect for any small roomProvides an ultrasonic mist and makes virtually no soundPress the button once for constant diffusion and color changing LED lightsPress the button twice to set a specific colorPress the button 3 times for diffusion with no lightsPress the button a fourth time to shut JIRO offJIRO automatically shuts off when emptyRuns constantly for 3-4 hours
£24.82
Ultrasonic transducer vibrates at a steady and high frequency that makes the molecules of water and the essential oils so tiny that it is easily absorbed by the body. This creates the negative ions and moisturizes air & skin allowing you to enjoy the aromatherapy effectively.Pursonic Essential Oil Diffuser brings the all-natural healing power of aromatherapy to your home or office with a stylish design that complements any decor. Doubling as a cool mist humidifier, Pursonic can be used with or without essential oil to moisturize the dry air during any season. When oils are used, Pursonic' s safe, non-heating diffusion maintains the integrity of your essential oils so you can enjoy their full aroma therapeutic benefits.