Wellspring Handmade Wood Ultrasonic Essential Oil Diffuser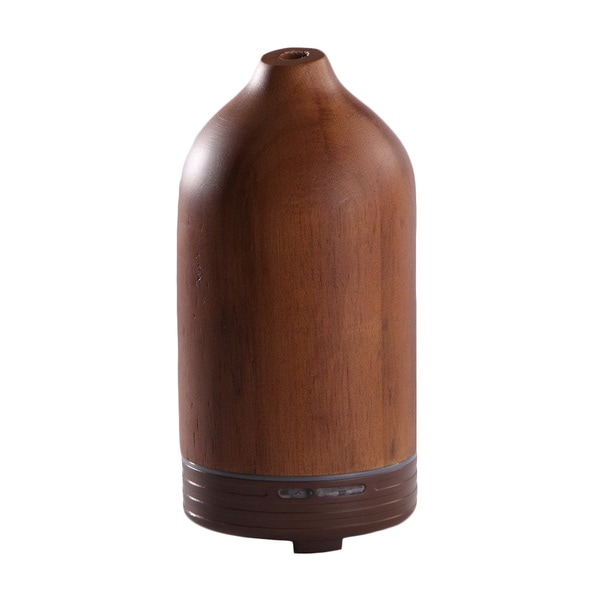 Diffuse your favorite essential oils in this beautiful, handmade wood ultrasonic essential oil diffuser. This little diffuser uses powerful 2.4mhz ultrasonic vibrations per second to quickly fill any room up to 215 square-feet with the pure aroma of unheated or burned essential oils. A 3.38 fluid ounce reservoir guarantees up to 6 hours of air purification on intermittent misting or continuous misting for 3. In addition to its function as aroma diffuser and air humidifier which eliminates dust allergens, this diffuser also has a beautiful LED light for a relaxing ambiance. The little gadget includes settings for ...
Buy Now
£63.92

Related Products
$38.99
Description: Humanized working modes This essential oil diffuser allows four working modes: continuous mist, 3 hours mist time pattern, lights only and mist only modes for your different choice. Relieve your stress This ultrasonic aroma diffuser releases your favorite fragrance by ionizing essential oil and produces negative ions which helps you to lift your mood and discharge pressure in scented and fresh air. Humidify and purify air This aroma diffuser turns water and essential oil into micro-particles to moisturizes and refreshes the quality of air we breathe, which helps to alleviate colds/flu and congestion symptoms. Ultrasonic Technology With ultrasonic waves, this aroma humidifier will not influence your work and sleep without vibration and heating. Colorful mood light 7 changing mood light is available that you can choose the color you like or let it changing by themselves to make your space romantic. Auto-off system Monitor the capacity of the water and shut-off automatically when water runs out of to ensure safety. Note: Please cover the upper lid and clockwise rotate it until upper lid and base are tightly fastened. Please add water-soluble essential oil into the diffuser or it will come out the mist without fragrance at first and then stop misting after a period of time use. Specification: Capacity of water tank: About 100mlInput Power: AC 100-240V 50/60HZWorking time:4-5 hours in continuous modeApplication: Beauty salon, Bedroom, Living room, SPA, Yoga, Conference room, Office, Reception center, Toilet, baby room, Hotel, Hospital etc. Package Included:1 x Aroma Diffuser1 x Wall Charger1 x User Manual1x Measuring Cup
$37.99
A 100% pure, natural and refreshing blend of essential oil that quickly gives a feeling of free breathing. Experience a balanced blend with this elegant fragrance made in France. Can be used with any of your beautiful Puzhen aroma diffusers. Zen: Superb aromatic blend aids your quest for serenity and relaxation. Provence: Enjoy a distinctive aromatic blend, reminiscent of it namesake location, Provence France. Meditation: Experience sacred essential oils and other noble aromatic extracts. Eucalyptus: A refreshing blend of Eucalyptus essential oil. Citronnel: Enjoy the pleasures of summer days and evenings - without the bugs!30 mlDimensions: 11" L x 4" W x 4" H
£41.86
Crucial Essential Oil Diffuser by Crucial Air is the ultimate gift from nature. This unit has a remarkable ability to affect a person's well-being and improve the environment around them. A huge help for you to achieve physical, emotional, mental and spiritual well-being. Product is perfect for a gift or for your own use in your home, office and studio. It's a great looking, stylish, ceramic, aromatherapy essential oil diffuser that will fit in with your stylish furniture and won't stick out like a sore thumb. It's unique style will blend right in. Fits on your counter top, bookshelf, dresser, table, desk, or anywhere. The essential oil is diffused without heat, which keeps the oil in tact and doesn't burn like other methods. The Crucial Essence is also an air purifier and humidifier as it diffuses, which will keep your air clean and smelling great. It's as simple as opening the box, plugging the product in, adding the water to the fill line and adding your essential oil of choice. You have the option to turn the essential oil diffuser on to continuously stream or to stream intermittently for 30-second intervals. There's an optional LED light that can be used as a night light and LED night light illumination can be turned on or off while diffusing essential oils. Holds about.5 cup of water and lasts intermittently for 6 hours and continuously streams for 3 hours. You can't go wrong with this ceramic essential oil diffuser by Crucial Air. When the day is full of stress and chaotic schedules, some days we require a moment to sit down, shut our eyes and relax. Sit for a moment and breathe in and out, slowly relaxing your shoulders and your mind. With a few drops of our Crucial Air essential oils into an Aromatherapy diffuser, you fill your home with a refreshing scent that rejuvenates your skin and soothes the intake of air into your body. So next time you wish to have a moment for yourself during the stressful day, breathe in the natural scents of the Earth's greatest herbs and relax comfortably in your home again. The Lemongrass scent is designed with the lemongrass herb for a minty, top note refreshing scent.Caution: If pregnant, suffering from any medical condition, or taking medication consult a health care provider before use. Avoid eyes and mucous membranes. Dilute properly. May irritate skin. Not for internal use. Keep out of the reach of children.