Wellspring Handmade Wood Ultrasonic Essential Oil Diffuser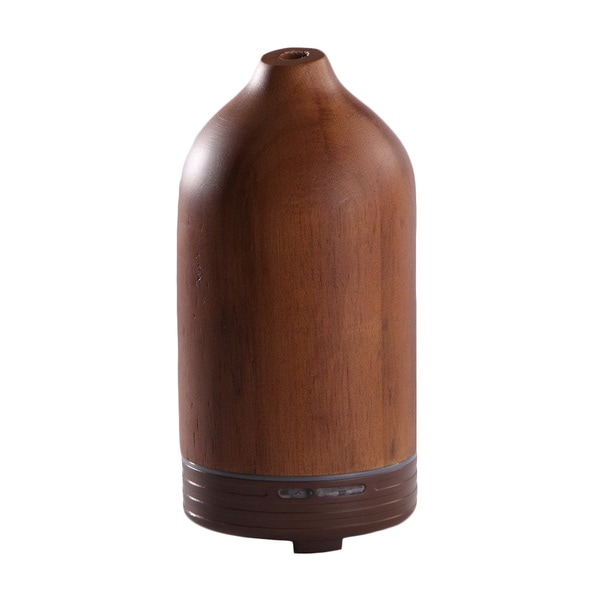 Diffuse your favorite essential oils in this beautiful, handmade wood ultrasonic essential oil diffuser. This little diffuser uses powerful 2.4mhz ultrasonic vibrations per second to quickly fill any room up to 215 square-feet with the pure aroma of unheated or burned essential oils. A 3.38 fluid ounce reservoir guarantees up to 6 hours of air purification on intermittent misting or continuous misting for 3. In addition to its function as aroma diffuser and air humidifier which eliminates dust allergens, this diffuser also has a beautiful LED light for a relaxing ambiance. The little gadget includes settings for ...
Buy Now
£54.52

Related Products
$20.49
MONQ personal essential oil diffusers use vaporizer technology to deliver all-natural essential oil blends in classic aromatherapy combinations. The portable diffusers several blends, all of which are free of nicotine, tobacco, GMOs, artificial ingredients, and are 100% organic and vegan. Breathe into your mouth, pause, and exhale through your nose. Plant fragrances pass through your olfactory system inspiring relaxation. MONQ uses 100% naturally extracted and organic essential oils, harvested from eco-friendly farms across the world. Their essential oils are the highest quality, so that every breath is effective.
£24.43
ZAQ Sky is the All in One Mini-humidifier, Ionizer, Aroma Diffuser and Night Light to help rid of your child's air of any germs, dust and odors.As a Mid-Sized Diffuser (6.88" x 4.65" x 3.35") - 120 ML, its large enough to moisturize your child's skin and assist in their breathing5 Different Light Mode (No Light Mode) - Warm Night Light - Upto 12 Hours Run Time - Intermittent and Continuous Mist ModeZAQ SKY is BPA Free and Made of Safe, Health Friendly Materials. No Heat So its perfect for Kids and the Whole Family1 Year ZAQ Manufacturer's Warranty - If any problems please contact us and we will get it taken care of as soon as possible. Perfect Gift for Babies, Baby Shower, Christmas, Birthday
£35.40
Deliver style and warmth to any room with this aromatherapy essential oil diffuser from ZAQ Paradise. Crafted from sculpted glass, this diffuser gives the appearance of an elegant piece of art while delivering a delightful aroma to any space. Crafted from sculpted glass for durability and beauty Unique ridges are inspired by the ripples left on sand by gentle seas for an elegant appearance Glass diffuser delivers a subtle scent of essential oil throughout the room Diffuser measures 8.6 inches x 8.1 inches