Wellspring Handmade Wood Ultrasonic Essential Oil Diffuser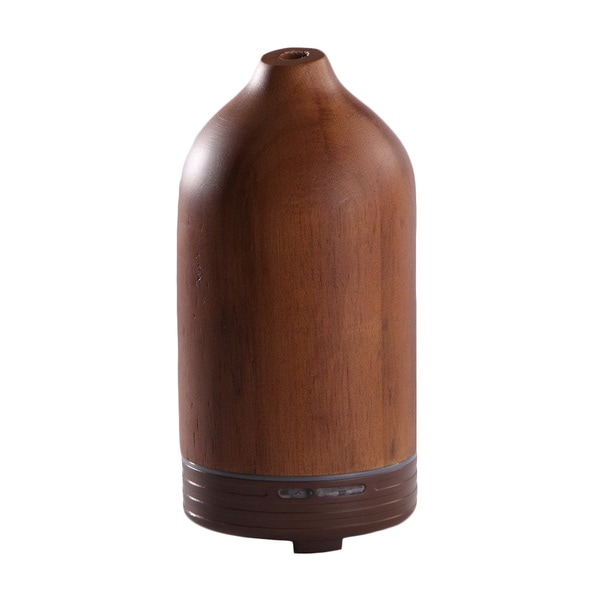 Diffuse your favorite essential oils in this beautiful, handmade wood ultrasonic essential oil diffuser. This little diffuser uses powerful 2.4mhz ultrasonic vibrations per second to quickly fill any room up to 215 square-feet with the pure aroma of unheated or burned essential oils. A 3.38 fluid ounce reservoir guarantees up to 6 hours of air purification on intermittent misting or continuous misting for 3. In addition to its function as aroma diffuser and air humidifier which eliminates dust allergens, this diffuser also has a beautiful LED light for a relaxing ambiance. The little gadget includes settings for ...
Buy Now
£58.78

Related Products
£24.16
Ideal for small rooms, like home, professional office settings, Yoga or massage therapy studio, and everywhere you want a heady aroma. Modes: 1H/3H/Continuous Patterns, Lights Only, Mist Only Lighting Modes: Cycle through or set it to one fixed color (You willhave 14 colors to choose from) Runs about 5-8 hours with one filling of water Input Power: AC100-240V 50/60Hz Output Power: DC24V 500mA Power: 10W Timer Mode: 1H/3H/ON Material: PP/ABS/PC Though small(L W G) is this diffuser, it relieves you of cough, cold, and flu symptoms and helps lift mood and relieve stress while purifying the air and moisturizing your skin. It helps you unwind at the end of a hard day. Great for Small Room . Includes: One (1) 150ml Wood Grain Diffuser One (1) Measuring Cup One (1) Adapter One (1) User Manual
£13.58
The antique silver pendant compass gives great proportions to the wooden beads and lava stone part of this necklace. This diffuser necklace is very comfortable to wear with a very soft brown leather cord. The charm part of necklace attaches with a clasp, allowing you to change the lava stones. The beads slide down over the lobster clasp while wearing the necklace for seamless functionality. Company based in Iowa Leather cord necklace Essential oil diffuser Compass shaped pendant Black lava stone 20 inches long Pendant measures 1.25 inches x 1 inch This product is part of our 'Main Street Revolution' - a partnership between Overstock.com and small businesses around the USA. What is the Main Street Revolution? Welcome to Destination Oils. My name is Kara and I am the owner of Destination Oils, a small essential oil business located in Iowa. We want to bring great, high quality essential oils and unique aromatherapy jewelry to the online marketplace. Our oils are 100-percent pure, therapeutic grade with no fillers, preservatives, or chemicals. Just oil. Pure and Natural- Essentials You Can Trust. How to Use: Unclasp charm and remove first wooden bead and lava stone. Add 2 drops of your favorite essential oil (or 1 drop of a few different oils to make a custom blend) to the reusable lava stone. Let it absorb for at least 5 minutes (15 minutes would be ideal), wipe off any remaining oil with a tissue to avoid any skin irritation, reassemble necklace, and enjoy the aromatherapy benefits on the go.
£22.62
Activate your senses to soothe and invigorate your mind, body and spirit with this stylish oil diffuser. ZAQ uses LiteMist Technology to break up the blending of essential oil and water into mist of micro-particles and disperses them into the air. Brighten up your home or office with the heavenly mist and warm glow from this ZAQ diffuser. This attractive aromatherapy essential oil diffuser is made from eco-friendly plastic. Choose from one of three vibrant colors: blue, pink or orange. The soft fragrance and radiant light from this ZAQ diffuser make your space exotic and inviting. Intended use: Aromatherapy Brand: ZAQ Color: Blue, pink, orange Eco-friendly Materials: Plastic Dimensions: 4.3 inches in diameter x 8.7 inches high