Wellspring Handmade Wood Ultrasonic Essential Oil Diffuser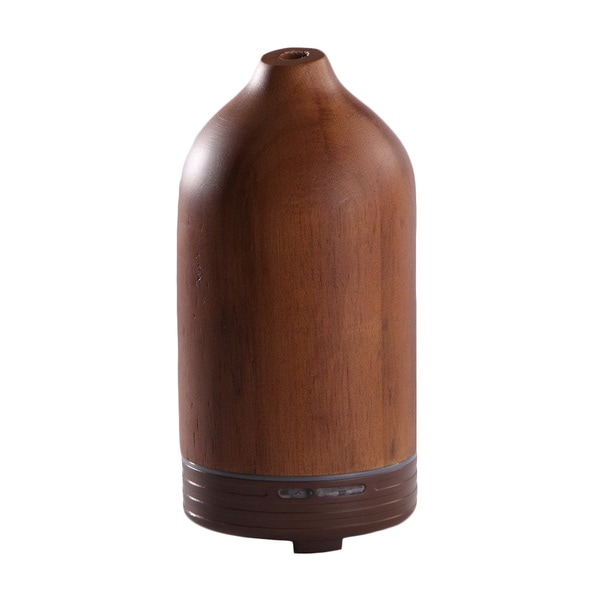 Diffuse your favorite essential oils in this beautiful, handmade wood ultrasonic essential oil diffuser. This little diffuser uses powerful 2.4mhz ultrasonic vibrations per second to quickly fill any room up to 215 square-feet with the pure aroma of unheated or burned essential oils. A 3.38 fluid ounce reservoir guarantees up to 6 hours of air purification on intermittent misting or continuous misting for 3. In addition to its function as aroma diffuser and air humidifier which eliminates dust allergens, this diffuser also has a beautiful LED light for a relaxing ambiance. The little gadget includes settings for ...
Buy Now
£50.29

Related Products
$59.99
Welledia Wellspring Ceramic Essential Oil Diffuser - Wood
£12.40
Diffuse your favorite essential oils wherever you are with this beautiful butterfly diffuser necklace. Made from rhodium-plated metal, this pendant has a grey lava bead inside and two extra color beads as well. Dangling from an 16-inch link chain, this necklace is perfect for girls wanting to take their oils on the go. How to Use: Remove the chain from the pendant and open. Add 2 drops of your favorite essential oil (or 1 drop of a few different oils to make a custom blend) to the reusable lava stone. Let it absorb for at least 5 minutes (15 minutes would be ideal), wipe off any remaining oil with a tissue to protect inside of necklace, reassemble necklace and enjoy the aromatherapy benefits on the go. Material: 316L Surgical Grade Stainless Steel, Rhodium Metal This product is part of our 'Main Street Revolution' - a partnership between Overstock.com and small businesses around the USA. What is the Main Street Revolution? Welcome to Destination Oils. My name is Kara and I am the owner of Destination Oils, a small essential oil business located in Iowa. We want to bring great, high quality essential oils and unique aromatherapy jewelry to the online marketplace. Our oils are 100-percent pure, therapeutic grade with no fillers, preservatives, or chemicals. Just oil. Pure and Natural- Essentials You Can Trust.
$65.99
This is wood grain coating aroma diffuser ultrasonic humidifier air purifier. With the compact and portable design, nice shape and unique style: especially design for those people who love life. You can choose to add some essential oil into the water tank, and the mist will be mixed with the fragrance of the essential oil. This aroma diffuser is perfectly suitable for bedroom, office, living room, bathroom,conference room, hotel, yoga clubs,fitness center, SPA center, etc. Primitive and Natural Appearance: Inspired by nature, this humidifier is coated with wood grain which makes it is look natural and original. With soft and smooth mist, help you to escape the hustle and bustle of modern city and achieve the inner peace. Whisper-quiet: This humidifier is adopted ultrasonic technology which does not generate noise when working. You can rest assured to use it when you are sleeping, working or studying,doing Yoga, and enjoying SPA. Automatic Power off Safety System: When the water is used up, it will turn off automatically to protects the product from being burned out. The accessories are in the water tank of the product, please open the water tank cover to get the accessories. Simple Operation: Based on user-friendly principle, this essential oil diffuser is easily to use, no complicated operation. Advanced Ultrasonic Technology: 2.4MHZ Working time: Up to 10 hours Input power: AC100-240V 50/60HZ Support Lack Water Protection: Yes With LED Light: Yes Support Light Color Changing/Dynamic Color: Yes Support Freeze/Fix Light Color: Yes Weight: 14.4 oz. Dimensions: 6.6 x 6.6 x 6.6 x 4.75 inches Steps for opperation: Put this product on a horizontal position Lift up the cap of the humidifier, fill the water tank with purified water Add drops of aromatherapy /essential oil into the water tank Connect the humidifier to power source and press 'MIST' to choose your desired mode. You can press 'LIGHT' to change the color of LED light. When the water is used up, the unit will automatically power off along with 'beep' sound. Function Keys: 'MIST': Press the 'Mist' button, choose the time from 1 hour/ 3 hours/ 6 hours/ steady on. 'Light': Press the 'Light' button to turn on the LED light, the color will change automatically. Press the 'Light' button again to freeze the color you want. Press the 'Light' button again to change another color (7 colors are available). Each color is adjustable between Bright and Dim. Includes: One (1) Ultrasonic Humidifier One (1) Adapter One (1) User Manual