Wellspring Handmade Wood Ultrasonic Essential Oil Diffuser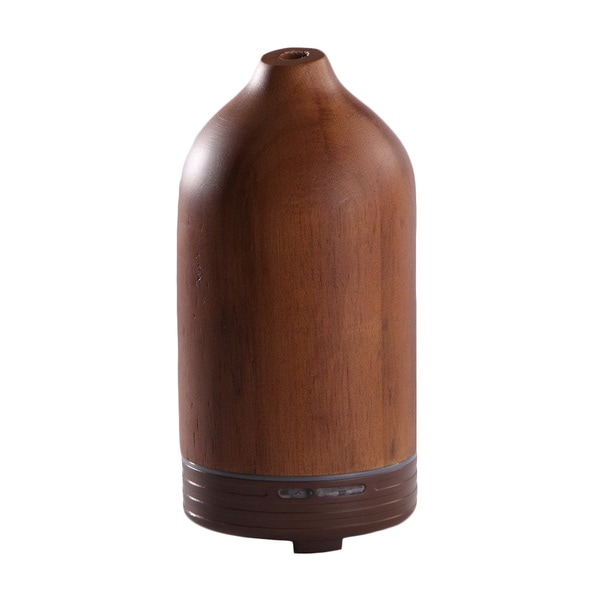 Diffuse your favorite essential oils in this beautiful, handmade wood ultrasonic essential oil diffuser. This little diffuser uses powerful 2.4mhz ultrasonic vibrations per second to quickly fill any room up to 215 square-feet with the pure aroma of unheated or burned essential oils. A 3.38 fluid ounce reservoir guarantees up to 6 hours of air purification on intermittent misting or continuous misting for 3. In addition to its function as aroma diffuser and air humidifier which eliminates dust allergens, this diffuser also has a beautiful LED light for a relaxing ambiance. The little gadget includes settings for ...
Buy Now
£50.29

Related Products
$30.99
ZAQ Sky is the All in One Mini-humidifier, Ionizer, Aroma Diffuser and Night Light to help rid of your child's air of any germs, dust and odors.As a Mid-Sized Diffuser (6.88" x 4.65" x 3.35") - 120 ML, its large enough to moisturize your child's skin and assist in their breathing5 Different Light Mode (No Light Mode) - Warm Night Light - Upto 12 Hours Run Time - Intermittent and Continuous Mist ModeZAQ SKY is BPA Free and Made of Safe, Health Friendly Materials. No Heat So its perfect for Kids and the Whole Family1 Year ZAQ Manufacturer's Warranty - If any problems please contact us and we will get it taken care of as soon as possible. Perfect Gift for Babies, Baby Shower, Christmas, Birthday
$16.99
Image®Mini Crystal Symphony LED Night Light Ultrasonic Humidifier Aroma USB Humidifier Desktop Light Essential Oil Diffuser Mist Maker(BLUE) Color: Blue
$19.29
This is one of our newest styles, a soft black leather braid accompanied by metal and wood accents. With an adjustable slide closure, sizing is not an issue. We like how the gunmetal ring unites both sides of the bracelet, so we called it 'Unite'. Features: Company based in Iowa Leather bracelet Metal beads Essential oil diffuser 3 lava stones 7 inches to 11 inches long Diffuser measures 0.5 inches x 0.5 inches About the Manufacturer: Welcome to Destination Oils. My name is Kara and I am the owner of Destination Oils, a small essential oil business located in Iowa. We want to bring great, high quality essential oils and unique aromatherapy jewelry to the online marketplace. Our oils are 100-percent pure, therapeutic grade with no fillers, preservatives, or chemicals. Just oil. Pure and Natural- Essentials You Can Trust. How to Use: Unclasp the latch and open locket. Remove lava stone from locket. Add 2 drops of your favorite essential oil (or 1 drop of a few different oils to make a custom blend) to the reusable lava stone. Let it absorb for at least 5 minutes (15 minutes would be ideal), wipe off any remaining oil with a tissue to protect inside of diffuser locket, reassemble and enjoy the aromatherapy benefits on the go.