Wish Silver Prayer Box Essential Oil Diffuser 18-inch Necklace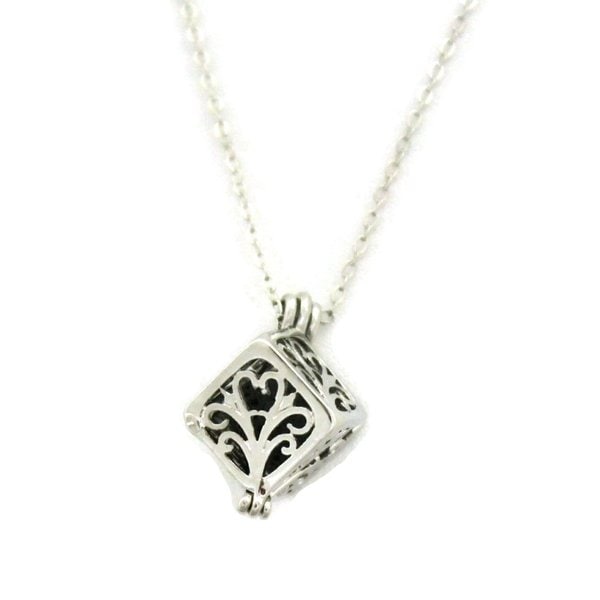 Wish', a prayer box-style essential oil necklace, is a great option for those who want something delicate with dimension. The 3D cubical shape has a chain secured close that holds the lava stone inside, making it reliable and durable. This necklace looks great layered too, try with other necklaces already in your jewelry box. Features: Pendant necklace Rhodium plated Essential oil diffuser Filigree design 3D cube shape Dual magnet closure Pendant measures 1 inch x .625 inches Includes 3 6mm lava stones 18-inch long chain About the Manufacturer: Welcome to Destination Oils. Our goal is to bring great, ...
Buy Now
$21.69

Related Products
$41.99
Soothe the senses and improve air quality of any home with this ZAQ Dew LiteMist aromatherapy essential oil diffuser. The LiteMist technology disperses a mist of micro-particles, made from a blend of oil and water, into the air to help relax the mind and body. This aromatherapy diffuser has a humidifying effect that does not use heat, and the simple design has a decorative quality that adds to the look of any room. Use for aromatherapy Made of white plastic Power consumption: 12 W Voltage: 24V DC, 100-240V AC Operates for 4 hours and shuts of automatically Dimensions: 4.2 inches high x 7.1 inches round
$8.38
100% Plant Based All-Natural Essential OilNo additives, making it safe to use even on the most sensitive skin. Myrtle oil gained its popularity because of its antimicrobial, astringent, antiseptic, anti-inflammatory, expectorant, decongestant and stimulant properties. It also functions as an effective deodorizer. We stand by the quality of our product, if ever you are not satisfied with our product we will be very happy to replace them or give you a refund for your purchase.
$29.95
Plant Therapy's KidSafe® Lil' Stinkers? Essential Oil Diffuser Aroma Plush? Animal Coco the Bird & Signature Essential Oil