Wish Silver Prayer Box Essential Oil Diffuser 18-inch Necklace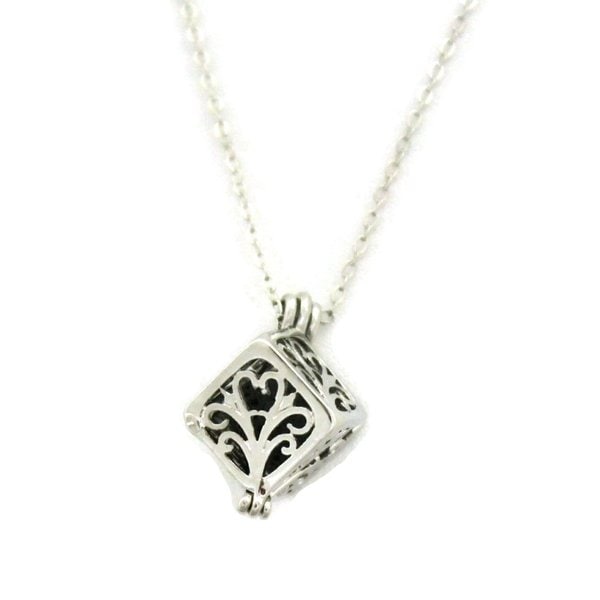 Wish', a prayer box-style essential oil necklace, is a great option for those who want something delicate with dimension. The 3D cubical shape has a chain secured close that holds the lava stone inside, making it reliable and durable. This necklace looks great layered too, try with other necklaces already in your jewelry box. Features: Pendant necklace Rhodium plated Essential oil diffuser Filigree design 3D cube shape Dual magnet closure Pendant measures 1 inch x .625 inches Includes 3 6mm lava stones 18-inch long chain About the Manufacturer: Welcome to Destination Oils. Our goal is to bring great, ...
Buy Now
$22.29

Related Products
£21.87
Refresh your home with this Seneo ultrasonic high-capacity essential oil diffuser, which also humidifies your space. This whisper-quiet device operates silently, and the seven-color LED fills a room with soothing glow. Whisper-Quiet Ultrasonic Technology: Humidify your living space with a lovely fragrance which does not generate noise. You can rest assured to use it when you are sleeping, working or studying,doing Yoga, and enjoying SPA. Ultra-high Capacity and Output: This aroma cool mist humidifier can hold up to 2.3L of water and produce up to 300ml of moisture per hour. It can run up to 6 hours of continuous output at highest setting. It automatically stops working when water used up, which ensures safety and energy efficiency. 7 Changing Rainbow-colored LED Light: You can light up the fantastic LED light with 7 changing colors so it works like a night light at night time. It also creates sweet atmosphere and helps your children remove their fears in darkness at bedtime. Visually-appealing Design: It is in the shape of a teardrop, which looks very cute. The top spout can spin 360° so you can angle your vapor in any direction you want. The control knob allows you to easily adjust the vapor flow. Ultimate Home Relaxation Device: This aroma diffuser relieves you of cough, cold, and flu symptoms and helps lift mood and relieve stress while purifying the air and moisturizing your skin. It helps you unwind at the end of a hard day. Great for every room in your home, office, hotel- just about anywhere. Note: This product mainly services as a humidifier, and the aroma diffuser is an additional function. Please do not directly add essential oil into water tank or water basin, otherwise the product will be corroded by essential oil, which will lead to water leakage.
$12.99
SpaRoom Orbit Essential Oil Fan Diffuser: Coverage area: Up to 100 square feetLight mode: Rotating color lights or offIncludes 3 unscented replaceable microfiber padsPowered by USB cord (included) or 3 AAA batteries (not included)Measures: 2" H x 3.9" D
£35.26
Enjoy gentle fragrances as a mist floating through your immediate environment with this aromatherapy diffuser from ZAQ. This diffuser is ideal for use in salons and spas, and operates up to 15 hours at a time without condensation. Quiet, compact, and energy-efficient Operates for up to 9 hours in high mist mode and 15 hours in low mist mode without condensation No heat source required Essential oils do not degrade during operation Auto shut-off feature Operates in high, soft, or no light mode