ZAQ Mirage LiteMist Aromatherapy Essential Oil Diffuser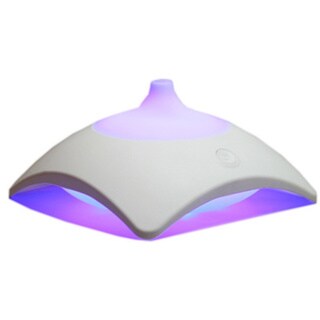 Diffuse your favorite essential oils in this LiteMist aromatherapy diffuser from Zaq. Benefit from the relaxing rewards of aromatherapy with this diffuser that evenly disperses any essential oil throughout the room, allowing you to distress and unwind. Relax with the soothing colors of the diffuser's LED lights, customizable to your favorite color or change between them. The Zaq diffuser holds a capacity of five ounces and is safe for all homes, businesses and dorm rooms, since it does not use heat to operate. The energy efficient aromatherapy diffuser features an auto shut-off for added convenience. Customizable LED light ...
Buy Now
$47.99

Related Products
£18.94
The 'Unique' essential oil diffuser pendant features a two-tone design with gold and silver details. The bright silver and gold with black accents looks so elegant, this is a piece that you will not find anywhere else. Company based in Iowa 316L Surgical Grade Stainless Steel Chain and Locket 20 inches long Two-tone gold and silver pendant Essential oil diffuser Includes 3 felt diffuser pads Pendant measures 1.2 inches in diameter How to Use: Twist open the side that does not have the ring bail on it. Remove felt insert from locket. Add 2 drops of your favorite essential oil (or 1 drop of a few different oils to make a custom blend) to the reusable felt pad. Let it absorb for a few seconds, reassemble necklace and enjoy the aromatherapy benefits on the go. This product is part of our 'Main Street Revolution' - a partnership between Overstock.com and small businesses around the USA. What is the Main Street Revolution? Welcome to Destination Oils. My name is Kara and I am the owner of Destination Oils, a small essential oil business located in Iowa. We want to bring great, high quality essential oils and unique aromatherapy jewelry to the online marketplace. Our oils are 100-percent pure, therapeutic grade with no fillers, preservatives, or chemicals. Just oil. Pure and Natural- Essentials You Can Trust.
$32.99
Essential Oil Diffuser, Aromatherapy Diffuser Ultrasonic Aroma Humidifier with Waterless Auto Shut-off Function -Light Bamboo -350ML Large Capacity -UP To 12 Hours for Home, Yoga, Office, Spa Color: Yellow
$23.99
Easehold Travel Size USB Essential Oil Diffuser 50ml Mini Humidifier Air Purifiers Home Office Car Use Cool Mist 7 Led Lights Wood Grain (Yellow) Color: Black