ZAQ Noor Litemist Aromatherapy Essential Oil Diffuser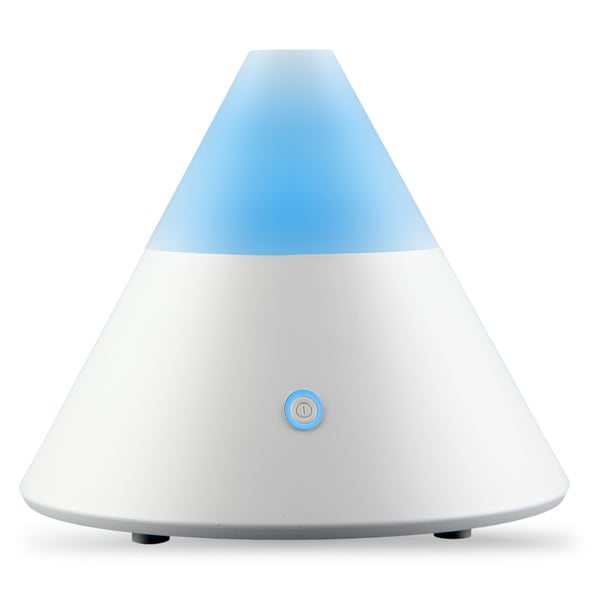 Add beautiful fragrance to your bedroom or favorite relaxing spot with this ZAQ Noor essential oil diffuser. Drop in your favorite pure or blended essential oil, and this aromatherapy diffuser infuses it into a fine mist to perfume the air. The diffuser runs for three to four hours, safely shutting itself off when the water base runs out. Operates up to 3-4 hours; No condensation Intended use: N/A Brand: ZAQ Color: White or green Dimensions: 6.1 inches x 6.1 inches x 7 ...
Buy Now
£28.32

Related Products
£39.65
Crucial Essential Oil Diffuser by Crucial Air is the ultimate gift from nature. This unit has a remarkable ability to affect a person's well-being and improve the environment around them. A huge help for you to achieve physical, emotional, mental and spiritual well-being. Product is perfect for a gift or for your own use in your home, office and studio. It's a great looking, stylish, ceramic, aromatherapy essential oil diffuser that will fit in with your stylish furniture and won't stick out like a sore thumb. It's unique style will blend right in. Fits on your counter top, bookshelf, dresser, table, desk, or anywhere. The essential oil is diffused without heat, which keeps the oil in tact and doesn't burn like other methods. The Crucial Essence is also an air purifier and humidifier as it diffuses, which will keep your air clean and smelling great. It's as simple as opening the box, plugging the product in, adding the water to the fill line and adding your essential oil of choice. You have the option to turn the essential oil diffuser on to continuously stream or to stream intermittently for 30-second intervals. There's an optional LED light that can be used as a night light and LED night light illumination can be turned on or off while diffusing essential oils. Holds about.5 cup of water and lasts intermittently for 6 hours and continuously streams for 3 hours. You can't go wrong with this ceramic essential oil diffuser by Crucial Air. When the day is full of stress and chaotic schedules, some days we require a moment to sit down, shut our eyes and relax. Sit for a moment and breathe in and out, slowly relaxing your shoulders and your mind. With a few drops of our Crucial Air essential oils into an Aromatherapy diffuser, you fill your home with a refreshing scent that rejuvenates your skin and soothes the intake of air into your body. So next time you wish to have a moment for yourself during the stressful day, breathe in the natural scents of the Earth's greatest herbs and relax comfortably in your home again. The Lemongrass scent is designed with the lemongrass herb for a minty, top note refreshing scent.Caution: If pregnant, suffering from any medical condition, or taking medication consult a health care provider before use. Avoid eyes and mucous membranes. Dilute properly. May irritate skin. Not for internal use. Keep out of the reach of children.
£15.72
A great aromatherapy gift for someone you love or yourself. The Beloved Heart essential oil diffuser locket rests on an 18-inch stainless steel link chain. It has a chain-secured close and holds 6mm lava stones. Get one for your loved one and one for yourself. Features: Heart pendant necklace Stainless steel Essential oil diffuser Includes 3 6mm lava stones 18-inch long chain Pendant measures 1 inch x .75 inches About the Manufacturer: Welcome to Destination Oils. Our goal is to bring great, high quality essential oils and unique aromatherapy jewelry to the online marketplace. Our oils are 100-percent pure, therapeutic grade with no fillers, preservatives, or chemicals. Just oil. The Destination Oils line of aromatherapy diffuser jewelry is one of the largest, most diverse available to ensure something for everyone. 90 day warranty on all pieces too. Destination Oils- Your Essential Journey Starts Here
$22.99
This aromatherapy necklace goes with everything. It is lightweight and made from 316L stainless steel with an 18-inch ball station chain. The silver swirl essential oil diffuser encases a lava stone. Features: Pendant necklace 316L stainless steel Essential oil diffuser Swirl design Includes 3 6mm lava stones 18-inch long chain Pendant measures 1 inch x .5 inches About the Manufacturer: Welcome to Destination Oils. Our goal is to bring great, high quality essential oils and unique aromatherapy jewelry to the online marketplace. Our oils are 100-percent pure, therapeutic grade with no fillers, preservatives, or chemicals. Just oil. The Destination Oils line of aromatherapy diffuser jewelry is one of the largest, most diverse available to ensure something for everyone. 90 day warranty on all pieces too. Destination Oils- Your Essential Journey Starts Here