ZAQ Swirl Aromatherapy Essential Oil Diffuser plus Free 10ml Lavender Essential Oil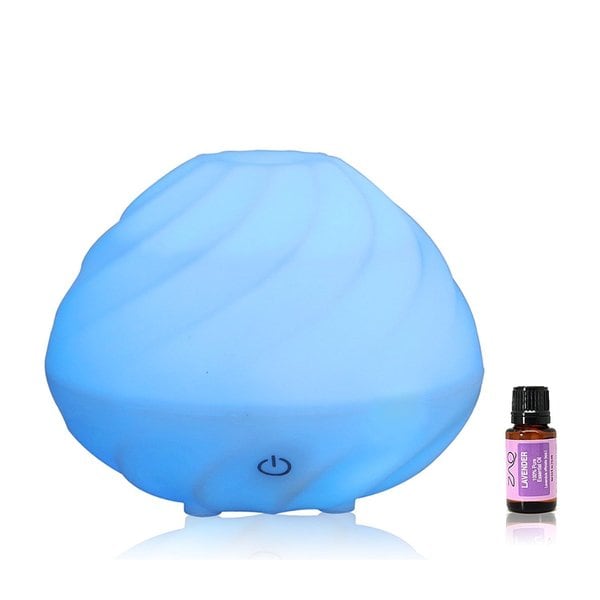 Create a relaxing atmosphere with this ZAQ Swirl aromatherapy diffuser. The unit releases essential oils into the air, while the soft multicolored LEDs fill your space with a soothing glow.
Buy Now
£23.98

Related Products
$5.00
Simply Diffusers Chill Essential Oil Blend: Therapeutic-grade essential oil5mL bottlePerfect to get started in essential oils or to give as a gift
$68.99
Product Description: This ultrasonic aromatherapy diffuser with 1.7 million ultrasonic vibrations per second can keep all natural ingredients and essential oil, which can be better absorbed by the body; aromatherapy effect is much better. With the concept of health and its exquisite design, this diffuser is a suitable gift for your family and friends. It allows you to enjoy life comfortable and healthily. Healing Aroma: Surround yourself with an aura of healing and tranquility with the Aukey Aromatherapy Essential Oil Diffuser. It uses ultrasonic pulsating wave to create a cool healing vapor that moisturizes the surrounding air. Just fill with tap water and add a few drops of your favorite oil, and enjoy the goodness of your choice. Creates Aromatherapy: Uplift your spirit, and treat your body and mind with aromatherapy. The diffuser does not heat the liquid, so ingredients are preserved and become part of the vapor. When your room is filled with health benefiting aroma, you will surely enjoy a more pleasant day, a better sleep at night and scent of a healthier living. More Negative Ion: Diffuser is a great way to add negative ions to your room. Notes: - Please use clean water and do not leave water inside the diffuser for more than 2 days. - Clean the diffuser regularly to prevent bacteria and stain built-up. - The oil is not included. Packag Content: 1 x Aroma Diffuser 1 x Measuring Cup 1 x Power Adapter 1 x Manual Attention: As to the lid couldn't be taken off problem: please seize the lid and turn to the right and lift it up, the lid will be taken off, please remember that don't take off the lid vertically as there are three grooves to combine the lid and the bottom together.
$30.22
2 Speed Mist 7 Color LED Aroma Silent Ultrasonic Cool Mist Humidifier Essential Oil Diffuser, White Type: Humidifier