Pure Pink Grapefruit Essential Oil 15ml by Destination Oils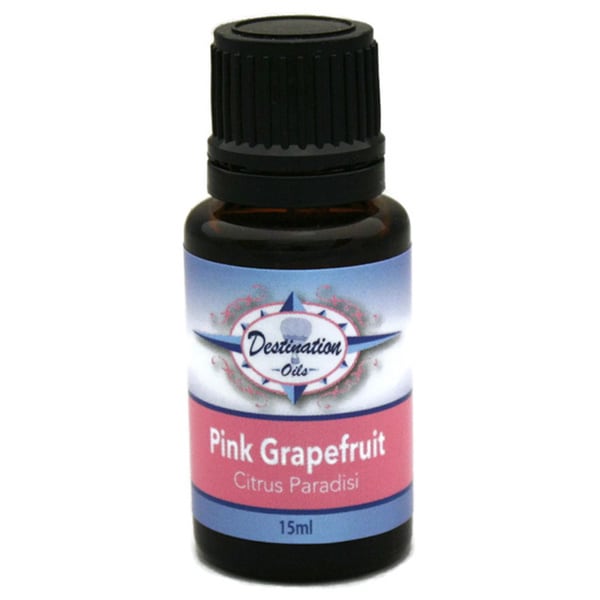 Diffuse this Pink Grapefruit (Citrus Paradisi) Essential Oil to increase motivation, improve skin blemishes due to astringent properties, increase energy and improve skin tone and appearance. It has been used topically with dilution to improve cellulite. With a satisfying scent, this essential oil is just what you need. Great quality at a great price, these essential oils are incredibly concentrated and powerful to help you in multiple ways. Because of their strong concentration, ensure safe use by properly diluting with a carrier oil. Always test for skin sensitivity prior to widespread use. Keep out of eyes, ears, or nose. Keep ...
Buy Now
£11.66

Related Products
$3.95
There are some moments that you wish you could play on repeat. Letting your toes soak into the ocean, sipping coffee on a quiet morning, landing a job or getting on a plane to an exotic location. Grapefruit essential oil helps remind us of those life-giving and inspiring moments of our lives. Its unique properties uplift, revive and inspire a lovely emotional buoyancy. Grapefruit's aroma is sweet and zesty and can ease tension. Topically, it helps the skin restore a youthful glow through its abounding astringent properties. Through inhalation, Grapefruit can help curb the appetite and prevent overeating, leading to weight loss. During massages, Grapefruit stimulates the senses while beautifying the skin. Known for its mild euphoric properties, it settles emotions and restores balance. The earliest records of Grapefruits were found in the West Indies during the early eighteenth century. Florida was home to the first planted Grapefruit trees in 1820. Grapefruits trees grow 30 to 50 feet in height and produce fragrant white flowers that develop into large yellow fruits. The peel is removed and cold pressed to extract the essential oil. It has a thin consistency and has a faint orange color. Grapefruit is a stunning addition to any of Edens Garden citrus single oils or blends.BOTANICAL NAME: Citrus paradisi ORIGIN: USA EXTRACTION METHOD: Cold Pressed PLANT PART: Peel NOTE: Top FAMILY: Rutaceae BLENDS WELL WITH: Lemon, and other citrus AROMA: Citrusy, sweet, bright, and tart CONSISTENCY: Thin - Medium COLOR: Pale Orange **Euro droppers are not included with 100 & 250 ml bottles**SAFETY: Dilute to a maximum of 4% when using topically. Using more than the recommended dilution can cause adverse reactions such as photosensitization, or sensitization SHELF LIFE: 2 Years
$89.66
FeaturesHelichrysum Wild Crafted Essential Oil Blends well with - Rosehip oil (Organic) for scar formula or with Lemon and Geranium for kick-smoking blend. 100% Pure Essential Oil 100% Pure Therapeutic Grade Capacity - 10 ml. Aromatherapy PropertiesAmong its properties are anti-inflammatory, antimicrobial, antitussive, astringent, , expectorant, fungicidal and cicatrisant. The French used this oil primarily as an anti-inflammatory to regulate cholesterol, stimulate the cells of the liver, and as an antispasmodic. This particular variety has powerful antibruise properties. It's ideal to use in lymphatic drainage massage, acts as a stimulant for the liver, gall bladder, kidneys and spleen - - the organs responsible for detoxifying the body. Italidone, one of its chemical components, has been found to have strong mucous thinning, expectorant and cicatrisant properties. It is a rejuvenating oil which promotes cell growth, helping to rebuild tissues. Clears the body of candida apparently, which often thrives when vitality is low. Assists in healing scars, acne, dermatitis, boils and abscesses.
$29.51
FeaturesFrankincense Essential Oil Blends well with - Basil Holy, Geranium, Lavender 40/42, Orange Sweet, Neroli, Patchouli Dark, and Sandalwood East Indian. 100% Pure Essential Oil 100% Pure Therapeutic Grade Capacity - 15 ml. Aromatherapy PropertiesFrankincense aroma is mind stimulant and helps to focus and overcome stress. It is an excellent essential oil for improving spiritual connection and visualizing. Among its properties are antiseptic, astringent, cicatrisant, , digestive, uterine and . Slows down breathing and produces feelings of calm. Ideally used for meditation. Like most other oils extracted from resins, frankincense is effective for respiratory catarrhal discharge and respiratory congestion. Used in inhalations, it may be helpful for asthma sufferers as it eases shortness of breath. Its astringent properties may relieve uterine hemorrhages, as well as heavy periods and generally acts as a tonic to the uterus. Its cytophylactic properties make it an ideal oil for mature, wrinkled skin in need of a lift.