Silky Scents EO30-5ML Lime Essential Oil Citrus Aurantifolia 100 Percent Pure Therapeutic Grade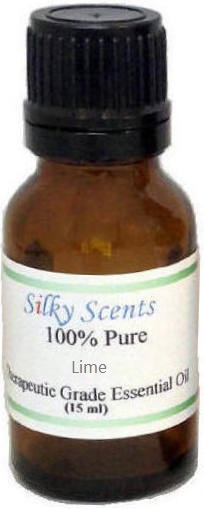 It is antiseptic antiviral astringent disinfectant insecticide restorative. Very stimulating in cases of apathy depression and anxiety. Eases coughs and chest congestion. Encourages appetite may assist in anorexia. Assists in treating alcoholism because of its disinfecting and detoxifying properties. Lime oil has extensive use in the body-care industry and forms along with Lavender oil a great deal of men's fragrances. Blends well with Bergamot Geranium Lavender 40/42 Rose Otto (Bulgarian) and Ylang Ylang I. Capacity - 5 ml.
Buy Now
$13.62

Related Products
$27.09
New Mama Bottom Spray is a cooling soothing perineal mist that helps ease discomfort of postpartum vaginal soreness and swelling episiotomies and hemorrhoids. Made with all-natural ingredients including astringent witch hazel antibacterial lavender and cooling peppermint pure essential oils. Relief is a spray away mist as often as you need it especially after bath or toilet use. The clever inverted sprayer means it sprays easily upside down! FeaturesMade in the USA IngredientsWater Hamamelis virginiana (witch hazel) leaf extract Cucumis sativus (cucumber) fruit extract Kosher vegetable glycerin Lavandula angustifolia (organic lavender) flower oil Mentha piperita (organic peppermint) leaf oil DisclaimerThese statements have not been evaluated by the Food and Drug Administration. This product is not intended to diagnose treat cure or prevent any disease SpecificationsGluten Free: Yes Vegan: Yes Capacity: 4 fl oz Dimension: 6.39 H x 1.56 W x 1.56 D Weight: 0.32 lbs
$9.99
Botanical Name: Pelargonium graveolens Plant Part: Leaves & Flowers Extraction Method: Steam Distilled Origin: China Color: Pale yellow to greenish yellow liquid Common Uses: The therapeutic properties of Geranium Bourbon Essential Oil include the being used as an astringent, haemostatic, diuretic, antiseptic, anti-depressant, tonic, antibiotic, anti-spasmodic and as an anti-infectious agent. This uplifting oil has a great all-over balancing effect and this extends to the skin, where it helps to create balance between oily and dry skin. Geranium Bourbon can also be used to relieve feelings of stress and anxiety, promoting a sense of inner peace. The strong smell of this oil is particularly good to ward off mosquitoes and head lice. Consistency: Thin Note: Middle Strength of Aroma: Strong Aromatic Scent: Geranium Bourbon Essential Oil is a strong smelling oil with a floral aroma and a hint of mint. Cautions: Geranium Oil is non-toxic, non-irritant and generally non-sensitizing. It can cause sensitivity in some people and due to the fact that it balances the hormonal system, it should be avoided during pregnancy
$9.99
Botanical Name: Mentha spicata * Plant Part: Leaves * Extraction Method: Steam Distilled * Origin: China * Description: Spearmint is a native of the Mediterranean area. A hardy perennial herb, Spearmint reaches about 1 meter (3 feet) in height. It has characteristic lance-shaped leaves with pink or lilac-colored flowers. * Color: Colorless to pale yellow clear liquid. * Common Uses: Aromatherapists claim the therapeutic properties of Spearmint Essential Oil are: as a local/topical anesthetic, antispasmodic, astringent, carminative, decongestant, digestive, diuretic, expectorant, stimulant and restorative. It is also believed to be an uplifting oil, great for alleviating fatigue and depression. * Consistency: Thin * Note: Top * Strength of Aroma: Medium * Blends well with: Basil, Birch Sweet, Bergamot, Eucalyptus, Jasmine, Lavender and Rosemary. * Aromatic Scent: Spearmint Essential Oil has a fresh minty smell reminiscent of Peppermint. The major difference is that Spearmint oil is sweeter, and not quite as harsh. * History: The ancient Greeks used Spearmint to scent their bath water. It also had a reputation for curing sexually transmitted diseases like gonorrhea, and for whitening teeth and healing sore gums. This might be credited to its ability to mimic a local anesthetic. * Cautions: Spearmint Essential Oil may irritate mucous membranes. Avoid use during pregnancy.