Silky Scents EO30-5ML Lime Essential Oil Citrus Aurantifolia 100 Percent Pure Therapeutic Grade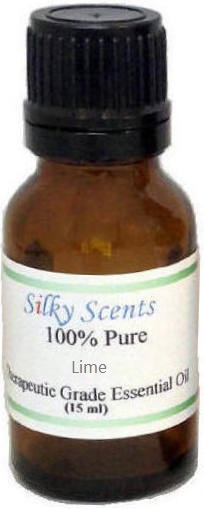 It is antiseptic antiviral astringent disinfectant insecticide restorative. Very stimulating in cases of apathy depression and anxiety. Eases coughs and chest congestion. Encourages appetite may assist in anorexia. Assists in treating alcoholism because of its disinfecting and detoxifying properties. Lime oil has extensive use in the body-care industry and forms along with Lavender oil a great deal of men's fragrances. Blends well with Bergamot Geranium Lavender 40/42 Rose Otto (Bulgarian) and Ylang Ylang I. Capacity - 5 ml.
Buy Now
$22.56

Related Products
$8.59
NOW Solutions - Grapeseed Oil - 4 fl. oz (118 ml) by NOW Type: Alternative Healing Active Ingredients: 100% Pure Grapeseed Oil is a light, odorless oil with mild astringent and emollient properties. This versatile oil contains numerous essential fatty acids including Linoleic, Oleic, Stearic, Palmitic, Myristic and Lauric. The grapeseed oil contained in this product is considered food grade. Form: Oil
$21.81
Calendula flower petals are traditionally used for their beneficial effects on skin and other connective tissues. They are antiseptic anti-inflammatory and astringing hence helping to prevent infection and promote wound healing. This makes them an ideal ingredient in oral care products. This Weleda Calendula toothpaste is a fluoride free all natural formula that supports tooth and gum health without the use of synthetic chemicals. Flavoured with the sweet refreshing taste of fennel essential oil this toothpaste is peppermint free to make it suitable for people taking homeopathic remedies. IngredientsPurified Water Calcium Carbonate Glycerin Magnesium Aluminum Silicate Alcohol Calendula Officinalis Extract Commiphora Myrrha (Myrrh) Extract Foeniculum Vulgare (Fennel) Oil Xanthan Gum Ammonium Glycyrrhizate Limonene SpecificationsVolume: 3.3 fl oz Dimension: 1.53 H x 2.03 W x 5.51 L Weight: 0.33 lbs
$7.95
Botanical Name: Cupressus sempervirens * Plant Part: Needles and Twigs * Extraction Method: Steam Distilled * Origin: Spain * Description: The French Cypress is a perennial, conical-shaped tree that is about 28 meters (80 feet) high. It is an evergreen with dark green foliage, small flowers and round brown-grey cones with seed nuts inside. The wood is hard and durable, and red-yellow in color. * Color: Very pale yellow to golden yellow clear liquid. * Common Uses: Cypress French Essential Oil has been used to combat excessive perspiration (particularly feet), hemorrhoids, menorrhagia, oily skin, rheumatism, and varicose veins. Aromatherapists also commonly credit Cypress French with being a relaxing, nerve soothing essential oil. It has the properties of an astringent and has been used in skin care applications. * Consistency: Thin * Note: Middle * Strength of Aroma: Medium * Blends well with: Lavender, Tea Tree, Lemon Myrtle and Geranium,Cedarwood, Pine, Orange, Sandalwood, Clary Sage, Juniper, Rose,Jasmine, and Cardamom. * Aromatic Scent: Cypress French Essential Oil has a spicy, herbaceous, slightly woody evergreen aroma. It is fresh and clean. * History: The Phoenicians and Cretans used Cypress wood for building ships and homes. The Egyptians used the wood for making sarcophagi (coffins), and the Greeks used it for sculpturing statues of their gods. The Greek word 'Sempervirens' means 'lives forever' or 'ever-living'. The tree gave its name to the island of Cypress where it used to be worshiped. The legend says the cross of Jesus had been made of cypress wood and it generally seems to be connected with death. * Cautions: None known. This oil is regarded as being very gentle and suitable for all skin types.