Silky Scents EO30-5ML Lime Essential Oil Citrus Aurantifolia 100 Percent Pure Therapeutic Grade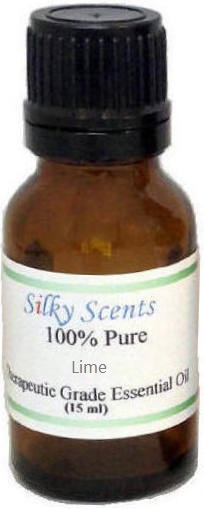 It is antiseptic antiviral astringent disinfectant insecticide restorative. Very stimulating in cases of apathy depression and anxiety. Eases coughs and chest congestion. Encourages appetite may assist in anorexia. Assists in treating alcoholism because of its disinfecting and detoxifying properties. Lime oil has extensive use in the body-care industry and forms along with Lavender oil a great deal of men's fragrances. Blends well with Bergamot Geranium Lavender 40/42 Rose Otto (Bulgarian) and Ylang Ylang I. Capacity - 5 ml.
Buy Now
$13.62

Related Products
$5.99
NOW Solutions - Grapeseed Oil - 4 fl. oz (118 ml) by NOW Type: Alternative Healing Active Ingredients: 100% Pure Grapeseed Oil is a light, odorless oil with mild astringent and emollient properties. This versatile oil contains numerous essential fatty acids including Linoleic, Oleic, Stearic, Palmitic, Myristic and Lauric. The grapeseed oil contained in this product is considered food grade. Form: Oil
$87.68
FeaturesHelichrysum Wild Crafted Essential Oil Blends well with - Rosehip oil (Organic) for scar formula or with Lemon and Geranium for kick-smoking blend. 100% Pure Essential Oil 100% Pure Therapeutic Grade Capacity - 5 ml. Aromatherapy PropertiesAmong its properties are anti-inflammatory antimicrobial antitussive astringent expectorant fungicidal and cicatrisant. The French used this oil primarily as an anti-inflammatory to regulate cholesterol stimulate the cells of the liver and as an antispasmodic. This particular variety has powerful antibruise properties. It's ideal to use in lymphatic drainage massage acts as a stimulant for the liver gall bladder kidneys and spleen - - the organs responsible for detoxifying the body. Italidone one of its chemical components has been found to have strong mucous thinning expectorant and cicatrisant properties. It is a rejuvenating oil which promotes cell growth helping to rebuild tissues. Clears the body of candida apparently which often thrives when vitality is low. Assists in healing scars acne dermatitis boils and abscesses.
$25.99
Rosemary & Thyme - Sweet floral extracts cheer on this astringent blend of essential oils, yielding to a warm amber finish. A delightful way to eliminate and neutralize odors. Features: -Made with cotton core wick which is lead and zinc free.-Simple ...