Silky Scents EO30-5ML Lime Essential Oil Citrus Aurantifolia 100 Percent Pure Therapeutic Grade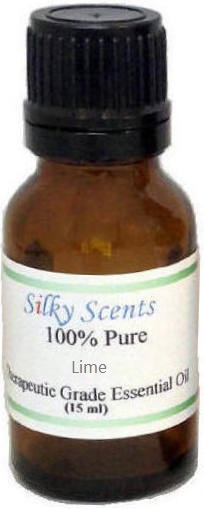 It is antiseptic antiviral astringent disinfectant insecticide restorative. Very stimulating in cases of apathy depression and anxiety. Eases coughs and chest congestion. Encourages appetite may assist in anorexia. Assists in treating alcoholism because of its disinfecting and detoxifying properties. Lime oil has extensive use in the body-care industry and forms along with Lavender oil a great deal of men's fragrances. Blends well with Bergamot Geranium Lavender 40/42 Rose Otto (Bulgarian) and Ylang Ylang I. Capacity - 5 ml.
Buy Now
$15.08

Related Products
$14.95
Supports Oral Health and Detoxification*Suggested Use: Place approximately one tablespoon (15 ml) of oil in the mouth and gently swish back and forth, occasionally pulling the oil through the teeth. Continue for at least a few minutes and up to twenty minutes. The longer you swish the greater the benefits. When finished, spit out the oil (do not swallow) and rinse the mouth with warm water. Twenty minutes can seem like a long time, but you can shower, brush your hair, or do any other morning activity (or just relax), while swishing away.Ingredients: Refined Sesame Oil**, Coconut Oil**, Guduchi**, Fennel**, Amalaki**, Haritaki**, Bibhitaki**, Peppermint Essential Oil**, Spearmint Essential Oil**. Free of gluten, soy, and dairy. 100% vegetarian and vegan friendly. **Certified Organic Possible Contraindications: Please consult with your health care practitioner prior to the use of this product if you are pregnant or nursing, taking medications, or have a medical condition. Keep out of the reach of children. About Banyan Botanicals: Banyan Botanicals was founded in 1996 with the mission to help people achieve and maintain optimal health and well-being. As an Ayurvedic lifestyle company, we specialize in products made from Ayurvedic herbs that are organically grown, sustainably sourced, fairly traded, and made in the USA. Our product line includes the largest selection of USDA certified organic Ayurvedic herbs as well as herbal tablets, liquid extracts, massage oils, and chyavanprash. Banyan is committed to providing exceptional customer service, inspiring educational content, and the highest quality Ayurvedic herbs that are safe, pure, and effective.*These statements have not been evaluated by the Food and Drug Administration. These products are not intended to diagnose, treat, cure or prevent any disease.
$8.49
Certified Organics: This Certified Organic Oil is USDA Certified. * Botanical Name: Mentha spicata * Plant Part: Leaves * Extraction Method: Steam Distilled * Origin: India * Description: Spearmint is a native of the Mediterranean area. A hardy perennial herb, Spearmint reaches about 1 meter (3 feet) in height. It has characteristic lance-shaped leaves with pink or lilac-colored flowers. * Color: Colorless to pale yellow clear liquid. * Common Uses: Aromatherapists claim the therapeutic properties of Organic Spearmint Essential Oil are: as a local/topical anesthetic, antispasmodic, astringent, carminative, decongestant, digestive, diuretic, expectorant, stimulant and restorative. It is also believed to be an uplifting oil, great for alleviating fatigue and depression. It is also reputed to relieve itching (pruritis, eczema, urticaria), cools the skin and, aids in healing of wounds, sores and scabs. * Consistency: Thin * Note: Top * Strength of Aroma: Medium * Blends well with: Basil, Birch Sweet, Bergamot, Eucalyptus, Jasmine, Lavender and Rosemary. * Aromatic Scent: Organic Spearmint Essential Oil has a fresh minty smell reminiscent of Peppermint. The major difference is that Spearmint oil is sweeter, and not quite as harsh. * History: The ancient Greeks used Spearmint to scent their bath water. It also had a reputation for curing sexually transmitted diseases like gonorrhea, and for whitening teeth and healing sore gums. This might be credited to its ability to mimic a local anesthetic. * Cautions: Organic Spearmint Essential Oil may irritate mucous membranes. Avoid use during pregnancy.
$89.15
FeaturesHelichrysum Wild Crafted Essential Oil Blends well with - Rosehip oil (Organic) for scar formula or with Lemon and Geranium for kick-smoking blend. 100% Pure Essential Oil 100% Pure Therapeutic Grade Capacity - 5 ml. Aromatherapy PropertiesAmong its properties are anti-inflammatory antimicrobial antitussive astringent expectorant fungicidal and cicatrisant. The French used this oil primarily as an anti-inflammatory to regulate cholesterol stimulate the cells of the liver and as an antispasmodic. This particular variety has powerful antibruise properties. It's ideal to use in lymphatic drainage massage acts as a stimulant for the liver gall bladder kidneys and spleen - - the organs responsible for detoxifying the body. Italidone one of its chemical components has been found to have strong mucous thinning expectorant and cicatrisant properties. It is a rejuvenating oil which promotes cell growth helping to rebuild tissues. Clears the body of candida apparently which often thrives when vitality is low. Assists in healing scars acne dermatitis boils and abscesses.