Sanar Essentials FR-15 15 ml Frankincense Essential Oil - Boswellia Serrata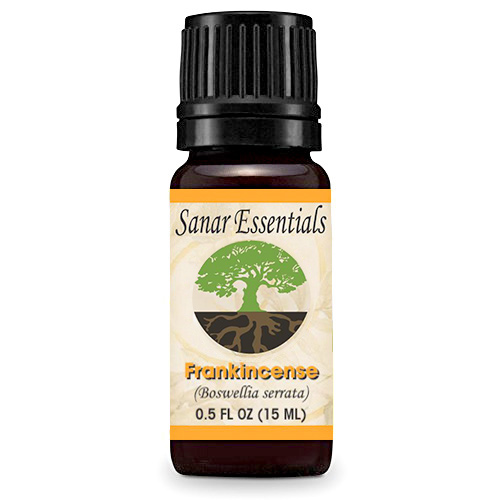 Frankincense Essential Oil - Boswellia Serrata Origin India 100% Pure Therapeutic Grade Frankincense Essential Oil is also a very diverse essential oil commonly used for aromatherapy. Frankincense also known as olibanum relieve chronic stress and anxiety reducing pain and inflammation boosting immunity and even potentially helping to fight cancer. A household favorite recipe combines this essential oil with EV coconut oil to help reduce wrinkles and revive your skin. FeaturesCinnamomum camphora. 100 % Pure. Not for internal use. Keep out of reach of children. SpecificationsSize: 15 ...
Buy Now
$22.72

Related Products
$9.95
Following the gleaming light from a star above, three men traveled through narrow valleys and deserts to offer gifts to a newborn. Called a prince by some and a peasant by others, the baby received Frankincense and Myrrh from the three men who called him, "the savior." For more than 5,000 years, Frankincense and Myrrh has been traded in Africa and the Middle East. In Jerusalem, temples burned Frankincense and Myrrh during sacred rituals. Along with a remarkable aroma, is has many antiseptic, anti-inflammatory and analgesic properties that can help support the respiratory system, high cholesterol and chronic pain. Edens Garden's Frankincense and Myrrh synergy blend is comprised of an exquisite combination of Cedarwood, Himalayan Cedarwood Virginia, Cistus, Frankincense, Myrrh, and Vanilla. As always, our oils are 100% certified therapeutic grade and never contain additives or fillers. With its long history and link to generosity, Frankincense and Myrrh makes for a heartwarming and thoughtful gift.
$11.85
Cinnamon Bark (Ceylon) Essential Oil Scientific name: Cinnamomum zeylanicum Oil origin: Bark Extraction: Steam distillation Aroma: Spicy, warm Odor strength: High Evaporation: Top note Cinnamon Bark (Ceylon) is of nonpareil quality, containing the highest therapeutic content of any cinnamon on Earth. Native to Sri Lanka, pure cinnamon bark essential oil is rare and precious. Cinnamon bark essential oil is strongly antiviral and powerful. It promotes robust circulation and is said to improve libido and sexual prowess. Its strong properties create for an effective analgesic tonic to help mitigate the pain of chronic afflictions. Cinnamon bark (Ceylon) essential oil is an exotic and therapeutic addition to cosmetic applications, personal care formulations, soaps, perfumery, and aromatherapy. Disclaimer: The above statements have not been evaluated by the FDA This information is for educational purposes only, it is not intended to treat, cure, prevent, or diagnose any disease or condition. Nor is it intended to prescribe in any way. This information is for educational purposes only and may not be complete, nor may its data be accurate. Safety precautions : All products are for external use only. Consult a professional reference for correct dilution ratios prior to application. Avoid in pregnancy and lactation. Keep away from eye area. Keep out of reach of children.
$13.45
How to Use Sweet Almond Oil We all know that eating a handful of almonds can provide the body with a long list of advantages. When it comes to the skin and hair, Sweet Almond Oil can be just as beneficial! But if you're new to using oils as part of your daily routine, it can be tricky knowing where to start. Let's take a look at how to use Sweet Almond Oil:     ?  Almond Oil for the Face: From fighting wrinkles and the signs of aging to simply wanting a glowing complexion, Almond Oil makes a great addition to your daily routine. Wash your face as usual and follow up by apply 2-4 drops of oil with clean hands. Once dry, apply your makeup as usual. You can even apply the oil under your eyes at night to reduce dark circles!     ? Almond Oil for the Hair and Scalp: Gorgeous hair starts at the roots! For use as a leave-in conditioner, simply massage a few drops of Almond Oil into the scalp. Let it sit for 20 minutes or overnight for maximum results. This helps fight dandruff and reduce inflammation. For an all-natural hair treatment, comb a few drops of oil through either wet or dry hair and allow to sit for one hour before washing. You'll see soft, shiny, and healthy hair!     ? Almond Oil for the Body: Sore and tight muscles make going about your day a total discomfort. Help ease that tension and relax by giving yourself an Almond Oil body massage. Apply a few drops to the problem area, and gently message - the pain relief is almost instant! Almond Oil also helps promote the growth of strong nails, so be sure to apply it regularly to the hands. This oil is highly effective for treating the dry and cracked skin of the feet. Try Sweet Almond Oil Risk-Free Today with Our Lifetime Guarantee - Satisfaction or Your Money Back!