Billy Jealousy Hair Raiser 3.5-ounce Follicle Revitalizer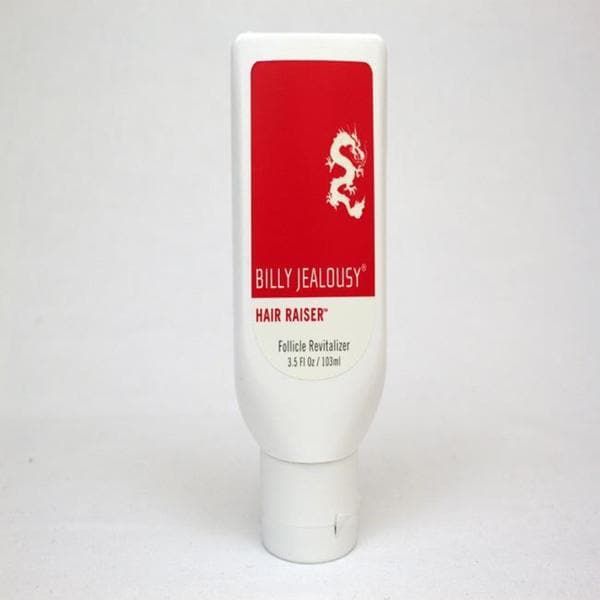 Hair Raiser Follicle Revitalizer helps increase hair thickness, strength and vigor. This hair formula supplies hair follicles with essential nutrients and DHT inhibitors, nourishing and promoting healthy hair growth. Hair Raiser Follicle Revitalizer Size: 3.5 ounces Tan lotion Licorice root scent Swertia and licorice extract are DHT blockers that help prevent hair loss Methyl nicotinate is a vasodilator that increases blood flow to scalp, improving circulation Phellodendron amurense bark is a moisturizing agent that helps retain active ingredients on scalp Tetrahexyldecyl ascorbate aids in quick absorption of active ingredients into scalp Squalane is a natural, oil-free moisturizer Winner ...
Buy Now
£30.37

Related Products
$25.34
Dr. Woods Soothing Lavender Castile Soap with Organic Shea Butter blends the natural healing properties of Olive Oil and Shea Butter with the aromatherapeutic qualities of Lavender. The Olive Oil in our Castile Soap attracts and holds moisture close to the skin forming a breathable layer that prevents moisture loss. The Vitamin E rich lather leaves skin feeling naturally soft and clean. Shea butter is an ultra moisturizer helping the regeneration process of dry skin. The aromatic qualities of Lavender have been known for centuries. We have combined our soap with Essential Oil of Lavender because it is both healing to the skin and calming to your senses. A refreshing way to start your day or end a long hectic day with a luxurious soak. Use this rich lathering liquid soap to gently cleanse your entire body face and even your hair. Ideal for laundry and environment friendly camping. Shea Butter is nature's hidden secret for beautiful skin. Once a year in the African Savannah the Mangifolia tree gives up its fruit known as the karite or the shea nut. After being hand picked the shea nuts are boiled to extract their treasure Shea butter. Shea Butter is an ultra moisturizer that penetrates and revitalizes your skin. Shea Butter naturally contains vitamins A and E essential elements that give your skin the balance that it needs for improved elasticity and to combat dryness. Shea Vision gives you the wonderful combination of Castile Soap with Organic Shea Butter and soothing Lavender for a new experience in the shower and bath. FeaturesAll Natural ECO-Friendly Paraben and Phthalate Free Lauryl/ Laureth Sulfate Free No Petroleum Derivatives SpecificationsFlavor: Lavender Capacity: 32 oz Dimension: 9.05 H x 3.16
$37.41
Dietary Supplement. Superior bio availability. Advanced complex. 3500 mcg biotin. Deficiencies of these vitamins may case hair breakage split ends brittle nails premature hair loss thinning hair dry skin skin imperfections slower hair growth premature wrinkles. Discover the Beauty Within: You might ask yourself why this formula will be better than the next. There are literally hundreds of blends for hair skin and nails but none superior to Bonita. It is the most complete and has a more advanced bio availability. Many tablet and capsule forms do not absorb properly into the body. Bonita's use of softgel technology will provide full benefit of its formula and 100% of its kinetic energy because it can break down easier in your system. So use Bonita and experience the youth and true beauty your body holds. Ingredients: Vitamin A Biotin Pantothenic Acid Folic Acid Riboflavin (Vitamin B2) Grape Seed Extract Alpha Lipoic Acid Inositol MSM Pyridoxine (Vitamin B6) Vitamin B-12 DMAE Bitartrate Vitamin C (ascorbic acid) Niacin. Other Ingredients: Soybean Oil Gelatin Glycerin Yellow Beeswax Purified Water Lecithin Titanium Dioxide Sodium-Copper Chlorophyllin. SpecificationsGluten Free: Yes Yeast Free: Yes Quantity: 30 Softgels Dimension: 3.52 H x 5.04 W x 1.05 D Weight: 0.38 lbs
$24.99
Pura D'or Hair Loss Prevention Therapy Shampoo is free from the harsh chemicals that are the current and leading cause of many chronic hair conditions. Gentle and fortified this shampoo starts by nourishing hair follicles with essential nutrients to reverse any damage and begin the healing process. Biotin strengthens hair strands, niacin increases circulation and our exclusive DHT Blocker Blend promotes healthy hair growth. The formula also includes argan oil, B vitamin complex, biotin, nettles extract, saw palmetto, He Shout Wu (Fo-ti) and other clinically proven natural ingredients to help stimulate hair growth. Ingredients are specially selected for increased bioavailability and maximum absorption. Continued use will prevent further hair loss. Safe for daily use, for all hair types, for both men and women.