Billy Jealousy Hair Raiser 3.5-ounce Follicle Revitalizer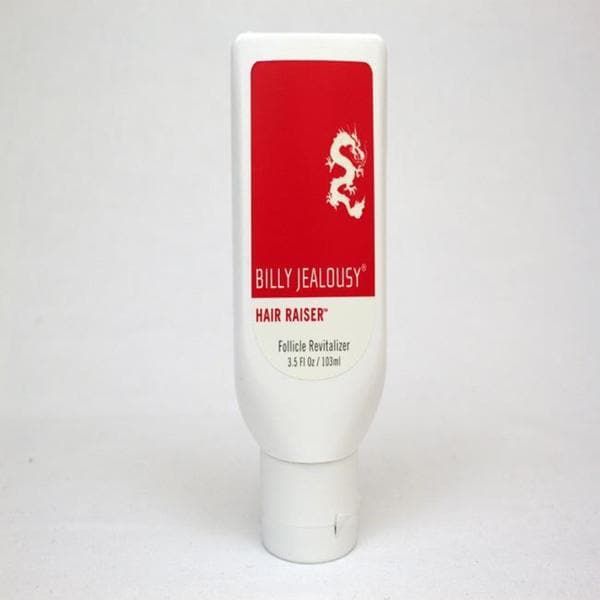 Hair Raiser Follicle Revitalizer helps increase hair thickness, strength and vigor. This hair formula supplies hair follicles with essential nutrients and DHT inhibitors, nourishing and promoting healthy hair growth. Hair Raiser Follicle Revitalizer Size: 3.5 ounces Tan lotion Licorice root scent Swertia and licorice extract are DHT blockers that help prevent hair loss Methyl nicotinate is a vasodilator that increases blood flow to scalp, improving circulation Phellodendron amurense bark is a moisturizing agent that helps retain active ingredients on scalp Tetrahexyldecyl ascorbate aids in quick absorption of active ingredients into scalp Squalane is a natural, oil-free moisturizer Winner ...
Buy Now
£41.78

Related Products
$17.63
Aromatherapy Properties: (Uses) It is well known as being antirheumatic antiseptic antispasmodic cardiac cicatrizant diuretic emmenagogue expectorant and insecticide. This is a very potent oil one of the strongest antiseptics and toxicity is possible with prolonged use. Not to be used in cases of high blood pressure nor in pregnancy. Activates brain cells thereby aiding memory and concentration. Revives feelings of exhaustion and combats depression. Fortifies the lungs when treating colds coughs and sore throats particularly tonsillitis laryngitis and the like. Rather warming and helps to eliminate phlegm. Helps the body fight disease. Raise low blood pressure. Since its stimulating effect facilitates the removal of uric acid may be recommended for rheumatism gout and arthritis. May stop nosebleeds. Helps with sluggish digestion and wind. Speeds delivery in childbirth and expelling the afterbirth could cause miscarriage. A tonic for the scalp and may be effective with dandruff and hair loss. Blends well with: Lavender 40/42 Bergamot Cedarwood Atlas Chamomile Blue Lemon Rosemary Lime Hyssop and Clary Sage. History: The ancient Egyptians used Myrtle a plant native to Africa to remedy sore throats and coughs. As early as 1867 there is also evidence that the essential oil was commonly being used by medical practitioners. Features100% Pure Essential Oil Raw Material - Myrtle Botanical Name - Myrtus Communis Therapeutic Grade Capacity - 5 ml.
$19.49
Made with a natural botanical complex, this hair applicator is designed to increase the moisture and blood circulation of damaged or balding hair. Its natural ingredients will help to enhance the integrity of hair growth. Premature hair loss is minimized by slowing down the age process and strengthening the hair follicles. Prevent hair loss and stimulate hair regrowth with the Dominican Magic Anti-Aging scalp drops. This product is designed to help you get thicker hair and look younger. Natural ingredients include rosemary, wheat, coconut, cinnamon, aloe vera, echinacea, jojoba oil, vitamin E, peppermint oil and arnica extract. The product comes in a glass bottle with dropper for easy application. Size: 4.4 ounces Quantity: One (1) Targeted area: Hair Hair type: Damaged, balding hair Active ingredients: Rosemary, Wheat, Coconut, Cinnamon, Aloe Vera Other ingredients: Water, Ethanol, Arnica (Arnica Montana) Extract, Echinacea (Echnicea Purpurea) Extract, Horsetail (Equietum Arvense) Extract, Rosemary (Rosmarinu Officinalis) Extract, Acetamide MEA, Panthenol, Hydrolyzed Wheat Protein, Hyaluronic Acid, Linoleic Acid, Linolenic Acid, Triticum Vulgare (Wheat) Germ Oil, Simmondsia Chinensis (Jojoba) Seed Oil, Sorbitol, Alpha Tocopherol (Vitamin E), PEG-40-Hydrogenated Castor Oil, Menthol, Polysorbate 80, Phenoxylethanol, Mentha piperita (Peppermint) Oil,Cinnamomum Zeylanicum (Cinnamon) Leaf Essential Oil, Barbadensis (Aloe) Leaf Juice We cannot accept returns on this product. Due to manufacturer packaging changes, product packaging may vary from image shown.
$104.40
Skin care is a broad term which involves the care of your entire body including your face hands and feet and eyes. If you are very careful about the health of your skin and spend a lot of time in pampering your skin then you must need our skin care products without which proper skin care is incomplete. FeaturesThe Revitalizing Oil A versatile aromatic revitalizing treatment oil for skin & hair Formulated with precious plant essential oils & aromatic extracts Helps strengthen skin's delicate barrier while maintaining optimal levels of hydration Protects skin against future moisture loss Prevents hair breakage & transforms dull hair Unveils smoother more radiant healthier looking skin & hair