Mielle Tinys & Tots Children's Hair & Health Vitamin with Biotin (60 Gummies)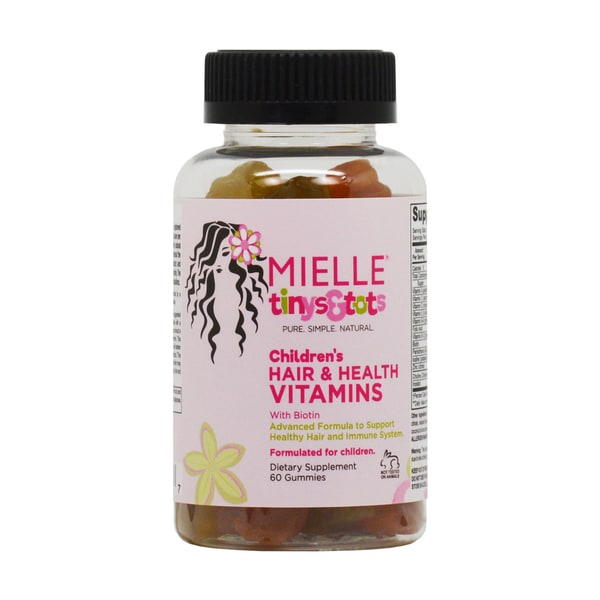 THE VERY FIRST CHILDREN'S HAIR FORMULA - Children need the essential vitamins and nutrients to have healthy hair growth and a healthy immune system. With our children's formula we have enough of the essential vitamins that are essential for immune support and healthy hair. Vitamin A is an essential vitamin for faster hair growth. Folic acid renews the cells that aid in the growth of hair. Biotin is effective for hair growth but just enough for your little ones at a safe effective dose. Inositol combined with choline is effective with helping with hair loss, by increasing the rate ...
Buy Now
£9.64

Related Products
$10.93
Vie Naturelle Grapeseed Oil For Healthy SkinGrapeseed Oil contains a large variety of vitamins and properties that make it one of the most potent, deep-penetrating moisturizers available. It's loaded with vitamins A, E, and K which help preserve the skin's natural beauty by protecting against, and eliminating harmful free-radicals.Vie Naturelle Grapeseed Oil For Healthy HairOur Pure Grapeseed Oil contains a high level of monounsaturated fatty acids and phytosterols. These two nutrients allow the oil to be easily absorbed by the hair shafts. This helps moisturize the hair and improves natural shine.Vie Naturelle Grapeseed Oil Makes the Perfect Birthday GiftIs Mom's or Grandma's birthday coming soon? Looking for a nice surprise gift? Send her a bottle of our 100% Pure Grapeseed Oil! She will love the hydrating effect it has on her skin and hair.The Benefits of Using Vie Naturelle's Pure Grapeseed Oil?100% Pure Grapeseed Oil - Neutral color and odor ?Deep tissue moisturizer ?Rejuvenates skin by providing vitamins A, E, and K ?Great massage oil - Perfect as a carrier oil - mix with other essential oils and lotions ?Helps improve natural hair shine Our 100% Money-Back Guarantee protects your purchase with a hassle-free return policy providing you with security and comfort of knowing that if you are not completely satisfied with your purchase, you don't pay for it. Simple as that!
$30.21
Aromatherapy Properties: (Uses) Also known as Sweet Chamomile English chamomile Nobel chamomile. The oil may be very pale blue at first and then it turns a pale yellow color. Roman chamomile is generally used to treat psychological problems beneficial for people who are short tempered self involved overly sensitive or rarely satisfied. It is a traditional remedy for children and is recommended when they are feeling impatient or tense. A 1% dilution of Roman chamomile oil in apricot kernel or any other carrier oil will be very useful as a massage oil over their cheeks or abdomen if the child suffers from colic or teething pain. It is useful as a mild sedative for children. While Roman chamomile's anti-inflammatory and anti-spasmodic effects are to a lesser degree than German chamomile's it also has anti-inflammatory properties. It is suitable for inhalation. Roman chamomile is a useful oil for women with irregular periods and PMS ideally used in a bath or massage oil. Both have analgesic antidepressant antirheumatic and sedative properties among many other properties including hair loss. Blends well with: Bergamot Jasmine Absolute Palmarosa Rose Absolute (Morocco) and Ylang Ylang I. 100% pure therapeutic grade essential oil of Chamomile Roman Wild Crafted Capacity - 10 ml. Amber Bottle
£13.15
Au Naturel Body Butter Give your skin the moisturizing treatment it deserves with Au Naturel Body Butter. Its smooth, balm-like texture deeply penetrates to condition, moisturize and revive parched skin. Au Naturel Body Butter is suitable for anyone who wants to pamper their skin with an all-natural, water-free, hydrating moisturizer. Au Naturel Body Butter begins with fair-trade, unrefined African Shea Butter to deeply penetrate the skin with moisture, retain skin?s elasticity and protect against environmental-elements while repairing cellular degeneration. An immense amount of Aloe Butter aids in the delivery of rapid moisture to dry skin while soothing and protecting the skin. Almond Butter brings a rich source of vitamins D and E to nourish the skin and prevent moisture loss and highly-penetrating Coconut Oil moisturize, soothe and softens dry, itchy skin. And, a lavish helping of vitamin E gives a soothing finish that will leave your skin feeling supple and completely renewed. Au Naturel Body Butter is an unscented, all-natural moisturizer that hydrates without leaving an oily residue. It has a nutty aroma derived from the pure, plant-based ingredients. Excellent for all skin types. We package 4.25 ounces in a recyclable amber jar. How to use: While skin is still damp from shower or bath, massage all over body in a circular motion. Can be used from head to toe. Tips for use: Dab on dry patches to revive skin Use to uplift dry, brittle hair Massage into cuticles and nail beds at night to promote health nails Use on baby?s bottom as a skin barrier Great for dry, cracked elbows, knees and feet Helps heal chapped lips Please store in a cool, dark place for maximum freshness, as this body balm does not contain any preservatives or synthetic ingredients. It is very concentrated and only a small amount is needed to be effective. This product should last a long time Warning: This product may melt during summer transit or left in hot temperatures. If it does, place in freezer until solid, once at room temperature enjoy. Store in cool area. Packaged in an amber jar Skin Type: Normal, Combination, Any Type: body, hand, Face Material: All-Natural, Moisturizer, Antioxidants States: North Carolina Exact Color: Brown/Off-White Karess Krafters Bath & Body Apothecary was created out of the love for aromatherapy and handmade skin care. All of our products are made in small-batches with a handcrafted, artisan quality in Holly Springs, North Carolina. Only natural cold-pressed oils, high quality essential oils and superior botanicals are used in our apothecary bath and body care line.