Silky Scents EO10-1OZ-30ML Chamomile Roman Wild Crafted Essential Oil 100 Percent Pure Therapeutic Grade - 30 ml.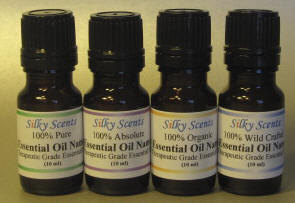 Aromatherapy Properties: (Uses) Also known as Sweet Chamomile English chamomile Nobel chamomile. The oil may be very pale blue at first and then it turns a pale yellow color. Roman chamomile is generally used to treat psychological problems beneficial for people who are short tempered self involved overly sensitive or rarely satisfied. It is a traditional remedy for children and is recommended when they are feeling impatient or tense. A 1% dilution of Roman chamomile oil in apricot kernel or any other carrier oil will be very useful as a massage oil over their cheeks or abdomen if the child ...
Buy Now
$58.91

Related Products
$7.20
This book is meant to draw the reader's attention on alternative preparations that can be used to preserve body health and beauty. You will learn about using essential oils in maintaining healthy skin, hair and nails protection, weight loss, strengthen im
$27.59
Aromatherapy Properties: (Uses) It is a stimulating nerving antispasmodic and a general tonic to the mind. As a rejuvenate for the brain and nervous system it is used to promote cerebral circulation to stimulate self-expression and to help manage a wide range of symptoms in the head including neuralgia epilepsy hair loss memory loss and shock. It is used in the Philippines for rheumatism and memory problems. In Korea it is an ingredient in a type of moonshine called Immortals' Booze. Research in China has shown the essential oil in this rhizome to be sedating and neuroprotectant. Blends well with: Lavender French Tea Tree Rosemary Clary Sage Geranium Marjoram Sweet. 100% pure Essential Oil Capacity - 10 ml.
$12.95
100% Pure, Organic Essential Oil In addition to its mild camphoraceous, uplifting aroma, the natural compounds in rosemary oil contain strong cleansing properties. MONEY BACK GUARANTEE- There is absolutely no risk to you when you order now! If you are not completely satisfied, simply contact us and we will give you a full refund, no questions asked (you do not even have to return the product). Our #1 priority is to make sure our customers are completely happy.