Silky Scents EO10-1OZ-30ML Chamomile Roman Wild Crafted Essential Oil 100 Percent Pure Therapeutic Grade - 30 ml.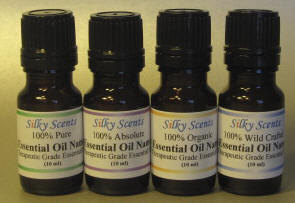 Aromatherapy Properties: (Uses) Also known as Sweet Chamomile English chamomile Nobel chamomile. The oil may be very pale blue at first and then it turns a pale yellow color. Roman chamomile is generally used to treat psychological problems beneficial for people who are short tempered self involved overly sensitive or rarely satisfied. It is a traditional remedy for children and is recommended when they are feeling impatient or tense. A 1% dilution of Roman chamomile oil in apricot kernel or any other carrier oil will be very useful as a massage oil over their cheeks or abdomen if the child ...
Buy Now
$58.91

Related Products
$8.00
This book is meant to draw the reader's attention on alternative preparations that can be used to preserve body health and beauty. You will learn about using essential oils in maintaining healthy skin, hair and nails protection, weight loss, strengthen immunity and prevention of many diseases. The book contains more than 250 recipes and directions, in the use oils in everyday life. Try to use the gifts of nature to find their true value.
$12.59
THE VERY FIRST CHILDREN'S HAIR FORMULA - Children need the essential vitamins and nutrients to have healthy hair growth and a healthy immune system. With our children's formula we have enough of the essential vitamins that are essential for immune support and healthy hair. Vitamin A is an essential vitamin for faster hair growth. Folic acid renews the cells that aid in the growth of hair. Biotin is effective for hair growth but just enough for your little ones at a safe effective dose. Inositol combined with choline is effective with helping with hair loss, by increasing the rate of growth and strengthening the strands as they grow. Our Children's hair and health formula is formulated to support children's immune system and support healthy hair. Causes of hair loss in children are compulsive pulling or twisting of hair, hair loss disorders brought on by emotional or psychological distress, hormonal disorders and nutritional disorders. There are steps that you can do to help your child's hair grow back. The first step is to take Mielle Organics children's hair and health formula. We have a good recommended dose of vitamin A, zinc, folic acid and biotin. Along with other minerals to support a healthy immune system. The next step is to use Mielle Organics Mint Almond Oil to help stimulate circulation in the scalp and help prevent breakage and shedding. Children are very resilient because they are young and they will grow back their hair after some time. Develop a healthy regimen for your child so they can too have healthy hair. Hair Type: Coarse Curly Hair Type: Hair Regrowth Treatments We cannot accept returns on this product.
$19.99
Aromatherapy Properties: (Uses) Among its properties are analgesic antidepressant antiseptic cicatrisant diuretic and insecticide. Calms anxiety lifts the spirit assists with depression. Useful for all conditions of the woman's reproductive system as an inhalant and massage application beneficial for PMS. May assist with menopausal problems such as vaginal dryness and heavy periods. Assists with breast inflammation and hair loss. Helps clear the body of toxins and this may be helpful with addictions. Stimulates the lymphatic system which keeps infection at bay. Eases neuralgia. Indicated for all problems of the nervous system such as anxiety and nervous fatigue. The oil is a diuretic and a lymphatic stimulant which can help relieve congestion fluid retention and swollen ankles. Useful for all skin conditions as it balances sebum. Good for oily skin. It's an excellent remedy for burns wounds and ulcers. History: The plants originated from South Africa as well as Reunion Madagascar Egypt and Morocco. They were introduced to European countries such as Italy Spain and France in the 17th century. In early times geraniums were planted around the house to help keep evil sprits at bay. Features100% Pure Essential Oil Raw Material - Geranium Botanical Name - Pelargonium Graveolens Therapeutic Grade Capacity - 5 ml.