Silky Scents EO10-1OZ-30ML Chamomile Roman Wild Crafted Essential Oil 100 Percent Pure Therapeutic Grade - 30 ml.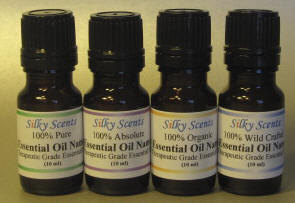 Aromatherapy Properties: (Uses) Also known as Sweet Chamomile English chamomile Nobel chamomile. The oil may be very pale blue at first and then it turns a pale yellow color. Roman chamomile is generally used to treat psychological problems beneficial for people who are short tempered self involved overly sensitive or rarely satisfied. It is a traditional remedy for children and is recommended when they are feeling impatient or tense. A 1% dilution of Roman chamomile oil in apricot kernel or any other carrier oil will be very useful as a massage oil over their cheeks or abdomen if the child ...
Buy Now
$56.55

Related Products
$24.38
Aromatherapy Properties: (Uses) Among its properties are analgesic antidepressant antiseptic cicatrisant diuretic and insecticide. Calms anxiety lifts the spirit assists with depression. Useful for all conditions of the woman's reproductive system as an inhalant and massage application beneficial for PMS. May assist with menopausal problems such as vaginal dryness and heavy periods. Assists with breast inflammation and hair loss. Helps clear the body of toxins and this may be helpful with addictions. Stimulates the lymphatic system which keeps infection at bay. Eases neuralgia. Indicated for all problems of the nervous system such as anxiety and nervous fatigue. The oil is a diuretic and a lymphatic stimulant which can help relieve congestion fluid retention and swollen ankles. Useful for all skin conditions as it balances sebum. Good for oily skin. It's an excellent remedy for burns wounds and ulcers. History: The plants originated from South Africa as well as Reunion Madagascar Egypt and Morocco. They were introduced to European countries such as Italy Spain and France in the 17th century. In early times geraniums were planted around the house to help keep evil sprits at bay. Features100% Pure Essential Oil Raw Material - Geranium Botanical Name - Pelargonium Graveolens Therapeutic Grade Capacity - 5 ml.
$37.18
Aromatherapy Properties: (Uses) It is a stimulating nerving antispasmodic and a general tonic to the mind. As a rejuvenate for the brain and nervous system it is used to promote cerebral circulation to stimulate self-expression and to help manage a wide range of symptoms in the head including neuralgia epilepsy hair loss memory loss and shock. It is used in the Philippines for rheumatism and memory problems. In Korea it is an ingredient in a type of moonshine called Immortals' Booze. Research in China has shown the essential oil in this rhizome to be sedating and neuroprotectant. Blends well with: Lavender French Tea Tree Rosemary Clary Sage Geranium Marjoram Sweet. 100% pure Essential Oil Capacity - 30 ml.
$42.97
Aromatherapy Properties: (Uses) This is a relaxing warming oil which eases nervous tension. Known as a hormone balancer it may regulate scanty periods. Its well known for its euphoric action and is an extremely valuable oil for treating nervousness fear paranoia and depression. Its antispasmodic and emmenagogue properties make it useful for helping with uterine problems such as easing regulating scanty periods and easing painful cramps in the lower back. Studies have found Clary Sage to be beneficial for its analgesic and relaxing effects. Useful during menopause. Also useful for hair loss and soothes digestive problems. Helps cut wounds and burns to heal. Not to be used during pregnancy!Blends well with: Clary Sage Essential Oil blends well with most essential oils though it works particularly well with Bergamot Cedarwood Atlas Chamomile Roman Wild Crafted Chamomile Blue Geranium Jasmine Absolute Lavender 40/42 Neroli Orange Sweet Rosewood (Indian) Sandalwood East Indian and Ylang Ylang I. History: The name Clary Sage is derived from the Latin word for clear - probably because the herb was once used for clearing mucous from the eyes. During the sixteenth century it was also used in England for brewing beer as a replacement for hops. 100% Pure Essential Oil Capacity - 30 ml.