Silky Scents EO10-1OZ-30ML Chamomile Roman Wild Crafted Essential Oil 100 Percent Pure Therapeutic Grade - 30 ml.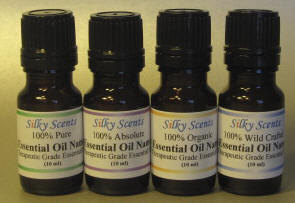 Aromatherapy Properties: (Uses) Also known as Sweet Chamomile English chamomile Nobel chamomile. The oil may be very pale blue at first and then it turns a pale yellow color. Roman chamomile is generally used to treat psychological problems beneficial for people who are short tempered self involved overly sensitive or rarely satisfied. It is a traditional remedy for children and is recommended when they are feeling impatient or tense. A 1% dilution of Roman chamomile oil in apricot kernel or any other carrier oil will be very useful as a massage oil over their cheeks or abdomen if the child ...
Buy Now
$56.55

Related Products
$32.81
Spectrum Essentials Organic Flax Oil Ultra Enriched Description: Ultra Enriched Omega-3s filtered to Remove Impurities Great Fresh Taste With Lignans 15% Flaxseed Added Filtration is Better. Taste the Difference! Only Spectrum uses a 3-step organic filtration process to remove impurities like moisture and bacteria that accelerate rancidity and cause bitter flavors without any loss in the quality or quantity of the essential fatty acids or phytonutrients. Then using our proprietary milling and blending process we add back freshly sliced flaxseed resulting in a fresh clean oil with wonderfully nutty taste. The Benefits of Omega-3s and Lignans Flax oil is natures richest source of alpha-linolenic acid (ALA) an omega-3 essential fatty acid that is naturally converted by the body into other important nutrients like DHA and EPA. Often referred to as Good Fats these vital EFAs support heart health and help to maintain beautiful hair skin and nails. The premium flaxseed we add is a highly concentrated source of SDG lignans-phytonutrients that exhibit antioxidant properties and can have a balancing effect on hormones. Disclaimer These statements have not been evaluated by the FDA. These products are not intended to diagnose treat cure or prevent any disease.(Note: This Product Description Is Informational Only. Always Check The Actual Product Label In Your Possession For The Most Accurate Ingredient Information Before Use. For Any Health Or Dietary Related Matter Always Consult Your Doctor Before Use.) Ingredients: Spectrum Essentials Organic Flax Oil Ultra Enriched Directions Shake vigorously upside down before each use. Keep refrigerated. 1-2 tbsp daily with food. Flax oil makes a wonderful addition to salad dressings yogurt and smoothies. Also great for drizzling over steam
$35.95
Aromatherapy Properties: (Uses) It is well known as being antirheumatic antiseptic antispasmodic aphrodisiac cardiac cicatrizant diuretic emmenagogue expectorant and insecticide. This is a very potent oil one of the strongest antiseptics and toxicity is possible with prolonged use. Not to be used in cases of high blood pressure nor in pregnancy. Activates brain cells thereby aiding memory and concentration. Revives feelings of exhaustion and combats depression. Fortifies the lungs when treating colds coughs and sore throats particularly tonsillitis laryngitis and the like. Rather warming and helps to eliminate phlegm. Helps the body fight disease. Raise low blood pressure. Since its stimulating effect facilitates the removal of uric acid may be recommended for rheumatism gout and arthritis. May stop nosebleeds. Helps with sluggish digestion and wind. Speeds delivery in childbirth and expelling the afterbirth could cause miscarriage. A tonic for the scalp and may be effective with dandruff and hair loss. Blends well with: Bergamot Cedarwood Atlas Organic Chamomile Roman Wild Crafted and Lemon Organic. Features100% Pure Essential Oil Raw Material - Thyme Red Botanical Name - Thymus Vulgaris Therapeutic Grade Capacity - 15 ml.
$7.79
Sunny Isle Lavender Jamaican Black Castor Oil 8oz. Lavender Essential oil is the most known scent throughout the aromatic world, and regarded as the most versatile essence in aromatherapy. It has a sweet, balsamic, floral aroma which combines well with many oils including Jamaican Black Castor Oil. Lavender is a natural antibiotic, antiseptic, anti-depressant, sedative and de-toxifier. It works well on dry or acne prone skin. People who have alopecia can also use lavender, to treat their hair loss. So, for those of you that have dry acne prone skin, Alopecia, and or want their hair to grow fast then the combination of pure Lavender Essential Oil and Jamaican Black Castor Oil will get the job done. Can Also Be Used For Muscle Aches, Replenishes And Rejuvenates Hair, 100% Natural With No Added Salt