Mad About Organics HSR Horse Skin Relief Treatment 4oz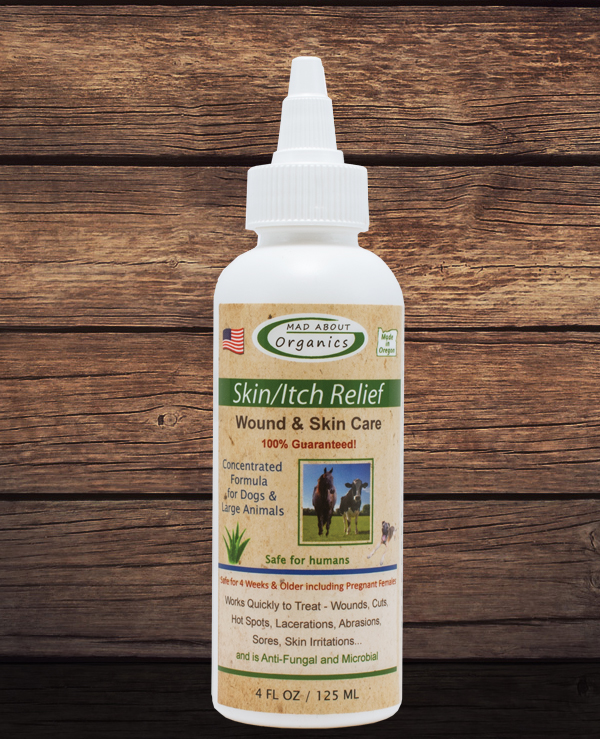 Mirical in a bottle is the best way to describe this product! Mad About Organics products are developed for a variety of therapeutic animal health skin care issues using all natural organic ingredients. They are cruelty-free biodegradable contain no dyes nor animal-by-products and are environmentally sensitive. Our unique formula does more than just stop symptoms... it actually eliminates the problem in days instead of weeks! Our organic horse Skin Relief formula penetrates deep into skin tissue where fungus lies to reach below the skins surface to eliminate fungi and bacteria that cause rain rot mud fever ring ...
Buy Now
$29.16

Related Products
$18.40
FeaturesHinoki Essential Oil Consistency - Thin Aromatic Description - Hinoki Wood Essential Oil has a sweet woody scent. Perfumery Note - Top Blends well with - Rosewood (Indian) Bergamot Boronia Cypress Calamus Cassia Jasmine Absolute Juniper Berry Neroli Mimosa Absolute Labdanum Frankincense Clary Sage Vetiver Rosemary and Ylang Ylang I. 100% Pure Essential Oil 100% Pure Therapeutic Grade Capacity - 5 ml. Aromatherapy PropertiesHinoki Essential Oil is non-toxic well known for its ability to naturally kill bacteria viruses viral infections and fungus. Hinoki Oil is said to have a relaxing and decongestant effect on the body helping to relieve tension and stress. It is also excellent for alleviating sinus and chest congestion and respiratory problems. Hinoki Oil is considered to be gentle on the skin and is a very effective antiseptic for healing and treating skin problems such as rashes cuts abrasions and minor skin irritations.
$17.49
Our NON-GMO Black Cumin Seed Oil with its anti-bacterial properties, provides a myriad of benefits that balance and reduce high cholesterol, allowing you to maintain a healthy lifestyle. This nigella sativa capsules boost immune system and protect body against the damage of most common health conditions, including high blood pressure and asthma. These black seed pills are also associated with relieving stomach pain and cramps and tend to reduce gas, stomach bloating, blood pressure and the incidence of ulcers as well.Black Cumin Seed Oil is known for its variety of health benefits. Whether you are using it for Hair & Skin Health, Respiratory Health, Digestive Health and Joint Health our Black Seed Oil Vegetable Capsules have you covered. It has been often referred to as a miracle seed due to its number of health benefits. Black Cumin Seed Oil has been used for centuries to promote better overall health. Black seed oil has been shown to help a range of health issues and ailments including inflammation, allergies, hypertension, and viral infections. It has also been linked to increased brain function, mood stability, joint support and overall skin health. Here are a few of the main reasons we love Black Seed Oil: Preventing Deficiencies In Essential Fatty Acid Supporting Cardiovascular Health Promotes Overall Cardiovascular Health Alleviating Gas, Constipation And Diarrhea Acts As A Natural Antioxidant Supplement For Healthy Aging Supports The Immune System Providing Natural Relief From Symptoms Of Cough, Colds, Allergy And Nasal Congestion
$19.59
Aromatherapy Properties: (Uses) This oil is quite rare. It is known to be anti-catarrh antiviral antitumor cicatrizant emmenagogue mucolytic. Skin: wounds cuts ulcers (avoid use on sensitive skin). It may help with bronchitis and asthma as well as with viral infections. Stimulates liver and gallbladder. Best avoided in pregnancy due to large ketone percentage. There is some limited use of the leaf oil in Indian ethnic medicine to treat itchy skin conditions and as an antiseptic for minor skin traumas. Use well diluted. May cause dermatitis in some individuals. Blends well with: Bergamot Clove Bud Rosemary Eucalyptus Globulus Patchouli Dark Clary Sage Rose Otto (Bulgarian) and Jasmine Absolute. Features100% Pure Essential Oil Raw Material - Red Sage Botanical Name - Lantana Camara Therapeutic Grade Capacity - 5 ml.