Mad About Organics HSR Horse Skin Relief Treatment 4oz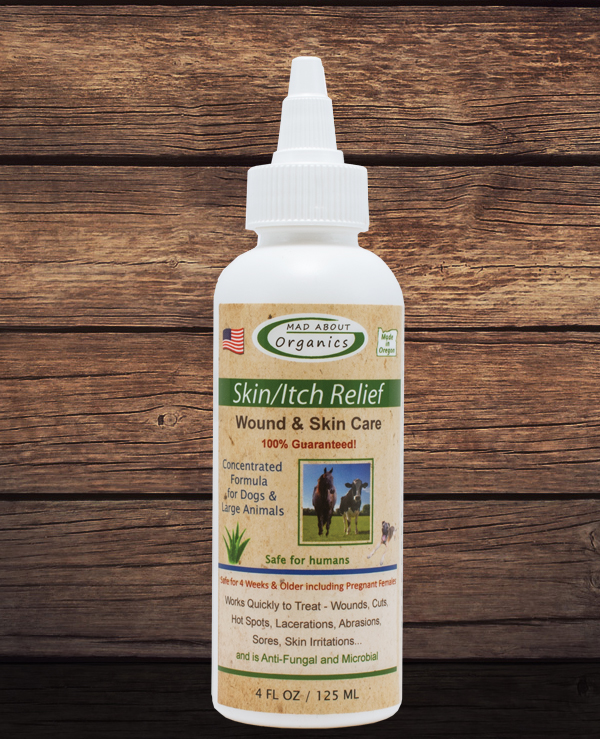 Mirical in a bottle is the best way to describe this product! Mad About Organics products are developed for a variety of therapeutic animal health skin care issues using all natural organic ingredients. They are cruelty-free biodegradable contain no dyes nor animal-by-products and are environmentally sensitive. Our unique formula does more than just stop symptoms... it actually eliminates the problem in days instead of weeks! Our organic horse Skin Relief formula penetrates deep into skin tissue where fungus lies to reach below the skins surface to eliminate fungi and bacteria that cause rain rot mud fever ring ...
Buy Now
$29.16

Related Products
$21.59
AllerG- 3 Fatty Acid supplements are derived from wild cold water fish for the purest omega-3 supplement available for dogs and cats. AllerG-3 is the only fish oil supplement to achieve USP ingredient verification. Omega-3 fatty acids help maintain skin health glossy coats promote cardiovascular health and may be helpful in reducing the inflammation associated with arthritis. AllerG-3 is 100% omega-3 and does not contain any of the other omega fatty acids that studies show may actually promote skin inflammation. Also contains vitamins A and E antioxidants which help decrease free radical damage caused by inflammation. Omega -3 fatty acids have been shown to slow down the growth of Malassezia pachydermatis a common yeast infection in dogs and cats. USP is an independent not-for-profit authority that has set the official standards for medicines dietary supplements and ingredients in the United States since 1820. USP verification assures that ingredient pass rigorous purity testing. Guaranteed Analysis: Crude Fat: Not less than 99%. Vitamin A: 220 IU. Vitamin D3: 50 IU. Vitamin E: 2 IU. Eicosapentaenoic Acid: 110 mg. Docosahexaenoic Acid: 73 mg. Not recognized as an essential nutrient by AAFCO dog or cat nutrient profiles. Ingredients: Fish Oil Gelatin Glycerin Water dl-alpha Tocopherol (source of Vitamin E) Vitamin A palmitate Vitamin D3. Store at room temperature.
£27.21
A beautiful, fruity and earthy blend that works extremely well in combination with our 122 ounce essential oils. This is the workhorse of the bunch; a good bubble bath to always have on hand. Comes in a 2 pack Contains organic and sustainably grown ingredients No tears No sodium lauryl sulfate, dea or numbing agents No synthetic fragrances Our aromatherapy essential oils are tested for purity Non-stripping of delicate mucous membranes, which can lead to yeast or bladder infections Bubbles with soapbark and yucca 2 pack Material: Oils Exact Color: White The content on this site is not intended to substitute for the advice of a qualified physician, pharmacist, or other licensed health-care professional. The products may have additional information and instructions on or inside the packaging that you should carefully read and follow. Contact your health-care provider immediately if you suspect that you have a medical problem. This product may not have been evaluated by the Food and Drug Administration and is not intended to diagnose, treat, cure, or prevent any disease or health condition. Due to the personal nature of this product we do not accept returns. We cannot accept returns on this product.
$41.80
Aromatherapy Properties: (Uses) It is antidepressant antiseptic astringent deodorant fungicide and insecticide. May cause loss of appetite. Its odor may be little too persistent for some people. Due to its strong astringent and cicatrisant properties may be helpful for loose skin especially after dieting used in many anti-wrinkle products. Its diuretic properties are useful in cases of fluid retention and cellulite. Well known to increase libido considered an. Relieves effects from insect bites protects clothes from moths. It is known as a tissue regenerator which helps stimulate regrowth of skin cells and the forming of scar tissue. Heals rough cracked skin. Useful for treating acne eczema fungal infections and scalp disorders including dandruff. Blends well with: Black Pepper Clary Sage Frankincense Geranium Lavender 40/42 Sandalwood East Indian Bergamot Cedarwood Atlas Rose Otto (Bulgarian) Orange Sweet Cassia Opoponax Wild Crafted and Myrrh (India). History: For centuries patchouli oil has been used in the East to scent clothes and linen. In China Japan and Malaysia the oil was used to treat colds headaches nausea diarrhea and abdominal pain. In the 1960s patchouli became popular as an. Features100% Pure Essential Oil Raw Material - Patchouli Dark Botanical Name - Pogostemon Cablin Therapeutic Grade Capacity - 15 ml.