Mad About Organics HSR Horse Skin Relief Treatment 4oz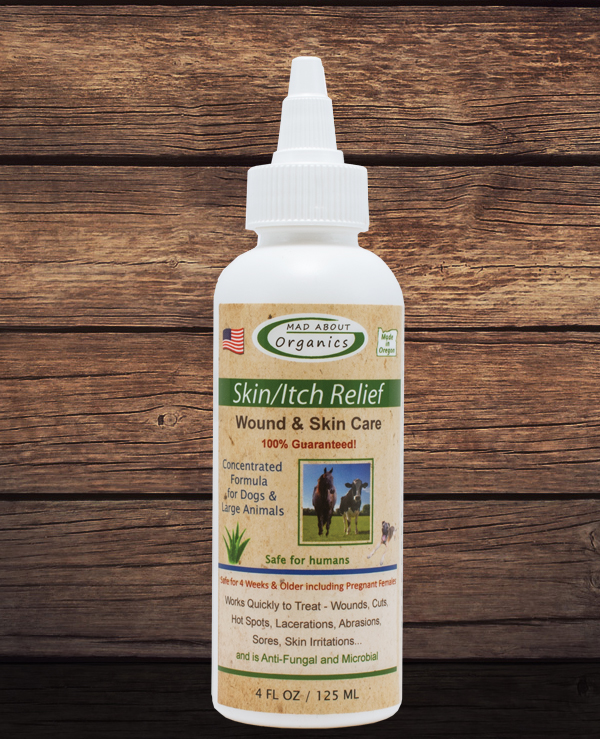 Mirical in a bottle is the best way to describe this product! Mad About Organics products are developed for a variety of therapeutic animal health skin care issues using all natural organic ingredients. They are cruelty-free biodegradable contain no dyes nor animal-by-products and are environmentally sensitive. Our unique formula does more than just stop symptoms... it actually eliminates the problem in days instead of weeks! Our organic horse Skin Relief formula penetrates deep into skin tissue where fungus lies to reach below the skins surface to eliminate fungi and bacteria that cause rain rot mud fever ring ...
Buy Now
$29.16

Related Products
$31.33
Aromatherapy Properties: (Uses) Turmeric Essential Oil has effects of eliminating and inhibiting gastrotympanites and improving stomach function. Furthermore it is a good cosmetic material used for preventing sunlight wrinkle and aging. Also it has good effects of resisting epiphyte and promoting tissue regeneration. This essential Oil is also Good for colds flu sinusitis hay fever bronchitis earache food allergies laxative fungal infections such as candida canker sores glandular swelling gum diseases morning sickness diabetes hypoglycemia and ulcers. Blends well with: Ginger Heliotrope Ylang Ylang I and Clary Sage. Features100% Pure Essential Oil Raw Material - Turmeric Botanical Name - Curcuma Longa Therapeutic Grade Capacity - 10 ml.
$19.95
PURE QUALITY-Our lemon essential oil is made of the highest quality lemon peels available on the market. Cold-pressed by organic artisanal farmers in Italy. No heat is applied during the process and all the beneficial nutrients of the essential oil remain intact! NATURAL & SAFE-Thanks to its organic origins, this Lemon oil is completely safe to use and inhale. It doesn't contain any chemicals, additives, fragrances or coloring and has been never tested on animals! AROMATHERAPY MUST HAVE-The most efficient way to benefit from this cold pressed lemon essential oil is via aromatherapy. All you have to do is add a few drops in your essential oil diffuser, rub it between your palms or add it to your massage oil. INSECT REPELLANT-Stop using chemical insect repellants that harm your skin and your health. Just add a few drops in a spray bottle with water and spray your body. Not only our aromatherapy oil will keep the bugs away, but it will also create a relaxing and enjoyable environment thanks to its amazing scent! NUMEROUS HEALTH BENEFITS-The Sky Organics lemon lime essential oil works as the perfect health booster. Thanks to its rejuvenating properties, it improves your mood and fights stress and depression, supports your immune system, helps with colds and infections and it is deeply nourishing for the skin. Suffering from headaches, joint pains, allergies, insomnia, cough or other skin or respiratory infections? Seeking relief? our 100% Pure, Therapeutic Grade Organic Lemon Essential Oil is definitely for you. Here Are Some Of The Benefits Of Our Therapeutic Essential Oil: Can improve your skin's complexion and leave your skin feeling soft and smooth without acne scars! Thanks to its relaxing and calming aroma it will help you fall asleep faster. Just add a few drops under your pillow! Relieves stress and depression, helping you work better and live a happier life! It can temporarily help aliviate muscle pains, asthma and tiredness! Has anti-fungal, antiseptic and disinfe
$13.94
Desert Essence Relief Spray Description: Soothes: Burns Insect Bites Skin Irritations Tired Feet 100% Vegan DESERT ESSENCE RELIEF SPRAY combines the inherent antiseptic action of a 15% solution of Eco-Harvest Tea Tree Oil with a blend of essential oils used traditionally to soothe and reduce the symptoms associated with minor burns scrapes sunburn insect bites and fungal infections of the feet. Ideal for post-manicure treatment. Convenient spray applicator is ideal for hard-to-reach areas. Desert Essence Tea Tree formulations are the first to contain standardized quality Eco-Harvest Tea Tree Oil noted for its soothing protective and inherent antiseptic properties. Desert Essence Eco-Harvest Tea Tree Oil is earth friendly and harvested from the foremost ecologically sensitive plantation in Australia. The oil is free of herbicides chemicals and pesticides. The Tea Tree Oil icon is a Desert Essence contemporary interpretation of a Navajo healing sand painting. The branches are reflective of the tea tree. The three branches grouped in the center symbolize the ecological renewal during the growing seasons. Cruelty free; no animal testing on raw materials or final product. No alcohol artificial detergents artificial color or synthetic perfumes. Free Of Cruelty alcohol artificial detergents artificial color or synthetic perfumes herbicides chemicals and pesticides. Disclaimer These statements have not been evaluated by the FDA. These products are not intended to diagnose treat cure or prevent any disease. Product Features : Desert Essence Relief Spray Directions Point Relief Spray at a distance of 2 to 3 inches from affected area. Spray liberally and allow to dry. Repeat several times daily. Ingredients: Purified water eco-harvest melaleuca alternifolia (tea tree) oil o