Mad About Organics HSR Horse Skin Relief Treatment 4oz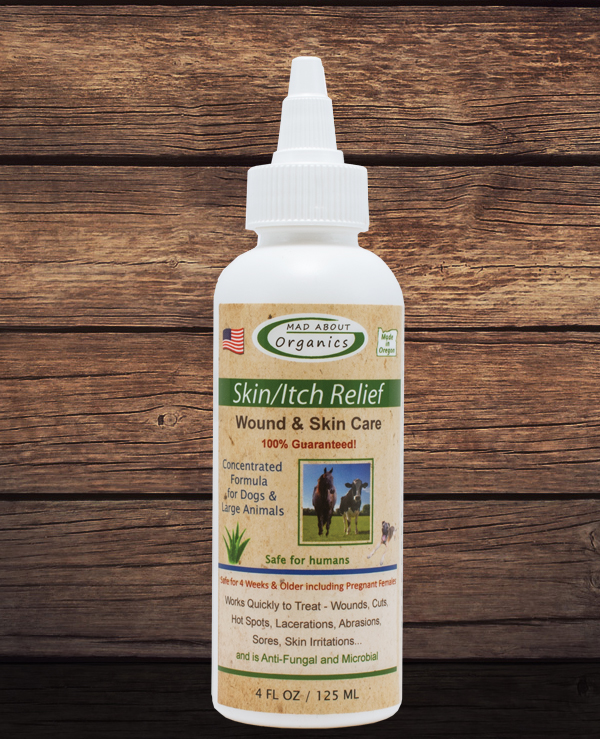 Mirical in a bottle is the best way to describe this product! Mad About Organics products are developed for a variety of therapeutic animal health skin care issues using all natural organic ingredients. They are cruelty-free biodegradable contain no dyes nor animal-by-products and are environmentally sensitive. Our unique formula does more than just stop symptoms... it actually eliminates the problem in days instead of weeks! Our organic horse Skin Relief formula penetrates deep into skin tissue where fungus lies to reach below the skins surface to eliminate fungi and bacteria that cause rain rot mud fever ring ...
Buy Now
$30.82

Related Products
$17.50
Breathe Blend is is a proprietary blend of essential oils designed to increase the lungs capacity to breathe. If you are suffering from asthma, allergies, congestion, emphysema or other respiratory ailment try diffusing Breathe Blend to help open your lungs. Breathe Blend also works great in homemade chest rubs. CHEST RUB RECIPE: Add 2-3 drops of Breathe Blend to 1 teaspoon of carrier oil. Mix together and rub on your upper chest, back and neck. (Some types of carrier oils you can use are: vegetable, olive, almond, coconut, fractionated coconut or jojoba oils.) INGREDIENTS: Eucalyptus (Eucalyptus Globulus), Peppermint (Mentha Piperita), Australian Tea Tree (Melaleuca alternifolia), Lemon (Citrus limonum), Siberian Fir Needle (Abies sibirica ledeb), Cardamom (Elettaria cardamomum) & European Bay Laurel Leaf (Laurus nobilis). DISCLAIMER: The above statements have not been evaluated by the FDA. This information is for educational purposes only, it is not intended to treat, cure, prevent or, diagnose any disease or condition. Nor is it intended to prescribe in any way. This information is for educational purposes only and may not be complete, nor may its data be accurate. SAFETY PRECAUTIONS: All products are for external use only. Consult a professional reference for correct dilution ratios prior to application. Avoid in pregnancy and lactation. Keep away from eye area. Keep out of reach of children.
$33.95
PURE QUALITY-Our lemon essential oil is made of the highest quality lemon peels available on the market. Cold-pressed by organic artisanal farmers in Italy. No heat is applied during the process and all the beneficial nutrients of the essential oil remain intact! NATURAL & SAFE-Thanks to its organic origins, this Lemon oil is completely safe to use and inhale. It doesn't contain any chemicals, additives, fragrances or coloring and has been never tested on animals! AROMATHERAPY MUST HAVE-The most efficient way to benefit from this cold pressed lemon essential oil is via aromatherapy. All you have to do is add a few drops in your essential oil diffuser, rub it between your palms or add it to your massage oil. INSECT REPELLANT-Stop using chemical insect repellants that harm your skin and your health. Just add a few drops in a spray bottle with water and spray your body. Not only our aromatherapy oil will keep the bugs away, but it will also create a relaxing and enjoyable environment thanks to its amazing scent! NUMEROUS HEALTH BENEFITS-The Sky Organics lemon lime essential oil works as the perfect health booster. Thanks to its rejuvenating properties, it improves your mood and fights stress and depression, supports your immune system, helps with colds and infections and it is deeply nourishing for the skin. Suffering from headaches, joint pains, allergies, insomnia, cough or other skin or respiratory infections? Seeking relief? our 100% Pure, Therapeutic Grade Organic Lemon Essential Oil is definitely for you. Here Are Some Of The Benefits Of Our Therapeutic Essential Oil: Can improve your skin's complexion and leave your skin feeling soft and smooth without acne scars! Thanks to its relaxing and calming aroma it will help you fall asleep faster. Just add a few drops under your pillow! Relieves stress and depression, helping you work better and live a happier life! It can temporarily help aliviate muscle pains, asthma and tiredness! Has anti-fungal, antiseptic and disinfe
$18.95
Sinus, Congestion, and Allergy Relief Blend by ?V? Essentials is 100% PURE, PREMIUM, and undiluted with no preservatives! This oil is vegan, all-natural, and therapeutic grade. Our respiratory support blend has incredibly diverse healing abilities with inherent antibacterial, antiviral and antifungal properties. This home remedy is used to naturally relieve: ? Allergies ? Respiratory illness ? Viral infections (respiratory) ? Lung regeneration and repair ? Bronchitis ? Cough ? Congestion ? Sinusitis ? Asthma ? Colds ? Croup ? Mucus ? Pneumonia Other products can contain harmful artificial ingredients and preservatives that you're trying to avoid. Our essential oils are undiluted and contain absolutely no additives. Steam distillation ensures potency, so that you can get more benefits from each drop. When you buy from ?V? Essentials, you're not just getting Premium Essential Oils. You'll also receive our outstanding product support and customer service. ? Your complete and continued satisfaction is our top priority. ? Finally, if you're EVER unhappy with our product, simply return it for a complete refund, no questions asked. Order now so that we can get your Sinus, Congestion, and Allergy Relief Blend on it's way!