Mad About Organics HSR Horse Skin Relief Treatment 4oz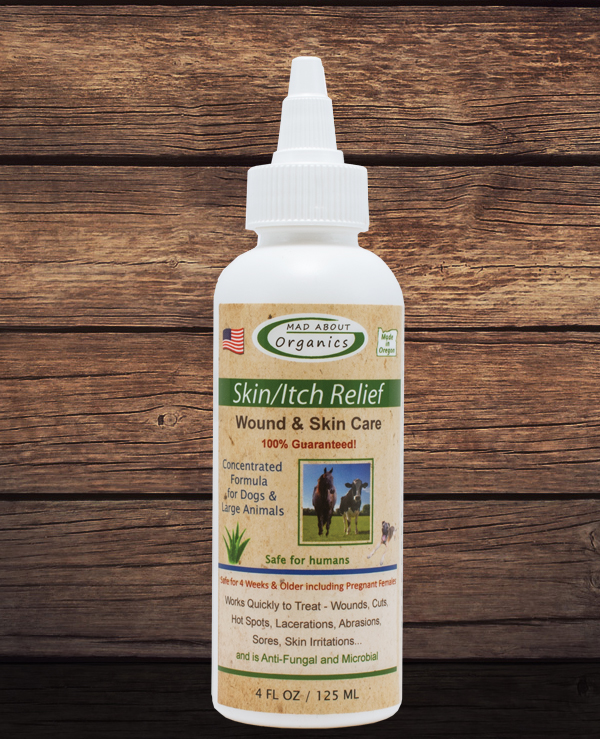 Mirical in a bottle is the best way to describe this product! Mad About Organics products are developed for a variety of therapeutic animal health skin care issues using all natural organic ingredients. They are cruelty-free biodegradable contain no dyes nor animal-by-products and are environmentally sensitive. Our unique formula does more than just stop symptoms... it actually eliminates the problem in days instead of weeks! Our organic horse Skin Relief formula penetrates deep into skin tissue where fungus lies to reach below the skins surface to eliminate fungi and bacteria that cause rain rot mud fever ring ...
Buy Now
$30.82

Related Products
$14.50
Lemongrass essential oil is used in aromatherapy and offers a variety of health benefits. Lemongrass oil can be used as an insect repellent. It is also great to revive the mind when feeling lethargic and to energize as well as relieving fatigue. It is used in remedies to help with cellulite, toning the skin, and opening blocked pores. The antiseptic properties are useful in remedies for athlete's foot and other fungal infections. Although essential oils blend well with one another, lemongrass oil blends particularly well with basil, cedarwood, coriander, geranium, jasmine, lavender and tea tree. Lemongrass oil is extracted from the fresh or partly dried leaves by steam distillation. Our oils are by far the most effective on the market. Click the Button at the Top of this Page to Buy with Confidence.
$17.87
Aromatherapy Properties: (Uses) Lavender French is credited with being an analgesic anticonvulsive antidepressant antiphlogistic antirheumatic antiseptic antispasmodic antiviral bactericide carminative cholagogue cicatrisant cordial cytophylactic decongestant deodorant and as a diuretic. Herbalist regards Lavender as the most useful and versatile essential oil for therapeutic purposes. Lavender is the essential oil most commonly associated with burns and healing of the skin. It also has antiseptic and analgesic properties which will ease the pain of a burn and prevent infection. It also has cytophylactic properties that promote rapid healing and help reduce scarring. Lavender French is a popular choice amongst both aroma therapists and massage therapists for it's combination of therapeutic quality and pleasant floral scent. History: Lavender is adapted to living in a dry climate and is native to the western half of the Mediterranean reaching altitudes of up to 1800 meters. Lavender FarmIt is believed that the Romans and the Benedictine monks subsequently introduced it to rest of Europe. Features100% Pure Essential Oil Raw Material - Lavender French Botanical Name - Lavandula Dentata Therapeutic Grade Capacity - 5 ml.
$18.36
Aromatherapy Properties: (Uses) It is analgesic antiseptic bactericide cicatrisant insecticide decongestant and vermifuge. Stimulating uplifting clears the head and may aid in concentration. Niaouli is considered an excellent antiseptic for treating pulmonary infections such as bronchitis and sinus. Excellent for chest infections bronchitis asthma and sinusitis. May be used in place of Tea Tree when the smell of Tea Tree is found objectionable. Blends well with: For respiratory problems blends well with Peppermint Eucalyptus Globulus Pine White and Myrtle. Features100% Pure Essential Oil Raw Material - Niaouli Botanical Name - Melaleuca Viridiflora Therapeutic Grade Capacity - 15 ml.