Silky Scents EO38-10ML 100 Percent Pure Therapeutic Grade Palmarosa Essential Oil - 10 ml.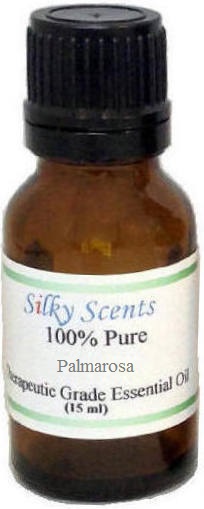 Aromatherapy Properties: (Uses) It is antifungal and antiviral. Indicated for bronchitis birthing regeneration of the skin and regulating oil production of the skin. Useful in treating skin infections. Blends well with: Bergamot Citronella Jasmine Absolute Lavender 40/42 Petitgrain and Rose Otto (Bulgarian). History: Palmarosa was known as Indian geranium oil and used in combination with the more expensive rose oils. The grass grows wild in India particularly northeast of Bombay toward the Himalaya mountains Nepal and to a lesser extent in Pakistan. Features100% Pure Essential Oil Raw Material - Palmarosa Botanical Name - Cymbopogon Martinii Therapeutic Grade Capacity - 10 ml.
Buy Now
$22.36

Related Products
$21.53
AllerG-3 is 100% omega-3 and does not contain any of the other omega fatty acids that studies show may actually promote skin inflammation. Also contains vitamins A and E antioxidants which help decrease free radical damage caused by inflammation. Omega -3 fatty acids have been shown to slow down the growth of Malassezia pachydermatis a common yeast infection in dogs and cats. USP is an independent not-for-profit authority that has set the official standards for medicines dietary supplements and ingredients in the United States since 1820. USP verification assures that ingredient pass rigorous purity testing. Crude Fat: Not less than 99%. Vitamin A: 220 IU. Vitamin D3: 50 IU. Vitamin E: 2 IU. Eicosapentaenoic Acid: 110 mg. Docosahexaenoic Acid: 73 mg. Not recognized as an essential nutrient by AAFCO dog or cat nutrient profiles. Ingredients: Fish Oil Gelatin Glycerin Water dl-alpha Tocopherol (source of Vitamin E) Vitamin A palmitate Vitamin D3. Store at room temperature.
$158.46
Aromatic Description: You will find this oil provides a woody sweet and exotic aroma. Sandalwood Essential Oil is Rich sweet fragrant yet delicate and floral. Perfumery Note: Base. Aromatherapy Properties: (Uses) Antiseptic antispasmodic relief astringent expectorant and . Its lingering aroma often persists in clothing after washing. Alleviates cystitis (massage in the kidney region where it has a purifying and anti-inflammatory action). Its relief properties can relieve fragrance problems such as frigidity and impotence. Its antispasmodic action on the body should encourage relaxation. Could be useful in promoting secretions and helps with pelvic congestion. This oil has a pronounced action on the mucous membranes of the genito-urinary tract and the pulmonary tracts and is often used for chronic infections of these areas. Helpful with chest infections and sore throats. Will relieve a dry cough; aids sleep during colds and flu. Particularly good for dry eczema as well as ageing and dehydrated skins. Relieves itching and inflammation. Good for arthritic conditions and muscle injuries premenstrual pain insect bites and stings inflammatory conditions of the skin including psoriasis and diaper rash inflammatory conditions of the such as mastitis and abscesses. Blends well with: Basil Holy Black Pepper Frankincense Geranium Lavender Absolute Lemon Neroli Rose Absolute (Morocco) and Vetiver. 100% Pure Essential Oil Capacity - 15 ml.
$57.46
FeaturesGeranium Bourbon Essential Oil Blends well with - Basil Sweet Bergamot Carrot Seed Jasmine Absolute Lavender 40/42 and Rose Otto (Bulgarian). 100% Pure Essential Oil 100% Pure Therapeutic Grade Capacity - 30 ml. Aromatherapy PropertiesGeranium Bourbon has been considered to be the finest and most expensive geranium essential oil. Very strong rose like odor with a high Citronellol content. Among its properties are analgesic antidepressant antiseptic cicatrisant and insecticide. Calms anxiety lifts the spirit assists with depression. Useful for all conditions of the woman's reproductive system as an inhalant and massage application beneficial for . May assist with menopausal problems such as dryness and heavy periods. Assists with inflammation. Helps clear the body of toxins which may be helpful with addictions. Stimulates the lymphatic system which keeps infection at bay. Eases neuralgia. Indicated for all problems of the nervous system such as anxiety and nervous fatigue. The oil is a and a lymphatic stimulant which can help relieve congestion fluid retention and swollen ankles. Useful for all skin conditions as it balances sebum. Good for oily skin. It's an excellent remedy for burns wounds and ulcers.