Silky Scents EO38-10ML 100 Percent Pure Therapeutic Grade Palmarosa Essential Oil - 10 ml.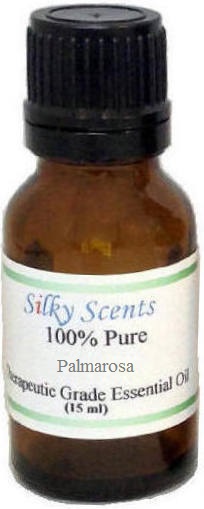 Aromatherapy Properties: (Uses) It is antifungal and antiviral. Indicated for bronchitis birthing regeneration of the skin and regulating oil production of the skin. Useful in treating skin infections. Blends well with: Bergamot Citronella Jasmine Absolute Lavender 40/42 Petitgrain and Rose Otto (Bulgarian). History: Palmarosa was known as Indian geranium oil and used in combination with the more expensive rose oils. The grass grows wild in India particularly northeast of Bombay toward the Himalaya mountains Nepal and to a lesser extent in Pakistan. Features100% Pure Essential Oil Raw Material - Palmarosa Botanical Name - Cymbopogon Martinii Therapeutic Grade Capacity - 10 ml.
Buy Now
$12.54

Related Products
$18.60
Aromatherapy Properties: (Uses) This oil is quite rare. It is known to be anti-catarrh antiviral antitumor cicatrizant emmenagogue mucolytic. Skin: wounds cuts ulcers (avoid use on sensitive skin). It may help with bronchitis and asthma as well as with viral infections. Stimulates liver and gallbladder. Best avoided in pregnancy due to large ketone percentage. There is some limited use of the leaf oil in Indian ethnic medicine to treat itchy skin conditions and as an antiseptic for minor skin traumas. Use well diluted. May cause dermatitis in some individuals. Blends well with: Bergamot Clove Bud Rosemary Eucalyptus Globulus Patchouli Dark Clary Sage Rose Otto (Bulgarian) and Jasmine Absolute. Features100% Pure Essential Oil Raw Material - Red Sage Botanical Name - Lantana Camara Therapeutic Grade Capacity - 5 ml.
$29.55
Mirical in a bottle is the best way to describe this product! Mad About Organics products are developed for a variety of therapeutic animal health skin care issues using all natural organic ingredients. They are cruelty-free biodegradable contain no dyes nor animal-by-products and are environmentally sensitive. Our unique formula does more than just stop symptoms... it actually eliminates the problem in days instead of weeks! Our organic horse Skin Relief formula penetrates deep into skin tissue where fungus lies to reach below the skins surface to eliminate fungi and bacteria that cause rain rot mud fever ring worm horse fungus dog fungus warts and much more. It has been observed that itchy skin chewing constant licking and allergies in horses have become more common than ever before. Like us animals get bit stung have allergic reactions to insects or many other irritants or even get sunburned. Excessive licking chewing and scratching can lead to open sores setting your horse up for a skin infection. Our organic horse skin relief formula aids in all of these situations. Mad About Organics Skin Relief is the answer to all your horses itching scratching allergy related needs. Stop the unnecessary biting scratching and licking the All Natural Way. Since the development of our Skin Relief horse owners have found the special blend of ingredients to be the answer to their horses and other livestock skin and coat needs. Mad About Organics horse skin relief is made in Eugene Oregon and packaged in a recyclable plastic bottle. Directions for use: (Caution: Keep out of reach of children and direct sunlight to protect the essential oils) Shake Well before use Apply a few (2-5) drops on the effected area and gently massage in. The oils will start to work immediately and all of the irritation will star
$15.42
Aromatherapy Properties: (Uses) This oil is also known as Eastern Hemlock is recommended for relief of stress and anxiety. Also recommended for muscle aches and pains aching joints poor circulation. Inhaled for the respiratory system helpful for bronchitis or asthma. Can be used in coughs colds flu infection muscle spasms aches and pains poor circulation and respiratory weakness. It is also credited with being a spiritual oil - stabilizing while opening. Blends well with: Orange Sweet Lavender Maillette Clary Sage Pine Needle Wild Crafted Cedarwood Atlas Galbanum Benzoin Lavender Absolute and Rosemary. Features100% Pure Essential Oil Raw Material - Spruce Hemlock Botanical Name - Tsuga Canadensi Therapeutic Grade Capacity - 10 ml.