Silky Scents EO38-10ML 100 Percent Pure Therapeutic Grade Palmarosa Essential Oil - 10 ml.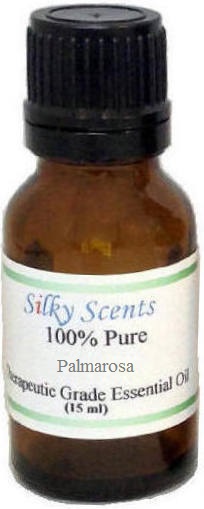 Aromatherapy Properties: (Uses) It is antifungal and antiviral. Indicated for bronchitis birthing regeneration of the skin and regulating oil production of the skin. Useful in treating skin infections. Blends well with: Bergamot Citronella Jasmine Absolute Lavender 40/42 Petitgrain and Rose Otto (Bulgarian). History: Palmarosa was known as Indian geranium oil and used in combination with the more expensive rose oils. The grass grows wild in India particularly northeast of Bombay toward the Himalaya mountains Nepal and to a lesser extent in Pakistan. Features100% Pure Essential Oil Raw Material - Palmarosa Botanical Name - Cymbopogon Martinii Therapeutic Grade Capacity - 10 ml.
Buy Now
$13.53

Related Products
£11.04
This unique formula uses essential oils as moisturizers to help clean and maintain healthy ears. This all-natural ear wash is safe and gentle enough to use twice a day to help heal infections, or weekly to help maintain healthy ears. No Dirty Ears ear wash leaves ears fresh with a pleasant minty scent. This formula is safe for both the environment and your pet. Each bottle will last for months. This product contains no alcohol, sulfates, chemicals, artificial preservatives, artificial colors, or artificial fragrances. Materials: Liquid Size: 8 ounces Ingredients: Spring water, peppermint oil, spearmint oil, lemon, eucalyptus oil, tea tree oil, rosemary oil, saponified coconut oil, olive and jojoba oils Instructions: Apply once per week to each ear for maintenance or up to twice daily to stop infections Model: 39550 Can be used on all pets - dogs, cats, rabbits, goats, etc.
$18.50
Bergamot is a citrus fruit whose rind is used for extracting the Bergamot Essential Oil. The scientific name of bergamot is Citrus Bergamia. It is a tropical plant, but thrives in Europe as well. Its powerful aroma makes it a popular component in many perfumes. It is derived through cold compression, opposed to the steam distillation of many other essential oils. The components of Bergamot Oil create a feeling of freshness, joy and energy. Certain components of the essential oil of Bergamot are antibiotic and disinfectant in nature. They help fight the growth of germs, virus and fungi. They also help reduce infections, including those of the skin. Bergamot Oil blends with Clary Sage, Frankincense, Mandarin, Jasmine, Black Pepper, Cypress, Geranium, Nutmeg, Sandalwood, Orange, Rosemary, Vetiver and Ylang-Ylang Oil. It is particularly complementary with other citrus oils. The Majestic Pure Bergamot Oil is cold pressed extracted from citrus Bergamia rind (peel). Our oils are by far the most effective on the market
$18.40
FeaturesHinoki Essential Oil Consistency - Thin Aromatic Description - Hinoki Wood Essential Oil has a sweet woody scent. Perfumery Note - Top Blends well with - Rosewood (Indian) Bergamot Boronia Cypress Calamus Cassia Jasmine Absolute Juniper Berry Neroli Mimosa Absolute Labdanum Frankincense Clary Sage Vetiver Rosemary and Ylang Ylang I. 100% Pure Essential Oil 100% Pure Therapeutic Grade Capacity - 5 ml. Aromatherapy PropertiesHinoki Essential Oil is non-toxic well known for its ability to naturally kill bacteria viruses viral infections and fungus. Hinoki Oil is said to have a relaxing and decongestant effect on the body helping to relieve tension and stress. It is also excellent for alleviating sinus and chest congestion and respiratory problems. Hinoki Oil is considered to be gentle on the skin and is a very effective antiseptic for healing and treating skin problems such as rashes cuts abrasions and minor skin irritations.