Silky Scents EO38-10ML 100 Percent Pure Therapeutic Grade Palmarosa Essential Oil - 10 ml.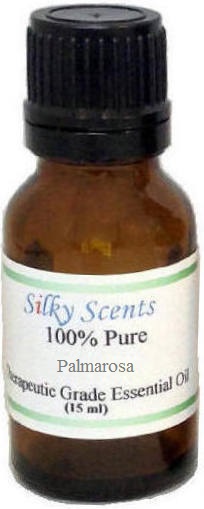 Aromatherapy Properties: (Uses) It is antifungal and antiviral. Indicated for bronchitis birthing regeneration of the skin and regulating oil production of the skin. Useful in treating skin infections. Blends well with: Bergamot Citronella Jasmine Absolute Lavender 40/42 Petitgrain and Rose Otto (Bulgarian). History: Palmarosa was known as Indian geranium oil and used in combination with the more expensive rose oils. The grass grows wild in India particularly northeast of Bombay toward the Himalaya mountains Nepal and to a lesser extent in Pakistan. Features100% Pure Essential Oil Raw Material - Palmarosa Botanical Name - Cymbopogon Martinii Therapeutic Grade Capacity - 10 ml.
Buy Now
$12.54

Related Products
$15.42
Aromatherapy Properties: (Uses) Lavender French is credited with being an analgesic anticonvulsive antidepressant antiphlogistic antirheumatic antiseptic antispasmodic antiviral bactericide carminative cholagogue cicatrisant cordial cytophylactic decongestant deodorant and as a diuretic. Herbalist regards Lavender as the most useful and versatile essential oil for therapeutic purposes. Lavender is the essential oil most commonly associated with burns and healing of the skin. It also has antiseptic and analgesic properties which will ease the pain of a burn and prevent infection. It also has cytophylactic properties that promote rapid healing and help reduce scarring. Lavender French is a popular choice amongst both aroma therapists and massage therapists for it's combination of therapeutic quality and pleasant floral scent. History: Lavender is adapted to living in a dry climate and is native to the western half of the Mediterranean reaching altitudes of up to 1800 meters. Lavender FarmIt is believed that the Romans and the Benedictine monks subsequently introduced it to rest of Europe. Features100% Pure Essential Oil Raw Material - Lavender French Botanical Name - Lavandula Dentata Therapeutic Grade Capacity - 5 ml.
$22.19
Aromatherapy Properties: (Uses) It is antidepressant antiseptic astringent deodorant fungicide and insecticide. May cause loss of appetite. Its odor may be little too persistent for some people. Due to its strong astringent and cicatrisant properties may be helpful for loose skin especially after dieting used in many anti-wrinkle products. Its diuretic properties are useful in cases of fluid retention and cellulite. Well known to increase libido considered an. Relieves effects from insect bites protects clothes from moths. It is known as a tissue regenerator which helps stimulate regrowth of skin cells and the forming of scar tissue. Heals rough cracked skin. Useful for treating acne eczema fungal infections and scalp disorders including dandruff. Blends well with: Black Pepper Clary Sage Frankincense Geranium Lavender 40/42 Sandalwood East Indonesia / Indian Bergamot Cedarwood Atlas Rose Otto (Bulgarian) Orange Sweet Cassia Opoponax Wild Crafted and Myrrh (Indonesia / India). History: For centuries patchouli oil has been used in the East to scent clothes and linen. In China Japan and Malaysia the oil was used to treat colds headaches nausea diarrhea and abdominal pain. In the 1960s patchouli became popular as an. Features100% Pure Essential Oil Raw Material - Patchouli Dark Botanical Name - Pogostemon Cablin Therapeutic Grade Capacity - 15 ml.
$7.19
Tea Tree Oil Skin Ointment contains a soothing blend of essential oils and herbal extracts to moisturize cuticles on hands and feet, or to encourage healing and provide relief for chronic fungal infections. No animal testing. Made In the U.S.A.