Silky Scents EO38-10ML 100 Percent Pure Therapeutic Grade Palmarosa Essential Oil - 10 ml.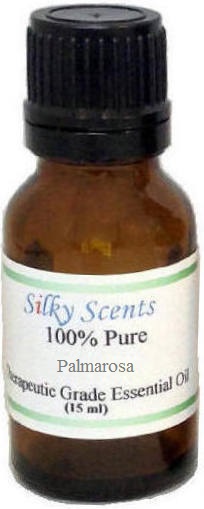 Aromatherapy Properties: (Uses) It is antifungal and antiviral. Indicated for bronchitis birthing regeneration of the skin and regulating oil production of the skin. Useful in treating skin infections. Blends well with: Bergamot Citronella Jasmine Absolute Lavender 40/42 Petitgrain and Rose Otto (Bulgarian). History: Palmarosa was known as Indian geranium oil and used in combination with the more expensive rose oils. The grass grows wild in India particularly northeast of Bombay toward the Himalaya mountains Nepal and to a lesser extent in Pakistan. Features100% Pure Essential Oil Raw Material - Palmarosa Botanical Name - Cymbopogon Martinii Therapeutic Grade Capacity - 10 ml.
Buy Now
$22.36

Related Products
$28.54
Uneven patchy coats resulting from hair loss can be unsightly and excessive shedding means hair on everything. What's worse is that undercoat build up can lead to impacted fur that results in matting or prevents air from circulating between the topcoat and your pet's skin. This can lead to discomfort irritation and even infection. Our Soos? Natural Hypoallergenic Revitalizing Leave-In Conditioner strengthens hair follicles to decrease shedding accelerate hair growth on bald spots and remove undercoat build up. Our exclusive formula made up of a high concentration of Dead Sea minerals promotes cell renewal to nourish coat and skin making it healthier revitalized and more resilient. Our gentle hypoallergenic formula won't irritate pets with chronic skin conditions skin sensitivities or allergies. FeaturesHypoallergenic Naturally reduces excessive shedding and removes undercoat build up. Prevents matting discomfort and follicular infection. Decreases need for frequent brushing. Vitamins minerals and essential oils restore vital nutrients in hair and coat. Promotes cell renewal to nourish coat and skin. Fortified with Dead Sea Water and the extracts of 71 plants herbs and roots. Nourishes skin and coat with vitamins minerals and essential oils. Penetrates hair and skin to deeply hydrate. Boosts immunity. Draws out toxins and impurities. Paraben and SLS (Sulphate) free. Minimum 5:1 concentrated. Safe and great for use on humans and animals. Cruelty Free - NO testing on animals. pH balanced for dogs & cats. Natural ingredients. Size - 220ml/ 7.44 oz.
$23.98
FeaturesCoconut milk scrub anti cellulite scrub supports the natural chemical balance of the skin; softens skin . Best Body Scrub for Soft Skin: Loaded with Dead Sea Salt our body scrubber helps buff away dead skin cells leaving you with bright smooth skin ! Coconut Milk Body Scrub is an exotic and soothing gift from nature that provides moisture and protection. Made with Coconut a touch of 6 essential oils abundant with vitamins A B and E The regular use of the scrub helps to form a chemical barrier on the skin to ward off infection & reduce the symptoms of psoriasis eczema and dermatitis. Our Coconut Milk Body Scrub carries natural anti-aging properties that can effectively moisturize rejuvenate and rid dead skin SpecificationsSize: 14 oz Weight: 1 lbs
$38.22
Aromatherapy Properties: (Uses) Among its properties are analgesic antidepressant antiseptic cicatrisant diuretic and insecticide. Calms anxiety lifts the spirit assists with depression. Useful for all conditions of the woman's reproductive system as an inhalant and massage application beneficial for PMS. May assist with menopausal problems such as vaginal dryness and heavy periods. Assists with breast inflammation and hair loss. Helps clear the body of toxins and this may be helpful with addictions. Stimulates the lymphatic system which keeps infection at bay. Eases neuralgia. Indicated for all problems of the nervous system such as anxiety and nervous fatigue. The oil is a diuretic and a lymphatic stimulant which can help relieve congestion fluid retention and swollen ankles. Useful for all skin conditions as it balances sebum. Good for oily skin. It's an excellent remedy for burns wounds and ulcers. History: The plants originated from South Africa as well as Reunion Madagascar Egypt and Morocco. They were introduced to European countries such as Italy Spain and France in the 17th century. In early times geraniums were planted around the house to help keep evil sprits at bay. Features100% Pure Essential Oil Raw Material - Geranium Botanical Name - Pelargonium Graveolens Therapeutic Grade Capacity - 1 oz.(30 ml.)