Silky Scents EO38-10ML 100 Percent Pure Therapeutic Grade Palmarosa Essential Oil - 10 ml.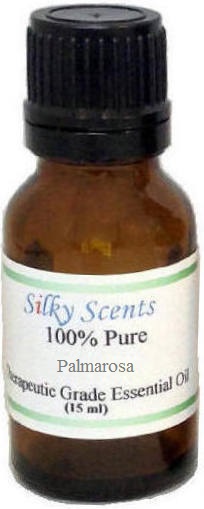 Aromatherapy Properties: (Uses) It is antifungal and antiviral. Indicated for bronchitis birthing regeneration of the skin and regulating oil production of the skin. Useful in treating skin infections. Blends well with: Bergamot Citronella Jasmine Absolute Lavender 40/42 Petitgrain and Rose Otto (Bulgarian). History: Palmarosa was known as Indian geranium oil and used in combination with the more expensive rose oils. The grass grows wild in India particularly northeast of Bombay toward the Himalaya mountains Nepal and to a lesser extent in Pakistan. Features100% Pure Essential Oil Raw Material - Palmarosa Botanical Name - Cymbopogon Martinii Therapeutic Grade Capacity - 10 ml.
Buy Now
$22.36

Related Products
$19.52
Aromatherapy Properties: (Uses) It is antidepressant antiseptic astringent deodorant fungicide and insecticide. May cause loss of appetite. Its odor may be little too persistent for some people. Due to its strong astringent and cicatrisant properties may be helpful for loose skin especially after dieting used in many anti-wrinkle products. Its diuretic properties are useful in cases of fluid retention and cellulite. Well known to increase libido considered an. Relieves effects from insect bites protects clothes from moths. It is known as a tissue regenerator which helps stimulate regrowth of skin cells and the forming of scar tissue. Heals rough cracked skin. Useful for treating acne eczema fungal infections and scalp disorders including dandruff. Blends well with: Black Pepper Clary Sage Frankincense Geranium Lavender 40/42 Sandalwood East Indonesia / Indian Bergamot Cedarwood Atlas Rose Otto (Bulgarian) Orange Sweet Cassia Opoponax Wild Crafted and Myrrh (Indonesia / India). History: For centuries patchouli oil has been used in the East to scent clothes and linen. In China Japan and Malaysia the oil was used to treat colds headaches nausea diarrhea and abdominal pain. In the 1960s patchouli became popular as an. Features100% Pure Essential Oil Raw Material - Patchouli Dark Botanical Name - Pogostemon Cablin Therapeutic Grade Capacity - 10 ml.
$38.87
Aromatherapy Properties: (Uses) It is indicated for colds virus infections and mouth ulcers. Externally for massage in muscular aches and pains including arthritis. Can be inhaled in a blend for the respiratory system. It is an expectorant. Because of the high amount of phenols this essential oil is a good antiseptic for the respiratory system. It has a tonic effect on the liver and kidneys. Bay Laurel may be used for sprains and bruises. Useful as a scalp and hair tonic recommended for hair loss greasy hair or flaky scalp. Blends well with: Blends well with Bergamot Cedarwood Atlas Lemon Rosemary and Patchouli Dark. 100% Pure Essential Oil Capacity - 15 ml.
$34.06
FeaturesHinoki Essential Oil Consistency - Thin Aromatic Description - Hinoki Wood Essential Oil has a sweet woody scent. Perfumery Note - Top Blends well with - Rosewood (Indian) Bergamot Boronia Cypress Calamus Cassia Jasmine Absolute Juniper Berry Neroli Mimosa Absolute Labdanum Frankincense Clary Sage Vetiver Rosemary and Ylang Ylang I. 100% Pure Essential Oil 100% Pure Therapeutic Grade Capacity - 10 ml. Aromatherapy PropertiesHinoki Essential Oil is non-toxic well known for its ability to naturally kill bacteria viruses viral infections and fungus. Hinoki Oil is said to have a relaxing and decongestant effect on the body helping to relieve tension and stress. It is also excellent for alleviating sinus and chest congestion and respiratory problems. Hinoki Oil is considered to be gentle on the skin and is a very effective antiseptic for healing and treating skin problems such as rashes cuts abrasions and minor skin irritations.