EO135-5ML 100 Percent Pure Therapeutic Grade Spruce Hemlock Essential Oil - 5 ml.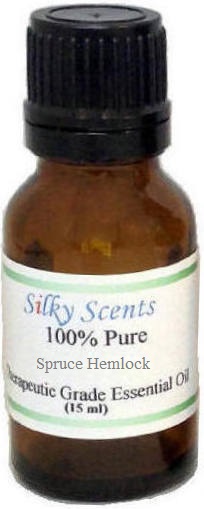 Aromatherapy Properties: (Uses) This oil is also known as Eastern Hemlock is recommended for relief of stress and anxiety. Also recommended for muscle aches and pains, aching joints, poor circulation. Inhaled for the respiratory system, helpful for bronchitis or asthma. Can be used in coughs, colds, flu, infection, muscle spasms, aches and pains, poor circulation, and respiratory weakness. It is also credited with being a spiritual oil - stabilizing while opening. Blends well with: Orange Sweet, Lavender Maillette, Clary Sage, Pine Needle Wild Crafted, Cedarwood Atlas, Galbanum, Benzoin, Lavender Absolute, and Rosemary. Features100% Pure Essential Oil Raw Material - Spruce Hemlock Botanical ...
Buy Now
$24.51

Related Products
$39.99
Are you dealing with some sort of physical pain? Especially related to sore muscles and joints? According to a Gallup Poll, 56 million Americans complain that pain at night keeps them awake and causes restless sleep. Insomnia leads to tiredness and moodiness in the next day, inevitably affecting your performance at work and even possibly straining relationships with the people around you. This leads to a never-ending, vicious cycle, furthering adding stress and despair into your already hectic life. Spending the entire day staring at a monitor and playing with your smartphone can cause some serious lower back pain as well as stiff neck since you are constantly sitting in a strained position. The fast way out can be an OTC painkiller but the harmful chemicals in it can kill you, not just the pain. This is where PainAway Essential Oil Blend comes in! PainAway aims to tackle the source of all of these problems. We understand that people may be cautious and sensitive about what they put on their skin, so we came up with an all-natural, pure and organic muscle essential oil blend that?s non-abrasive and cool to the touch when applied for muscle pain relief. Your muscles can easily become sore after a long workout or sports game. Simply apply 1-3ml of PainAway on your sore areas for fast relief. Our remedy is used like an off-the-counter painkiller but with only natural ingredients. Anytime you feel a pang in your back or leg, rub several drops of PainAway so you can tackle your assignment or hit the field running. PainAway keeps your pain at bay. Grab your bottle before it?s too late.
$34.58
FeaturesPalo Santo Wild Crafted Essential Oil Blends well with - Cedarwood Virginia, Sandalwood East Indian, and other wood oils 100% Pure Essential Oil 100% Pure Therapeutic Grade Capacity - 5 ml. Aromatherapy PropertiesIn Aromatherapy, Palo Santo Wild Crafted is considered to be antiseptic, anti-inflammatory and anti-bacterial. It can be used as part of a remedy for bronchial coughs, colds, nasal flues, allergies and asthma. It is said to have excellent absorption properties and can be used in massage therapy to relieve pain and inflammation of the muscles and joints, and regenerates skin conditions, promote skin nutrition, healing and flexibility. Palo Santo Wild Crafted essential oil can generate states of calmness and relaxation and is beneficial for meditation, concentration, and for enhancing creativity and learning. In spiritual aromatherapy, it can be used as perfume to release negative energy and to purify and cleanse the spirit. Analysis show that Palo Santo Wild Crafted oil contains high levels of limonene a monoterpene compound that has been found to reduce the growth rate of cancer. HistoryThe Natives in Ecuador have used it mainly to protect themselves from insects (mosquito) and also in ancestral rituals where shamans use this oil to clear bad energy from the bodies. They also used it as essential oil and to perfume their homes.
$88.97
Aromatherapy Properties: (Uses) Also known as Hungarian, German Chamomile and Matricaria recutita. Its color is deep blue with major components of chamazulene (gives the oil its deep blue color), farnesene and bisabolol. The chamazulene content gives German chamomile its most important actions such as soothing, calming and anti-inflammatory. Among its uses are anti-inflammatory, hormonal, and antispasmodic. This oil is indicated for all kinds of skin disease (eczema, psoriasis, itchy/dry/flaky skin) stomach distress and menstrual problems and can be used in hot compresses on boils, abscesses, splinters, etc. It can also be used in massage for muscular pain and for arthritic inflamed joints. It's also useful for treating sprains, inflamed tendons and swollen painful joints in bursitis. It is a good remedy for urinary stones. Menstrual pain and menopausal problems can be relieved by the use of compresses, massage and baths. The action of chamomile as a vasoconstrictor can help reduce the redness of the cheeks due to enlarged capillaries. Blends well with: Bergamot Mint, Lavender 40/42, Neroli, Sandalwood East England/Egyptn, Cedarwood Atlas, Frankincense, Rosewood (England/Egyptn), Clary Sage, Ylang Ylang I. 100% Pure Essential Oil Capacity - 15 ml.