EO135-5ML 100 Percent Pure Therapeutic Grade Spruce Hemlock Essential Oil - 5 ml.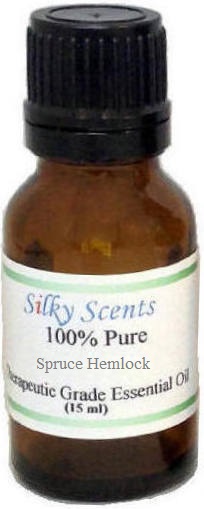 Aromatherapy Properties: (Uses) This oil is also known as Eastern Hemlock is recommended for relief of stress and anxiety. Also recommended for muscle aches and pains, aching joints, poor circulation. Inhaled for the respiratory system, helpful for bronchitis or asthma. Can be used in coughs, colds, flu, infection, muscle spasms, aches and pains, poor circulation, and respiratory weakness. It is also credited with being a spiritual oil - stabilizing while opening. Blends well with: Orange Sweet, Lavender Maillette, Clary Sage, Pine Needle Wild Crafted, Cedarwood Atlas, Galbanum, Benzoin, Lavender Absolute, and Rosemary. Features100% Pure Essential Oil Raw Material - Spruce Hemlock Botanical ...
Buy Now
$24.51

Related Products
$48.75
Aromatherapy Properties: (Uses)Plai is in the same plant family as Ginger, but Plai possesses many different properties and has a more intense action. Rather than the classic warming effect of Ginger, Plai has a cooling effect on pain and inflammation, making it an excellent choice for treating injuries, muscular and joint pain and conditions such as arthritis and rheumatism. one of the best essential oils for treating, aches, pains and inflammation. It has powerful analgesic and anti-inflammatory properties that are beneficial for injuries and muscular aches and pains. It is also useful for post-operative pain and inflammation and its powerful analgesic properties are reported to ease pain for up to 16-20 hours. Plai can help to settle digestive problems such as nausea, stomach cramps, flatulence, constipation, diarrhea and irritable bowel syndrome (IBS). Its anti-spasmodic action is also beneficial for period pains. Plai essential oil can help to stimulate the immune system and boost vitality. Its antimicrobial properties are effective in fighting infection and it can also be helpful for respiratory problems such as asthma, catarrh, chronic colds and flu. can help to soothe the nerves, reduce anxiety and cool anger. excellent 'health supporting' oil that is used in many aromatherapy and spa products particularly for massage. It is normally diluted but can be applied directly to the skin if treating areas of pain or inflammation that are close to the surface of the skin. It can also be used as an insect repellent and to treat acne. Blends well with: Rosemary, Lemongrass, Lavender Russia, Tea Tree, Black Pepper, Grapefruit White, Lime, Sandalwood East Indian, Jasmine Absolute, Orange Sweet, Neroli, and Petitgrain. Features100% Pure Essential Oil Raw Material - Plai Botanical Name - Zingiber Cassumunar Therapeutic Grade Capacity - 15 ml.
$41.54
World's first ever medicinal osteoarthritis remedy which is certified organic Osteoarthritis Pain Management is truly revolutionary. It is a proprietary formula composed of certified organic medicinal plant extracts and homeopathic medicines which have shown effectiveness in the treatment of Osteoarthritis. The active ingredients in Osteoarthritis Pain Management act to stimulate the body's natural healing processes and listed in the United States Homeopathic Pharmacopoeia to remedy osteoarthritis. This product is developed by Forces of Nature's Naturopathic Doctor and company biologist and founder. It is truly one of a kind. Osteoarthritis Pain Management features our unique dual modality approach to healing. Homeopathic medicines to remedy osteoarthritis are blended with soothing certified organic plant extracts and essential oils. This combination delivers results time after time. This dual modality feature also supports the body on a cellular level. It helps alleviate joint pain from the very first application. This treatment has lipophilic tendencies which provide rapid absorption into the system delivering deep penetrating action. The action of the natural medicines in Osteoarthritis Pain Management helps support the system and heal illness. They work to balance the system, targeting to sooth inner membranes to alleviate pain in the joints, thus supporting cartilage health. As a result, Osteoarthritis Pain Management works to safely promote well-being without causing unwanted side effects. Osteoarthritis Pain Management is to be applied topically; this provides the fastest action and delivers a localized effect directly targeting the area of pain. The naturally occurring compounds in Osteoarthritis Pain Management include camphene, linalool and chamazulene, all of which are wonderfully soothing and healing. Their lipophilic tendencies and low molecular weight allow them to absorb deep into skin tissue, where they work on a cellular level. Further, Ruta Graveolens, blended in Osteoarthritis Pain Management, is noted in the US Homeopathic Pharmacopeia for its ability to treat joint pain or injured joints. It is native to Southern Europe. Aesculus Hippocastanum is also blended into this remedy homeopathically, it is native to us here in North America and noted to ease joint pain and venous stasis. Zingiber Officianale ihas been potencized and concentrated in Osteoarthritis Pain Management as it supports weak joints and provides an anti-inflammatory effect. FeaturesAll Natural Pain Relief for Osteoarthritis Topical application for maximum, immediate relief Delivers deep penetrating action Soothes inner membranes to alleviate pain in joints Treats osteoarthritis safely and naturally IngredientsAesculus Hippocastanum 30C, Ruta Graveolens 30C InZingiber Officianalis, French Lavandula Super, Cupressus Sempervirens, Rosemarinus Officinalis, Matricaria Chamimilla, Sesamum Indicum, Essential Oil, Pinus Slyvestris, Picea Mariana, Certified Organic. SpecificationsOrganic: Yes Gluten Free: Yes Yeast Free: Yes Wheat Free: Yes Vegan: Yes Volume: 2 fl oz Dimension: 4.25" H x 4.63" W x 1.75" D Weight: 0.2 lbs
$19.95
TOP-NOTCH-When it comes to quality, you can trust Sky Organics without a second thought. We strive to provide only first class products that will always satisfy you. Our splendid Peppermint essential oil is 100% pure, organic and therapeutic grade. Steam distilled by organic artisanal farmers in Japan. WORRY-FREE- Our Peppermint Oil contains no harmful chemicals, additives or other dangerous ingredients. An excellent, eco-friendly therapeutic grade product that has never been tested on animals! MUST HAVE FOR AROMATHERAPY-When used in combination with an essential oil diffuser, the benefits of our natural Peppermint oil skyrockets. It may help you sleep better, treat symptoms of colds and coughs and much more! NUMEROUS HEALTH BENEFITS-Use our aromatherapy oil to relieve headaches, muscle pains, nerve pains, toothaches, joint pains, itchiness and to repel mosquitoes. All you have to do is smell the oil or rub it on the affected area. EXTREMELY VERSATILE-Can be used for flavoring foods and drinks and of course, as the perfect fragrance in soaps, shampoos, candles and cosmetics. Also, commonly used for, many DIY recipes for skin creams and ointments! Looking for a natural, high quality organic product that can boost your health and relieve pain? We have dedicated many years of research in providing only the most beneficial products for your health. And our therapeutic grade, aromatherapy organic Peppermint oil is one of the products we are most proud of. Why? Check Out Our Essential Oil's Unrivaled benefits below: Can be used for medical aromatherapy and will relieve anxiety, joint pain and nausea! Thanks to its superb aroma it may help improve memory and raise alertness effectively! Has antimicrobial and antioxidant properties and is perfect for treating various skin infections and irritations! May reduce stomach aches and soothe digestive issues when it is inhaled or vapored! It can make for the perfect, natural remedy that can replace harmful pharmaceutical drugs! Add ou