Lemongrass Essential Oil- 15ml by Destination Oils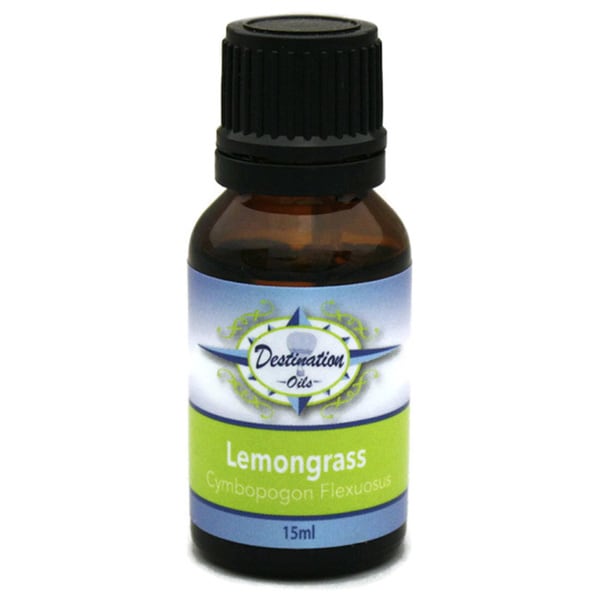 Use this Lemongrass (Cymbopogan Flexuosus) Essential Oil during massages to decrease muscle and joint pain. It can also be used to improve skin, repel bugs, improve energy levels and uplift your spirit. With a satisfying scent, this essential oil is just what you need. Great quality at a great price, these essential oils are incredibly concentrated and powerful to help you in multiple ways. Because of their strong concentration, ensure safe use by properly diluting with a carrier oil. Always test for skin sensitivity prior to widespread use. Keep out of eyes, ears, or nose. Keep oils tightly closed and ...
Buy Now
£12.03

Related Products
$52.95
Characteristics: This Rapid Relief blend is a combination of oils to help reduce pain by creating heat and increasing circulation.. * Usage: This Synergy Blend is 100% Pure Essential Oils. We recommend a 3 to 5% dilution for topical body applications. Apply directly to the point of pain. * Cautions: It is possible that this blend may cause sensitivities; users are recommended to use this blend only in dilution and not as a replacement for traditional medicine. Blend of: Peppermint, Clove Bud, Laurel Leaf, Black Pepper, Cinnamon, Ginger Root, Roman Chamomile, Juniper and Thyme.
$23.99
Soothe and relax sore and tired muscles with our herbal Muscle Rub! Tried and true natural ingredients like menthol, eucalyptus, camphor, comfrey and St John's Wort are included along with soothing oils like coconut and avocado. The moisturizing oils that make up the base for this rub help soften the skin and let the essential oils and herbal ingredients do their work on your legs, feet, back, shoulders, neck and any muscle that needs some TLC after a workout, run or a spot of gardening. This rub is also ideal to use for your everyday aches! We are firm believers in the wisdom of previous generations. Many of the natural botanical ingredients in this muscle rub are probably familiar to you as traditional remedies that older members of your family may have used for relieving aches and pains associated with headaches, cramps, arthritis and other similar maladies. THINGS TO KNOW: Available in 1.8oz amber glass jar Perfect for athletes, runners, gardeners and people who suffer from general aches and pains Natural ingredients include: Olive oil: helps soothe the skin Virgin coconut oil: moisturizing and also allows other ingredients to penetrate the skin Avocado oil: nourishes and moisturizes Beeswax: emollient properties soften the skin Menthol: a natural analgesic Eucalyptus: commonly used to relieve aches and pains Rosemary: widely used in the natural treatment of headaches and muscle pains Camphor: also has natural analgesic properties and is often used to relieve sore muscles including in the lower back area Wintergreen: traditionally used to alleviate muscle cramps, headaches and other types of pain in the bones and joints Turmeric: commonly used as a spice in cooking, it is considered to be a natural anti-inflammatory Black pepper: you probably have some in your kitchen! Used on the skin, it creates a warming effect and is thought to work as a natural anti-inflammatory and antispasmodic Herbal ingredients include arnica, St John's Wort, comfrey, cayenne, and calendula, all of which have been used in folk remedies for generations to help soothe and ease pain from injury or caused by inflammation The muscle rub ships in an amber glass jar which will help keep the ingredients active for longer by filtering out damaging sunlight. CAUTIONS: Store out of direct sunlight in a cool area. Do not use on young children. Do not use in or near the eyes or mucous membranes. Wash hands after applying. INGREDIENTS: OLIVE OIL, COCONUT OIL, AVOCADO OIL, BEESWAX, MENTHOL, EUCALYPTUS OIL, ROSEMARY OIL, BLACK PEPPER OIL, CAMPHOR OIL, TURMERIC OIL, VITAMIN E, WINTERGREEN OIL, ROSEMARY OIL EXTRACT, ARNICA EXTRACT, ST. JOHNS WORT EXTRACT, COMFREY EXTRACT, CALENDULA EXTRACT AND CAYENNE EXTRACT. Please note small...
$24.44
Aromatherapy Properties: (Uses) Cooling analgesic antispasmodic anesthetic decongestant emmenagogue expectorant febrifuge insecticide and stimulant. Should be kept away from eyes likely to irritate skin and mucous membranes. Best avoided by pregnant women and nursing mothers as it may discourage flow of milk. May antidote homeopathic remedies. Helps people become clear headed and refreshes the spirits. Helpful for people who are unable to concentrate or who have mental fatigue. Said to relieve states of anger hysteria and nervous trembling excellent for depression. On the body it has a dual action: cooling when hot and warming when cold. As a remedy for colds it halts mucous and fevers and encourages perspiration. Has a slightly anesthetic effect on stomach muscles. Good for travel sickness vomiting diarrhea constipation colic nausea and to keep drivers alert while on the road. Its cooling and pain relieving action seems to ease headaches migraines and toothaches. Used in liniments for the relief of muscle pain lumbago bruises joint pain and insect bites. Can be used to relieve any kind of skin irritation or itching but should be used in a dilution of 1% or less or the irritation will be made worse. Not much liked by insects and vermin. Blends well with: Cedarwood Atlas Cypress Lavender French Niaouli Organic and Pine White. History: Peppermint and it's name has it's roots in Greek mythology. Pluto - god of the dead - fell in love with Minthe herself a beautiful nymph. Pluto's goddess wife Persephone became jealous and turned Minthe into a plant but out of respect for her beauty she ensured that she would have a wonderful and fragrant aroma. Features100% Pure Essential Oil Raw Material - Peppermint Botanical Name - Mentha Arvensis