Silky Scents EO189-1OZ-30ML 100 Percent Pure Therapeutic Grade Palo Santo Wild Crafted Essential Oil - 30 ml.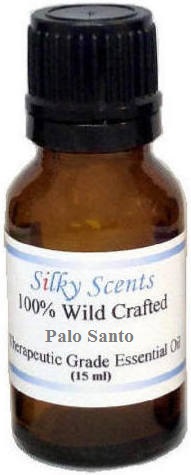 FeaturesPalo Santo Wild Crafted Essential Oil Blends well with - Cedarwood Virginia Sandalwood East Indian and other wood oils 100% Pure Essential Oil 100% Pure Therapeutic Grade Capacity - 30 ml. Aromatherapy PropertiesIn Aromatherapy Palo Santo Wild Crafted is considered to be antiseptic anti-inflammatory and anti-bacterial. It can be used as part of a remedy for bronchial coughs colds nasal flues allergies and asthma. It is said to have excellent absorption properties and can be used in massage therapy to relieve pain and inflammation of the muscles and joints and regenerates skin conditions promote skin nutrition healing and flexibility. Palo ...
Buy Now
$62.15

Related Products
$21.95
*Comparable to Young Living's PanAway blend! You don't have to run a triathlon to know what sore muscles feel like. Sometimes we strain our backs, legs, or necks during periods of stress or sleepless nights. Other times, we push our bodies too hard and end up feeling tweaked. With a minty and powerful aroma, Muscle Relief can loosen tight muscles and soothe away pain. It has a cooling effect on the body and can help decrease inflammation and swelling. Rubbing Muscle Relief into a knot or tight spot on your body can release tension so you can regain your strength. Muscle Relief is a restorative blend of Clove, Helichrysum, Peppermint and Wintergreen. Made with care from our top quality oils and, as always, Edens Garden essential oils are never diluted or mixed with additives. CONTAINS: Clove, Helichrysum, Peppermint and Wintergreen BE INSPIRED: Place 5 drops of Muscle Relief on a cold compress and place on the tired or strained muscle. Breathe deeply and let your muscles relax.
$7.69
Deep Muscle Synergy Blend: Blended with pure ? Wintergreen (Gaultheria Procumbens) ? Peppermint (Mentha Piperita) ? Eucalyptus (Eucalyptus Globulus) ? Camphor (Cinnamomum camphora) Characteristics: This blend combines powerful analgesic oils designed to mitigate pain and discomfort. This is a powerful oil and should be diluted with a carrier oil prior to application. Natural therapeutic solution to the challenges of muscle discomfort. Eases achy joints and sore muscles. Its effects are deep, cool and penetrating with lasting therapeutic results.
$32.05
Not to be confused with sweet marjoram commonly mistaken for oregano. Warm penetrating and slightly eucalyptus-type aroma. It is analgesic antiseptic antispasmodic digestive emmenagogue expectorant sedative and laxative. Due to the higher 18-cineole content of Spanish marjoram this oil is more effective used as an expectorant for respiratory tract infections and spasms. Marjoram has a calming effect on the nervous system relieves anxiety and stress. It is effective for insomnia especially when there's high blood pressure. Very effective in dealing with painful muscles mostly in the lower back area. Assists with swollen joints good as an after-sports rub. Seems to lower high blood pressure. Soothes digestion may help with stomach cramps constipation and flatulence. May be effective against sea sickness. Alleviates stuffed-up feeling during colds. May be useful in relieving painful periods. Capacity - 10 ml.