Silky Scents EO189-1OZ-30ML 100 Percent Pure Therapeutic Grade Palo Santo Wild Crafted Essential Oil - 30 ml.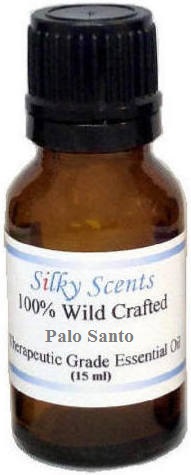 FeaturesPalo Santo Wild Crafted Essential Oil Blends well with - Cedarwood Virginia Sandalwood East Indian and other wood oils 100% Pure Essential Oil 100% Pure Therapeutic Grade Capacity - 30 ml. Aromatherapy PropertiesIn Aromatherapy Palo Santo Wild Crafted is considered to be antiseptic anti-inflammatory and anti-bacterial. It can be used as part of a remedy for bronchial coughs colds nasal flues allergies and asthma. It is said to have excellent absorption properties and can be used in massage therapy to relieve pain and inflammation of the muscles and joints and regenerates skin conditions promote skin nutrition healing and flexibility. Palo ...
Buy Now
$62.15

Related Products
$12.94
Gardencense Pain Relief Cream. The perfect blend of all natural ingredients including 5 essential oils made for relieving pain in joints and muscles. This unique pain relief cream is formulated to relieve arthritis pain, joint pain, upper and lower back pain, and neck pain. It also cures discomfort when experiencing pain with shingles, muscles, hemorrhoids, and sciatic nerve pain. ALL NATURAL INGREDIENTS To Include: Aero Vera Gel, Menthol Crystals, and 5 amazing essential oils! Our return policy grants a 60 day money back guarantee if the product does not help cure your pain when applied. Your purchase today is risk free. Manufactured in the USA
$39.99
Are you dealing with some sort of physical pain? Especially related to sore muscles and joints? According to a Gallup Poll, 56 million Americans complain that pain at night keeps them awake and causes restless sleep. Insomnia leads to tiredness and moodiness in the next day, inevitably affecting your performance at work and even possibly straining relationships with the people around you. This leads to a never-ending, vicious cycle, furthering adding stress and despair into your already hectic life. Spending the entire day staring at a monitor and playing with your smartphone can cause some serious lower back pain as well as stiff neck since you are constantly sitting in a strained position. The fast way out can be an OTC painkiller but the harmful chemicals in it can kill you, not just the pain. This is where PainAway Essential Oil Blend comes in! PainAway aims to tackle the source of all of these problems. We understand that people may be cautious and sensitive about what they put on their skin, so we came up with an all-natural, pure and organic muscle essential oil blend that?s non-abrasive and cool to the touch when applied for muscle pain relief. Your muscles can easily become sore after a long workout or sports game. Simply apply 1-3ml of PainAway on your sore areas for fast relief. Our remedy is used like an off-the-counter painkiller but with only natural ingredients. Anytime you feel a pang in your back or leg, rub several drops of PainAway so you can tackle your assignment or hit the field running. PainAway keeps your pain at bay. Grab your bottle before it?s too late.
$15.39
Use this Lemongrass (Cymbopogan Flexuosus) Essential Oil during massages to decrease muscle and joint pain. It can also be used to improve skin, repel bugs, improve energy levels and uplift your spirit. With a satisfying scent, this essential oil is just what you need. Great quality at a great price, these essential oils are incredibly concentrated and powerful to help you in multiple ways. Because of their strong concentration, ensure safe use by properly diluting with a carrier oil. Always test for skin sensitivity prior to widespread use. Keep out of eyes, ears, or nose. Keep oils tightly closed and out of the reach of children. Do not ingest essential oils unless guided by a trained professional. The information provided on this website is only our opinion and is not intended as medical advice or diagnosis. Statements have not been evaluated by the FDA and are not intended to diagnose, cure, treat or prevent any disease. Information on this page should not be interpreted as medical advice, meant for diagnosing illness or for prescriptive purposes. Always discuss any essential oil use with your doctor or trained aromatherapist. Features: States: Iowa Country of Origin: India Botanical Name: Cymbopogan Flexuosus Extraction Method: Steam Distilled Aromatic Scent: Crisp lemony aroma with herbal woody undertones Top Uses: Great during massages, has been used to decrease muscle and joint pain, can improve skin, natural bug repellent, diffuse to improve energy levels and uplift spirit Caution: Maximum dilution of 0.7-percent is best to avoid skin irritation. Not advised for children under age 2 or those with pre-existing skin issues 100-percent pure, therapeutic quality Material: Oils About the Manufacturer: Welcome to Destination Oils. My name is Kara, and I am the owner of Destination Oils, a small essential oil business located in Iowa. We want to bring great, high quality essential oils and unique aromatherapy jewelry to the online marketplace. Our oils are 100-percent pure, therapeutic grade with no fillers, preservatives, or chemicals. Just oil. The best quality for a great price.