ALCOLADO P2531A Refreshing Glacial Splash Lotion 8.4oz - Medium - Pack of 24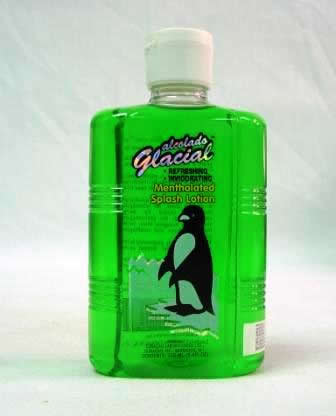 Alcolado Glacial - The air-conditioner in a bottle. For over 50 years a household name in the Caribbean. Alcolado Glacial is much more than just a cologne. Its menthol fragrance refreshes from head to toe. The high quality of the lotion is derived from its high alcohol content (76%) menthol and other essential oils. The secret formulation of these ingredients results in a highly refreshing lotion. Ingredients: SD alcohol no. 40B (76%) menthol fragrance water FDC Blue no. 1: FDC Yellow no. 5. Multi-use lotion: Headache/fever: By applying a handkerchief wet with Alcolado Glacial on the forehead the ...
Buy Now
$111.92

Related Products
$12.96
TerraShield Outdoor Blend contains powerful essential oils and other plant oils known to provide outdoor protection in a natural, safe way. This newly updated formula contains a select blend of essential oils including Ylang Ylang, Cedarwood, Catnip, Lemon Eucalyptus, Litsea, Arborvitae, Nootka, and Vanilla Bean Absolute-all of which possess specific chemical compounds known to protect against environmental annoyances. Now available in this new formula, TerraShield Outdoor Blend is a powerful yet safe formula that can be used by every member of the family, outdoors and throughout the home.
$32.99
Artisan Island Citronella Jar Candle is the perfect candle for keeping away pesky mosquitoes. This fragrance oil is infused with natural Citronella essential oil combined with your favorite island scents of coconut, pineapple, rum, banana and tangerin...
$4.99
Botanical Name: Cymbopogon Winterianus Plant Part: Leaves Extraction Method: Steam Distilled Origin: Sri Lanka Color: Pale yellow to yellowish brown liquid. Many commercial repellents contain Citronella Ceylon, and it is often used in combination with Cedarwood to produce a pleasant smelling natural insect repellent. It will also be seen in soaps and candles, and it has common applications in massage. This oil can also help with minor infection, but is more commonly known for its ability to assist in combating colds and flu. Citronella can also be used for excessive perspiration and for conditioning oily skin and hair. Consistency: Light Note: Top Strength of Aroma: Medium Aromatic Scent: Citronella Ceylon Oil has a well rounded lemon citrus scent, though it is much softer than actual Lemon. It also has subtle wood tones. Cautions: Citronella may irritate sensitive skin. Avoid use during pregnancy.