Silky Scents EO63-15ML 100 Percent Pure Therapeutic Grade Eucalyptus Smithii Wild Crafted Essential Oil - 15 ml.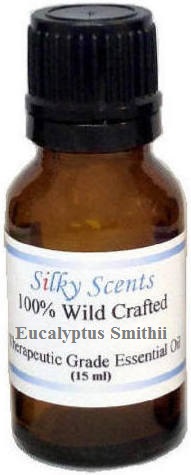 The oil has a strong fresh citronella-like odor with a sweet balsamic undertone. Commonly known as lemon scented eucalyptus. FeaturesEucalyptus Smithii Wild Crafted Essential Oil Blends well with - Basil Sweet Cedarwood Atlas Lemon Vetiver Peppermint and Clary Sage. 100% Pure Essential Oil 100% Pure Therapeutic Grade Capacity - 15 ml. Aromatherapy PropertiesAlso known as gully gum white iron bark and Smith's gum. As with all other eucalyptus oils its properties are antiviral and expectorant. This oil will relieve nasal stuffiness and will help breathing. HistoryIn the 1980s Eucalyptus species hybrids and clones are planted commercially in South Africa for ...
Buy Now
$32.37

Related Products
$32.86
Performance Touch BON140EUC 30 ml Bon Vital Eucalyptus Essential Oil
$56.99
Made from natural plant extracts//10ml Bottles//For use with the Aromasteam steamhead//Essential Oil//United States//Installation Required//
$9.95
Eucalyptus (Globulus) Essential Oil. 30 ml (1 oz). 100% Pure, Undiluted, Therapeutic Grade.