Grapeseed Oil, 100% Pure, 4 oz, NOW Foods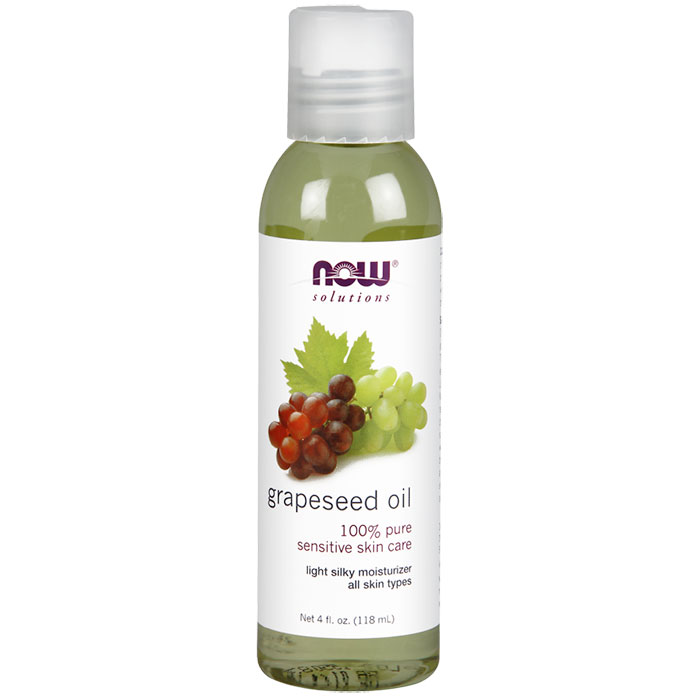 Buy Now
$2.99

Related Products
$10.99
Beauty Aura pure Grapeseed oil is cold pressed from the seeds of grapes. Grape Seed Oil is rich in vitamins, minerals, antioxidants and essential fatty acids like Oleic, Linoleic, Stearic, Palmitic, Myristic and Lauric. Condition: Dry Sensitive skin & dull hair in need of simple natural moisturizing. Solution: Help soothe skin conditions including itching, dryness and inflammation. It is suitable for all skin types since it won't clog pores or cause breakouts. Powerful antioxidant properties neutralize free radical damage caused by sun exposure and aging. Regular massages may help protects skin's natural collagen and slow the signs of aging. Excellent eye makeup remover as it can break down mascara and moisturize the eye area at the same time. It also helps condition the lashes and make them grow longer and stronger over time. Grapeseed oil has lots of benefits in hair care. Massaging the scalp with grapeseed oil supplies hair with a lot of nutrients making them stronger and lustrous. Regular massages also serve as an effective dandruff treatment. It can help get rid of dry, frizzy, and unmanageable hair.
$7.95
Grapeseed's biggest fans are often those with sensitive skin. Its natural composition is incredibly gentle on the skin as it tighten and tones. If you have trouble finding a carrier oil or even a moisturizer moderate enough for your skin, Grapeseed might be your answer. Used in a variety of high-end lotions, sunscreens and anti-aging products, Grapeseed is rich with vitamin E and other nutrients. It actively combats acne and itchy eczema while also helping to fade the appearance of sun damage and deep wrinkles. Working on the cellular level, Grapeseed's antioxidant properties protect against tissue damage. Grapeseed is incredibly powerful, yet remarkably gentle.BOTANICAL NAME: Vitis vinifera EXTRACTION METHOD: Cold Pressed AROMA: Grapeseed has a very light aroma with a hint of nuttiness CONSISTENCY: One of the lightest carrier oils available COLOR: Light green to yellow green ABSORPTION: Absorbs easily into the skin. COMMON USES: Grapeseed is a popular component in many moisturizers, lotions, lip balms, sunscreens and night creams. Its astringent properties tighten and tone the skin, making it an agent against acne, eczema, sunspots and wrinkles. In addition to vitamin E, Grapeseed is rich with highly beneficial omega fatty acids. Its anti-inflammatory properties help relieve pain. Grapeseed is used to treat swelling and arthritis. SAFETY: Grapeseed carrier oil may have mild side effects including nausea, dizziness or headaches. Be sure to check with our doctor before use if you have high blood pressure or are taking cholesterol medication SHELF LIFE: Shelf life of 1 year with proper storage conditions (cool, out of direct sunlight). Refrigeration after opening is recommended.
$17.19
SheaMoisture Kukui Nut & Grapeseed Oils 0.5-ounce Youth-Infusing Eye Cream. Instantly illuminate and give a brightened appearance to eyes with this nutrient rich, hydrating eye cream Type: Eye Cream We cannot accept returns on this product.