AlfaParf 167217 Semi Di Lino Diamond Illuminating Essential Oil for All Hair Types - 12 Pack 113 ml-0.43 oz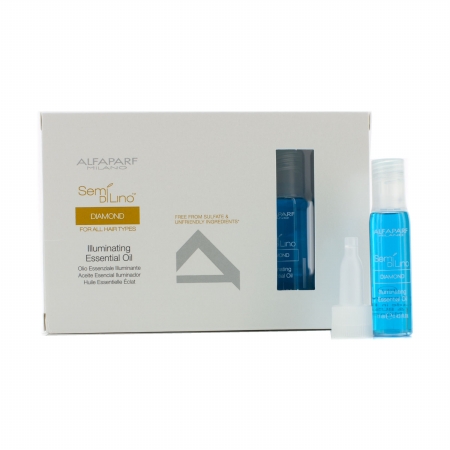 Like fresh strawberries our products are fresh and genuine and irresistible. We use innovative and modern technology to provide a hassle-free environment. The freshness of the products is experienced in every single use giving a lasting experience. We make sure the products are tested and meet all standards before it is packed. Each product is a celebration of health happiness and nature. FeaturesA shine-boosting oil treatment Contains a special blend of essential oils Helps repair capillary fibers & seal hair cuticle Adds intense luster to hair without overloading Hair appears softer smoother & healthier looking Perfect for all hair types ...
Buy Now
$56.03

Related Products
$13.15
Natural Plant Extract Rapid Hair Growth Essence Essential Oil Liquid Ginseng Ginger Herbal Pure
$10.99
The beautiful purple flowers of the lavender or Lavandula angustifolia have been used for centuries in the Mediterranean for its sweet floral aroma. Today, lavender essential oil is most commonly used in aromatherapy and DIY products Beauty Aura 100% Pure Lavender Essential Oil allows you to discover the amazing benefits of lavender essential oil without exposing you to any chemical impurities like preservatives, dilutants or artificial fragrances. That's because our pure lavender oil is packaged in the USA after multiple quality tests to ensure quality and potency One of the most versatile of all essential oils, lavender oil can be used: * In a diffuser for aromatherapy * To make amazing aromatherapy essential oil blends by mixing it with other essential oils * Diluted with water as an air freshener or laundry spray * Mixed with a carrier oil for topical use as a massage oil * Undiluted as an ingredient in DIY products that use lavender oil for beauty care products, cleaning products or fragrance Reap the numerous benefits of pure lavender oil. Order Beauty Aura 100% Pure Lavender Essential Oil today!!
$37.89
A 100% botanical-based leave-in conditioner Contains Fig and Cider Vinegars Hibiscus AHA and Wheat proteins Offers illuminating and sleeking benefits Hair appears nourished and more manageable Perfect for natural or little sensitized hair Free from any paraben and chemical preservatives To use: Spray uniformly over damp hair after shampooing. No need to rinse. Brush and style as desired. Product Line: J. F. Lazartigue - Hair Care.100ml/3.4oz.