Alikay Naturals Essential 17 Hair Growth 8-ounce Oils (Pack of 2)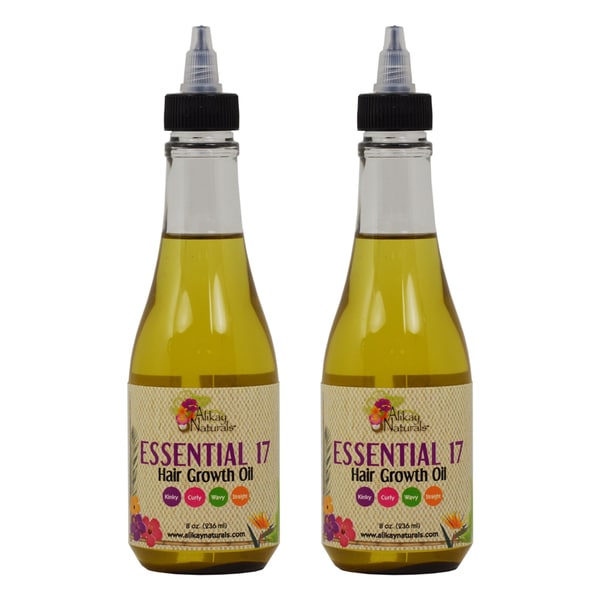 A Custom Blend of 17 Essential Oils and herbs that are used to promote hair growth and a healthy scalp. We created this unique blend after extensive research by combining not 2 but 17 of the best natural ingredients that increase hair growth by penetrating the scalp to get the nutrients to your follicles. This oil blend stimulates, nourishes and strengthens the hair follicles, reduces dandruff, while helping to reduce scalp infections and inflammation. This custom essential oil and herb combination is AMAZING! Hair Type: Coarse Curly Hair Type: Hair Treatments We cannot accept returns on this product.
Buy Now
$34.49

Related Products
$15.19
Nurture and fortify your hair follicles with this enriching blend of oils that infuses the hair and scalp with essential nutrients. This rich oil also revitalizes your scalp and reduces inflammation and dandruff. Restore hair growth and the health of your scalp with this nourishing blend of 17 oils Promote hair growth and reinvigorate hair follicles Reduces dandruff and scalp inflammation Infuses follicles and scalp with nutrients Good for any hair type Packaged in 8 ounce bottle Directions: Shake bottle well to mix the ingredients. Apply the oil directly to the scalp using the apllicator tip Massage oil into scalp well to stimulate your scalp and warm the oil. Altermate rows that you apply the product to every application. Use this oil every other night. Note: The brown spekles in the bottom are an herb Horsetail Powder. Ingredients: Emu Oil, Rosmarinus Officinalis (Rosemary) Leaf Extract, Olea Europaea (Olive) Fruit Oil, Simmodsia Chinesis (Jojoba) Seed Oil, Prunus Amygdalus Dulcis (Sweet Almond) Oil, Melaleuca Alternifolia (Tea Tree) Oil, Horsetail Powder, Mentha Piperita (Peppermint) Oil, Essential Oil Blend, Botanical Blend. We cannot accept returns on this product.
$7.20
This book is meant to draw the reader's attention on alternative preparations that can be used to preserve body health and beauty. You will learn about using essential oils in maintaining healthy skin, hair and nails protection, weight loss, strengthen im
$8.99
Sweet Orange in a 4oz glass essential oil bottle. Comes with pipette for your convenience.