Alikay Naturals Essential 17 Hair Growth 8-ounce Oils (Pack of 2)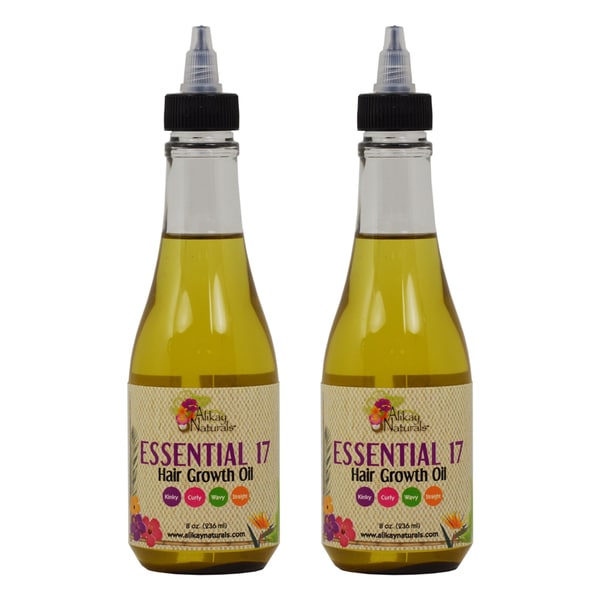 A Custom Blend of 17 Essential Oils and herbs that are used to promote hair growth and a healthy scalp. We created this unique blend after extensive research by combining not 2 but 17 of the best natural ingredients that increase hair growth by penetrating the scalp to get the nutrients to your follicles. This oil blend stimulates, nourishes and strengthens the hair follicles, reduces dandruff, while helping to reduce scalp infections and inflammation. This custom essential oil and herb combination is AMAZING! Hair Type: Coarse Curly Hair Type: Hair Treatments We cannot accept returns on this product.
Buy Now
$36.49

Related Products
$13.97
Finally a solution to unmanageable hair, and dry, cracked, and irritated skin give your hair more shine, body and strength with the ongoing torture your hair and skin gets from hairdryers, weather, and treatments, you need something natural, without chemicals to replenish your natural shine and luster. Leven rose's 100% pure natural jojoba oil does just that. Jojoba oil is one of the closest things to the natural oils the body produces. Because it's similar to what the body produces, it is absorbed into the skin and hair very easily, and replenishes what is stripped away by soaps, shampoos, the elements, and everything else. If you are looking for healthier-looking, easy-to-manage hair, then let jojoba oil prove itself to you, like it has for countless others for decades. Leaves your hair with more strength, moisture, manageability. Leven rose's jojoba oil is a humectant that provides moisturizing benefits to the hair. Strengthens hair and restores resilience, adds moisture, body and shine. Beneficial for all hair types, enriches skin and leaves it visibly radiant. Soothes and helps protect extremely dry, chapped or chafed skin and lips caused by winter weather or frequent hand washing.
$18.50
Ylang Ylang Oil is Famous for Refreshing and Delicate Floral Aroma, used for Aromatherapy, Massage, Skin care, Hair care and Numerous Therapeutic Remedies. Majestic Pure Ylang Ylang Essential Oil is the FIRST fraction of the oil obtained in the first 2 1/2 hours of distillation process. It contains most aromatic and valueable constituents of the oil of Ylang Ylang. Majestic Pure Ylang Ylang Oil is Steam Distilled Premium Quality Oil. Superior sourced and hand picked are used. Our oils are by far the most effective on the market. Click the Button at the Top of this Page to Buy with Confidence
$8.95
Botanical Name: Cananga Odorata Plant Part: Flowers Extraction Method: Steam Distilled Origin: Madagascar Description: Ylang-ylang Essential Oil is extracted from Cananga odorata - also known as flower of flowers. It is a tall tropical tree about 20meters (60 feet) high with large, tender, fragrant pink, mauve or yellow flowers. The yellow heads are viewed as being the best in terms of quality. There are several grades of Ylang-ylang essential oil which are extracted at different times during the flower's lengthy distillation. These grades are referred to as extra, I, II, & III. This is the complete distillation of the oil. Color: Pale to golden yellow clear liquid. Common Uses: Ylang-ylang Essential Oil can assist with problems such as high blood pressure, rapid breathing and heartbeat, nervous conditions, as well as impotence and frigidity. Ylang-ylang Essential Oil is best suited for use in the perfumery and skincare industries. Consistency: Thin Note: Base Strength of Aroma: Medium Blends well with: Bergamot, Grapefruit, Lavender, Neroli, Rosewood and Sandalwood. Aromatic Scent: Ylang-ylang Essential Oil has a sweet, exotic, floral scent that is one of the most sought after aromas. History: In Indonesia, Ylang ylang flower petals are strewn upon the bed of newlywed couples. Ylang ylang was a popular ingredient of hair. Cautions: Ylang-ylang Essential Oil can cause sensitivity on some people and excessive use of it may lead to headaches and nausea.