Alikay Naturals Essential 17 Hair Growth 8-ounce Oils (Pack of 2)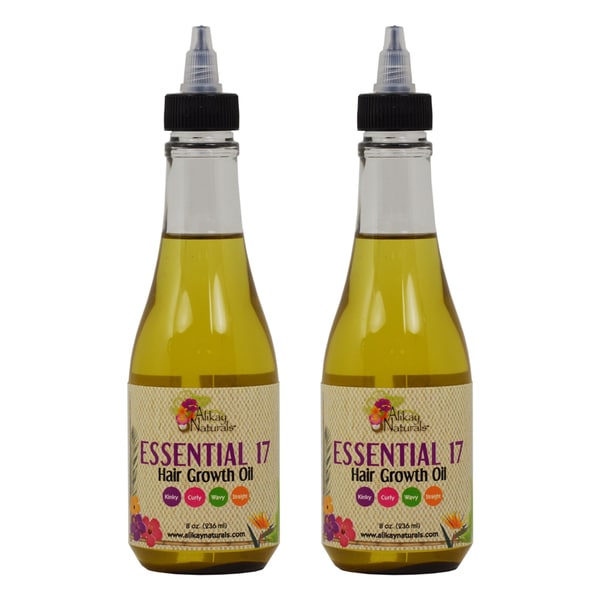 A Custom Blend of 17 Essential Oils and herbs that are used to promote hair growth and a healthy scalp. We created this unique blend after extensive research by combining not 2 but 17 of the best natural ingredients that increase hair growth by penetrating the scalp to get the nutrients to your follicles. This oil blend stimulates, nourishes and strengthens the hair follicles, reduces dandruff, while helping to reduce scalp infections and inflammation. This custom essential oil and herb combination is AMAZING! Hair Type: Coarse Curly Hair Type: Hair Treatments We cannot accept returns on this product.
Buy Now
$35.99

Related Products
$12.50
Taken from the best leaves in Australia, Tea Tree Oil is derived from Melaleuca Alternifolia, which is  native to the Southeast of the Queensland and the Northeast coast of New South Wales, Australia.  Enjoy our highest quality Tea Tree Oil in a larger bottle (4oz) that will last you longer than any other  tea tree oil on the market. We include a convenient and easy to use glass dropper, making it easier to  assist you with precision when making any tea tree oil remedy or recipe.  Our skin goes through so much and skin infections can occur at any moment throughout someone's  life, and if ignored, skin infections have the potential to grow into serious issues such as a viral, fungal,  bacterial, or parasitic infection. Treating any first signs of a skin irritation is the best way to ensure and  maintain the healthy status of one's beautiful skin, and by using Art Naturals Essential Tea Tree Oil,  you are doing just that! The antiseptic properties of Art Naturals tea tree oil can treat and cure most  common skin infections and greatly help the severe ones.   Pure and natural, Tea Tree Oil delivers a fresh aroma that brings a light and easy feeling in the lungs,  which can also be blended with many other natural ingredients to create a face wash that will leave  your skin clear and beautiful, and any other home remedies that aid in skin care. Tea Tree is also being  considered the best natural antiseptic in today's market, being widely known for getting rid of many  infections including lice, toenail fungus, dandruff, ringworm, acne, rashes, toothaches, coughs,  eczema, athletes foot, and many more infection. This is a practical item to have in your household  when you or your loved ones get any type of skin infection. It is important to do a spot test before  fully using tea tree oil to make sure you're not too sensitive to the oil. 
$29.95
Organic Beauty With Essential Oil
$8.49
"Chemotype: 1,8-Cineole Botanical Name: Rosmarinus officinalis Origin: Hungary Extraction Method: Steam Distilled Plant Part: Aerial parts Strength of Aroma: Strong Aromatic Scent: Organic Rosemary has a Powerful, fresh, woody-herbaceous scent. Blends well with: Citronella, Clove, Eucalyptus, Fir needle, Grapefruit, Laurel leaf, Lavender, Lemon, Lime, Marjoram, May chang, Pepper (black), Peppermint, Petitgrain, Pine, Tea tree. Suggested Uses: Organic Rosemary is stimulating, warming and refreshing and can be used for memory retention and staying alert. It has many skin care applications including adding to shampoo to help with hair loss and dandruff. When diffused, Organic Rosemary can also be helpful in reducing symptoms such as congestion and coughing caused by an illness. Cautions: Do not apply on or near the face of infants or children. We recommend a max dilution of 4% for topical applications. Please Note: The International Federation of Aromatherapists does not recommend that Essential Oils be taken internally unless under the supervision of a Medical Doctor who is also qualified in clinical Aromatherapy. All cautions listed for individual oils do not include those cautions from ingestion."