Alikay Naturals Essential 17 Hair Growth 8-ounce Oils (Pack of 2)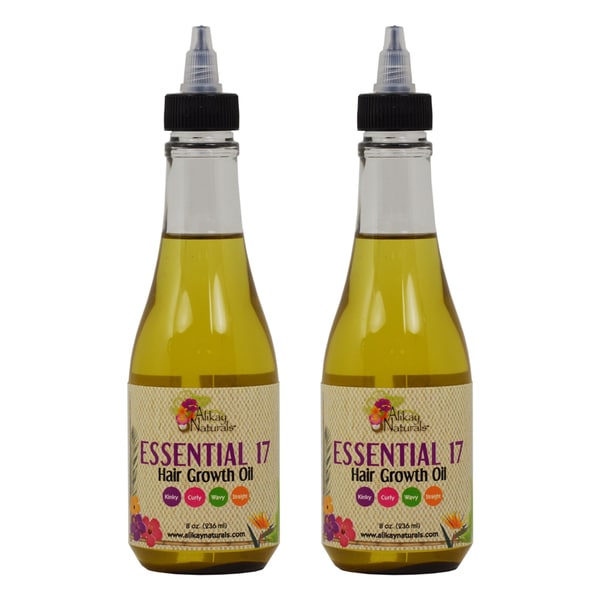 A Custom Blend of 17 Essential Oils and herbs that are used to promote hair growth and a healthy scalp. We created this unique blend after extensive research by combining not 2 but 17 of the best natural ingredients that increase hair growth by penetrating the scalp to get the nutrients to your follicles. This oil blend stimulates, nourishes and strengthens the hair follicles, reduces dandruff, while helping to reduce scalp infections and inflammation. This custom essential oil and herb combination is AMAZING! Hair Type: Coarse Curly Hair Type: Hair Treatments We cannot accept returns on this product.
Buy Now
$34.99

Related Products
$20.13
Coconut & argan hair oil 3.21 oz a lightweight yet deeply nourishing hair and scalp oil. Use daily to help increase hair health body and shine and to also help with scalp conditions. Coconut & argan hair oil contains 89 percent organic ingredients. Coconut and argan pure hair oil has organic coconut and argan oils for healthy hair and scalp. FeaturesCoconut & argan hair oil 6 per case DirectionsFor daily use: shampoo hair then apply a small amount to towel dried hair & style as usual For added shine: apply a small amount of oil to dry hair to add shine & smooth frizz As a deep hydrating treatment: shampoo hair apply to damp hair leave in for 20-30 minutes then rinse out with warm water IngredientsCocos nucifera coconut oil hydrogenated ethylhexyl olivate hydrogenated olive oil unsaponifiables argania spinosa kernel argan oil rosmarinus officinalis rosemary leaf extract vanilla planifolia vanilla fruit extract dipteryx ordata tonka bean absolute seed oil SpecificationsCapacity: 3.2 oz Weight: 0.2 lbs
$31.20
EVERYTHING YOU NEED TO KNOW AS A BEGINNER IN ESSENTIAL OILS AND AROMATHERAPY PURCHASE TODAY "Although the practice was only named aromatherapy in the 20th century, the use of aromatic plants for health has been around since ancient times." "The Ch
$17.99
The Beautiful Hair Set includes the following oils: Cedarwood, French Lavender, Geranium, Lemon, Rosemary, and Rosewood The Leading Aromatherapy Associations (Alliance of International Aromatherapists (AIA), International Aromatherapy and Aromatic Medicine Association, Aromatherapy Trade Council, and others) all state that essential oils should not be taken internally (regardless of purity or organic origin) unless under the guidance of a health care practitioner trained at an appropriate level. As such, all of our oils carry a label warning that the product is NOT FOR INTERNAL USE.