Alikay Naturals Essential 17 Hair Growth 8-ounce Oils (Pack of 2)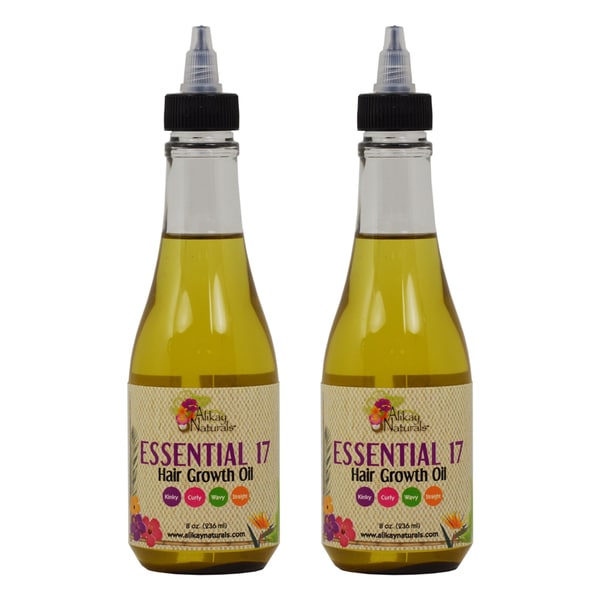 A Custom Blend of 17 Essential Oils and herbs that are used to promote hair growth and a healthy scalp. We created this unique blend after extensive research by combining not 2 but 17 of the best natural ingredients that increase hair growth by penetrating the scalp to get the nutrients to your follicles. This oil blend stimulates, nourishes and strengthens the hair follicles, reduces dandruff, while helping to reduce scalp infections and inflammation. This custom essential oil and herb combination is AMAZING! Hair Type: Coarse Curly Hair Type: Hair Treatments We cannot accept returns on this product.
Buy Now
$35.49

Related Products
$18.90
Organic Flaxseed Oil Supplement 1,000 Mg Per Softgel 240 Count To Promote A Healthy Heart And Hair Skin And Nails, Morning Pep Cold Pressed Organic Flax Seed Oil Has Omega 3 6 9 Essential Fatty Acids
$8.55
100% pure and potent rosemary by Maple Holistics.
$9.95
If you've ever walked through a lush herb garden on a warm summer's day, you'll instantly recall the vibrant, yet comforting smell that wafted through the air. What you may not have realized, is the potent organic qualities and therapeutic benefits locked deep within the oils of these aromatic plants. They're some of nature's best kept secrets! Enter Avían? Botanicals, a company dedicated to providing premium essential oils and extracts that are 100% Pure and undiluted - the very best oils on the market! Rosemary Essential Oil also known as Rosmarinus officinalis, is a refreshing herbal minty scent with a long list of folklore benefits just waiting for you to discover: ? Hair growth or regrowth:* Finally, a natural way to deal with hair loss or thinning hair. Add a few drops to your shampoo or conditioner and massage into your scalp or face (for your beard) to nourish your hair follicles and support healthy growth for thin hair or even normal hair.* ? Memory:Rosemary oil was used in the ancient times to restore clarity, alertness and focus.* ? Miticide / Insecticide: A safe and natural, non-toxic solution to combat mites and other critters that plague your home or garden. It's safe for children and pets, and leaves a nice fresh scent too! Are you a crafty type? Make handmade bath bombs, salts, lotions, candles, soaps, hair oils, massage oils, custom blends for your diffuser and much more for your skin & body! Give it a try using Avían? Botanicals ultra-pure essential oils and carrier oils! ADD to CART NOW for 100% Satisfaction Guarantee! *The statements in this product listing have not been evaluated by the FDA. This product is not intended to diagnose, treat, cure, or prevent any disease.