Silky Scents EO105-5ML 100 Percent Pure Therapeutic Grade Peppermint Triple Distilled Essential Oil - 5 ml.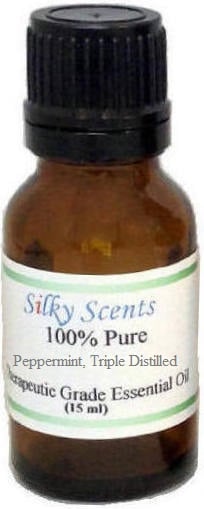 Aromatherapy Properties: (Uses) Cooling analgesic antispasmodic anesthetic decongestant emmenagogue expectorant febrifuge insecticide and stimulant. Should be kept away from eyes likely to irritate skin and mucous membranes. Best avoided by pregnant women and nursing mothers as it may discourage flow of milk. May antidote homeopathic remedies. Helps people become clear headed and refreshes the spirits. Helpful for people who are unable to concentrate or who have mental fatigue. Said to relieve states of anger hysteria and nervous trembling excellent for depression. On the body it has a dual action: cooling when hot and warming when cold. As a remedy for ...
Buy Now
$23.08

Related Products
$18.95
Biofinest 100% Pure Bergamot Oil - Experience The Therapeutic Aroma of Bergamot Oil Today! ?Create a feeling of joy, freshness and energy ?Reduce pain from headaches and muscle tension ?Useful for respiratory problems, cold or flu. Biofinest's Bergamot Oil Top Benefits: ? Relieve anxiety & depression ? Reduce stress & chronic fatigue ? Rejuvenate the skin ? Alleviate oily skin, acne, psoriasis, eczema ? Enhance digestive system ? Alleviate bacterial infections ? Improve skin condition from fungal infections ? Speed up the healing process for cold sores, mouth ulcers, and herpes ? And much more! How to Use Biofinest's Bergamot Oil: ?Burners, diffusers & vaporizers for aromatherapy ?Antidepressant - Rubbing 2-3 drops into hands and cupping mouth and nose. ?Cures infections - drink Earl Grey tea or rub the oil onto throat, abdomen & feet. ?Reduces pain - rub 5 drops of the oil on sore muscles. ?Heals acne - put 5 drops on a cotton ball or pad and rub it on the infected area. ?Promote digestion - Rub 5 drops onto your stomach to ease digestive issues. ?Deodorant - add 2-3 drops to deodorant or air freshener to remove odor. OUR 100% Satisfaction Guarantee: Love our Bergamot Oil or get a full refund or a free unit! Order Biofinest Bergamot Oil Essential Oil Today! You'll enjoy: ? 100% Pure Essential Oil - Premium Therapeutic Grade ? FREE Premium E-Book Guide (worth $37) ? FREE VIP Club (Special Promotion, Discount, Free Gifts!) ? 24/7 Dedicated Customer Support Click the "Add To Cart" button to Buy with Confidence!
$13.95
BioFinest Peppermint Oil - 100% Pure Peppermint Essential Oil - Therapeutic Grade - Premium Quality - Best For Aromatherapy, Headaches and Migraines Relief - FREE E-Book (10ml / 0.34 fl oz)
$9.95
Headaches occur due to a variety of factors, but regardless of why they occur, what they all have in common is we want them to go away fast. It is difficult to be productive or be in a good mood when your head is pounding and throbbing with agony at every move. Although dozens of over-the-counter and prescription formulas are out there, not everyone is able to find a pain medication that can actually provide relief. On the other hand, those who do find an effective pain-reliever are doing damage to their liver in the process; overloading the liver with synthetic chemicals that needlessly travel throughout the whole bloodstream, when the pain is only in one region of the body - the head, face and neck. By applying Amrita's Headache Relief to the area of pain only, you can avoid giving your body a toxic overload with headache medicines, which are notorious for their side effects (including damage to the stomach lining and liver). Birch and Peppermint release tension and provide almost instant pain relief. Sweet Lavandin is famous for calming the nerves and releasing tension. These are the three most important essential oils for relieving headache pain, and together they create a combination that you can rely on to bring you on-the-go headache relief no matter where you are.