Silky Scents EO105-5ML 100 Percent Pure Therapeutic Grade Peppermint Triple Distilled Essential Oil - 5 ml.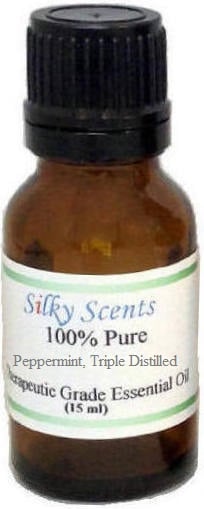 Aromatherapy Properties: (Uses) Cooling analgesic antispasmodic anesthetic decongestant emmenagogue expectorant febrifuge insecticide and stimulant. Should be kept away from eyes likely to irritate skin and mucous membranes. Best avoided by pregnant women and nursing mothers as it may discourage flow of milk. May antidote homeopathic remedies. Helps people become clear headed and refreshes the spirits. Helpful for people who are unable to concentrate or who have mental fatigue. Said to relieve states of anger hysteria and nervous trembling excellent for depression. On the body it has a dual action: cooling when hot and warming when cold. As a remedy for ...
Buy Now
$16.67

Related Products
$16.95
You are going to love this naturally powerful and potent Holistic Essential Oil! Take a look at some customer reviews: "As a Lifestyle Wellness doctor I use oils to support what i am doing in the office. I love this product! It is clean. I see a lot of sick patients who are sensitive to many things and all so far have been able to use this oil. I am excited to share this with my patients. Got my approval" -Dr Justin T Hammon "This peppermint oil organic is the best. I have used YL, Doterra but they are not certified. I like to know for sure my oils are totally free from toxins and GMO's. Easy to tell that these oils are a great value" -Trista W. "I use Peppermint Oil for congestion, headache relief, fevers, muscle pain, and indigestion. Peppermint oil also repels mice and insects. This is a high quality product for the price" -Julie A. INGREDIENTS: 100% Pure Organic Peppermint Oil. NO FILLERS, CHEMICALS, TOXINS, GMO's OR SYNTHETIC INGREDIENTS! OUR 'SECRET SAUCE' PROCESS: Just organically certified seeds and plants, natural nutrient rich soil, harvested by farmers who know when to harvest at the right time of day and season, distilled at low temperatures, batch tested by chromatographic mass spectrometer to assure optimal purity levels, bottled by hand, and then we go through the process of USDA Organic certification. The best Peppermint Oil ever! BONUS: Free Peppermint Essential Oil Use E-Guide e-mail sent a couple days after item has shipped. Limited Time Supply and Price Notice: Due to the timing and nature of the farming seasons we cannot guarantee stock or price. 100% Guaranteed with a 30 day money back guarantee!
$10.99
Instantly relieves migraines and headaches with soothing peppermint aromatherapy combined with gentle acupressure. Ideal for people who constantly suffer migraines or headaches from work, pregnancy, stress headaches, sinus headaches, tension headaches, cluster headaches, retinal migraines, and more. Looking for migraine headache relief without suffering the side effects of headache medicine? NoMo Migraine is your solution! Clinically proven to start working in 2 minutes with the cooling essential oils & the long lasting effects of acupressure all in 1 wristband.
$15.95
Biofinest 100% Pure Neroli Oil - Experience The Therapeutic Aroma of Neroli Oil Today! ?Deep, mix of citrus and floral aromas. ?Regenerate and repair skins. ?Antimicrobial & Antioxidant. ?Reduce stress and anxiety. Biofinest's Neroli Oil Top Benefits: ?Lowers Inflammation & Pain - possesses biologically active constituents to reduce acute inflammation and chronic inflammation ?Reduces Stress & Improve Symptoms of Menopause, also ease labor. ?Lower Blood Pressure & Cortisol Levels. ?Antimicrobial & Antioxidant Activities. ?Repairs & Rejuvenates Skin - for wrinkles, scars and stretch marks. ?Anti-seizure & Anticonvulsant. ?Purify the air and alleviate headaches. ?Home remedy for acne. How to Use Biofinest's Neroli Oil: ?Burners, diffusers & vaporizers. ?Diffuse to purify the air. Inhale to clear your head and reduce stress. ?Blend and rub on lower abdomen to improve colon problems and diarrhea. ?Mix few drops in bathwater for PMS relief. ?Soak away stress with 3-4 drops in a bath or foot bath. ?Diffuse in the air or add to massage oil to ease child labor. ?Add a few drops to cream, lotion or oil to reduce stretch marks. ?Wet a cotton ball with water and a few drops and dab on acne areas. OUR 100% Satisfaction Guarantee: Love our Neroli Oil or get a full refund or a free unit! Order Biofinest Neroli Oil Essential Oil Today! You'll enjoy: ? 100% Pure Essential Oil - Premium Therapeutic Grade ? FREE Premium E-Book Guide (worth $37) ? FREE VIP Club (Special Promotion, Discount, Free Gifts!) ? 24/7 Dedicated Customer Support Click the "Add To Cart" button to Buy with Confidence!