Silky Scents EO105-5ML 100 Percent Pure Therapeutic Grade Peppermint Triple Distilled Essential Oil - 5 ml.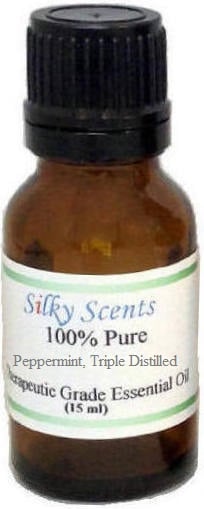 Aromatherapy Properties: (Uses) Cooling analgesic antispasmodic anesthetic decongestant emmenagogue expectorant febrifuge insecticide and stimulant. Should be kept away from eyes likely to irritate skin and mucous membranes. Best avoided by pregnant women and nursing mothers as it may discourage flow of milk. May antidote homeopathic remedies. Helps people become clear headed and refreshes the spirits. Helpful for people who are unable to concentrate or who have mental fatigue. Said to relieve states of anger hysteria and nervous trembling excellent for depression. On the body it has a dual action: cooling when hot and warming when cold. As a remedy for ...
Buy Now
$16.67

Related Products
$62.93
Helichrysum oil has a strongly straw-like, fruity smell with a honey and tea undertone and the color can range from pale yellow to red and the viscosity is watery. This evergreen aromatic herb grows up to 60 cm (24 in) and is also called Italian Everlasting or Immortelle. The word Helichrysum is derived from the Greek ''helios'' meaning sun and ''chrysos'' meaning gold, referring to the color of many of the flowers of species in this genus. Helichrysum as a herb has been revered since the time of Homer and the ancient Greeks for its great wound healing ability. Aromatherapy benefits: Use for conditions of depression, debility, nervous exhaustion, headache, migraine, neuralgia, and stress related conditions, shock, phobias. Blends Well With: bergamot, chamomile, eucalyptus, grapefruit, lavender, lemon. Helichrysum oil is non-toxic, non-irritant and non-sensitizing, but should not be used on children under 12 years. Helichrysum oil is helpful for circulatory disorders; it can relieve the pain of rheumatism and arthritis. It has a beneficial effect on colds, flu, bronchitis, coughs and asthma. Helichrysum oil has regenerating qualities and can assist in the healing of scars, acne, dermatitis, stretch marks, boils and abscesses. Folk medicine also presents this as a great helps for healing scars and fighting the ravages of aging. It aids the digestive system, reducing liver and spleen congestion. In vapor therapy or diluted in the bath Helichrysum oil can help with: muscle aches and pains, respiratory problems and the digestive system. As a blended massage oil Helichrysum oil can assist with: muscle aches and pains, respiratory problems and the digestive system. In a cream or as a lotion Helichrysum oil can be beneficial to dermatitis, acne and the healing of scars. Helichrysum oil blends particularly well with Bergamot, Chamomile, Clary sage, Lavender, Mandarin and Rosewood. Essential and resin oils are volatile, fragrant materials extracted from the root, bark, wood, seed, fruit, leaf or flower of a single plant. Essential oils contain the odor, taste and medicinal properties of the plant itself, but in very concentrated form, with no base oil, alcohol, water or dilutants added. Steam distillation and cold pressing are used to extract the essential oil from the plant. Starwest Essential Oils are guaranteed to be 100% pure and undiluted. The distillation process occurs either at the site where the plants are grown or at a distillery. Each oil is tested for purity and strength using the gas chromatography method. Packaged in glass amber bottles to preserve the oils, the 1/3 ounce size has a fitted dropper insert and a tamper-evident, child-proof lid. The larger items are in amber glass or PET gallon containers, depending on the product. Starwest's pure essential oils are suitable for use in aromatherapy, cosmetic preparation, healing and body care, potpourris and more. Essential oils are very
$27.95
Biofinest 100% Pure Clary Sage Oil - Experience The Therapeutic Aroma of Clary Sage Oil Today! ?Support hormones balance & relieves menstrual pain. ?Antibacterial and Antifungal. ?Boost confidence and joy. ?Promote skin health Biofinest's Clary Sage Oil Top Benefits: ? Relieves Menstrual Discomfort & PMS symptoms. ? Supports Hormonal Balance - anti-depressant effect and improving mood. ? Relieves Insomnia - natural sleep sedative. ? Increases Circulation - naturally lowers blood pressure by relaxing brain & arteries. ? Reduces Cholesterol - healthier heart. ? Fights Leukemia, kills Bacteria & Infections ? Promotes Skin Health How to Use Biofinest's Clary Sage Oil: ?For stress relief and aromatherapy, diffuse or inhale 5-10 drops. ?To improve mood and joint pain, add 3-5 drops to warm bath water. ?For eye care, add 2-3 drops to a clean and warm wash cloth; press cloth over both eyes for 10 minutes. ?For cramp and pain relief, diluting 5 drops with 5 drops of a carrier oil. ?For skin care, mix with carrier oil at a 1:1 ratio. Apply directly to face, neck & body. ?For meditation, mix 6 drops with 2 drops of frankincense or orange oils. ?For hair health, massage it with rosemary oil into scalp while showering. OUR 100% Satisfaction Guarantee: Love our Clary Sage Oil or get a full refund or a free unit! Order Biofinest Clary Sage Oil Essential Oil Today! You'll enjoy: ? 100% Pure Essential Oil - Premium Therapeutic Grade ? FREE Premium E-Book Guide (worth $37) ? FREE VIP Club (Special Promotion, Discount, Free Gifts!) ? 24/7 Dedicated Customer Support Click the "Add To Cart" button to Buy with Confidence!
$13.95
BioFinest Eucalyptus Essential Oil - 100% Pure Undiluted - Premium Quality - Best For Aromatherapy, Headaches, Migraine & Stress Relief (10ml/ 0.34 fl.oz)