Silky Scents EO211-15ML 100 Percent Pure Therapeutic Grade Cumin Essential Oil - 15 ml.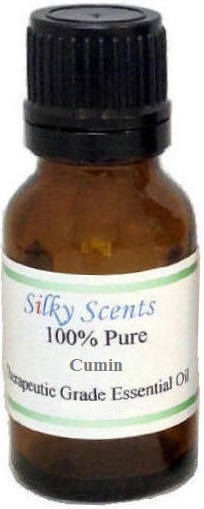 FeaturesCumin Essential Oil Blends well with - This oil blends well Angelica Root Caraway Lavender 40/42 Rosemary Chamomile Blue. 100% Pure Essential Oil 100% Pure Therapeutic Grade Capacity - 15 ml. Aromatherapy PropertiesThe chemical properties of Cumin includes being an antioxidant antiseptic anti-spasmodic anti-toxic relief bactericidal carminative depurative digestive emmenagogue larvicidal nervine stimulant and as a tonic. In the past Cumin Essential Oil was found to be useful as a warming oil that helps relieve muscular pains and osteoarthritis; for the digestive system it was used as a stimulant that helps with colic dyspepsia flatulence bloating and indigestion; and ...
Buy Now
$30.81

Related Products
$31.85
Aromatherapy Properties: (Uses) Cooling analgesic antispasmodic anesthetic decongestant emmenagogue expectorant febrifuge insecticide and stimulant. Should be kept away from eyes likely to irritate skin and mucous membranes. Best avoided by pregnant women and nursing mothers as it may discourage flow of milk. May antidote homeopathic remedies. Helps people become clear headed and refreshes the spirits. Helpful for people who are unable to concentrate or who have mental fatigue. Said to relieve states of anger hysteria and nervous trembling excellent for depression. On the body it has a dual action: cooling when hot and warming when cold. As a remedy for colds it halts mucous and fevers and encourages perspiration. Has a slightly anesthetic effect on stomach muscles. Good for travel sickness vomiting diarrhea constipation colic nausea and to keep drivers alert while on the road. Its cooling and pain relieving action seems to ease headaches migraines and toothaches. Used in liniments for the relief of muscle pain lumbago bruises joint pain and insect bites. Can be used to relieve any kind of skin irritation or itching but should be used in a dilution of 1% or less or the irritation will be made worse. Not much liked by insects and vermin. Blends well with: Cedarwood Atlas Cypress Lavender French Niaouli Organic and Pine White. History: Peppermint and it's name has it's roots in Greek mythology. Pluto - god of the dead - fell in love with Minthe herself a beautiful nymph. Pluto's goddess wife Persephone became jealous and turned Minthe into a plant but out of respect for her beauty she ensured that she would have a wonderful and fragrant aroma. Features100% Pure Essential Oil Raw Material - Peppermint Botanical Name - Mentha Arvensis
$13.99
At last! A cozy forever-home for all of your essential oils. This essential oil case is the best value on the market! No more clanking in drawers or spilling on floors - your Lemon, Lavender, and Peppermint finally have a safe bed to sleep in. Snug as a Bug, Ten - 15ml Bottles fit perfectly side by side in this DOUBLE-STITCHED, WATERPROOF, STAIN RESISTANT, carrying case! Leave it in your purse or place it sideways in a drawer - your bottles will not slip out of their individual pockets. FIND IT IMMEDIATELY - as each pocked is made from TOP QUALITY vinyl mesh. TESTED and APPROVED by HUNDREDS of OIL SISTAS, Lemon Droppers, and Oily Experts! Ours sits right next to our Essential Oil Desk Reference Guide! *While it does fit the many size bottles, it fits the 15ml's best.
$15.98
Biofinest 100% Pure Lemongrass Oil - Experience The Refreshing Power of Lemongrass Oil Today! Biofinest Lemongrass Oil benefits skin by rejunivating it - help to alleviate dry or dehydrated skin, eczema, and dermatitis. It helsp to relax the mind, induce confidence, optimism, and promote restful sleep. BioFinest's Lemongrass Oil Top 5 Benefits: 1. Calming effect to help relieve stress, anxiety, insomnia. 2. Alleviate muscle pain, rheumatism, period cramps, stomachache, toothache, migraines, and headaches. 3. Anti-inflammation and analgesic properties to alleviate pain. 4. Help to strengthen hair follicles and scalp conditions 5. Anti-bacteria properties to alleviate fungal infection, ringworm, athlete's foot and more! Best for Aromatherapy, Massage & DIY Home! - Make a refreshing foot bath. Add two drops to a bowl of warm water, and soak your feet for 10 minutes. If your feet are aching, add two tablespoons of Epsom salts. - Add 1-2 drops in shampoo, cream or lotions for refreshing fragrance. - Make a massage oil by mixing it with sweet almond or jojoba oil. - Kill your pet's fleas and lice by spraying diluted lemongrass oil all over his coat. You can also soak his collar in it, add it to his final rinse after shampooing, or spray it on his bedding. - Inhale to aid coughs & stress. - Burners, diffusers & vaporizers for aromatherapy. - Diffuse in the classroom, home or work. OUR 100% Satisfaction Guarantee: Love our Lemongrass Oil or get a full refund or a free unit! Order Biofinest Lemongrass Oil Essential Oil Today! You'll enjoy: ? 100% Pure Essential Oil - Premium Therapeutic Grade (10ml, 0.34 fl oz) ? FREE Premium E-Book Recipe (worth $37) ? FREE VIP Club (Special Promotion, Discount, Free Gifts!) ? 24/7 Dedicated Customer Support