Silky Scents EO211-15ML 100 Percent Pure Therapeutic Grade Cumin Essential Oil - 15 ml.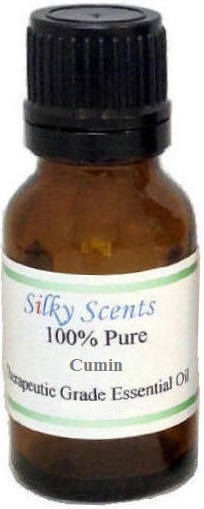 FeaturesCumin Essential Oil Blends well with - This oil blends well Angelica Root Caraway Lavender 40/42 Rosemary Chamomile Blue. 100% Pure Essential Oil 100% Pure Therapeutic Grade Capacity - 15 ml. Aromatherapy PropertiesThe chemical properties of Cumin includes being an antioxidant antiseptic anti-spasmodic anti-toxic relief bactericidal carminative depurative digestive emmenagogue larvicidal nervine stimulant and as a tonic. In the past Cumin Essential Oil was found to be useful as a warming oil that helps relieve muscular pains and osteoarthritis; for the digestive system it was used as a stimulant that helps with colic dyspepsia flatulence bloating and indigestion; and ...
Buy Now
$22.42

Related Products
$13.95
Biofinest 100% Pure Citronella Oil - Experience The Therapeutic Aroma of Citronella Oil Today! ?Relieve anxiety, stress & depression. ?Ease headache, migraine, cold and flu. ?Reduce inflammation and pain. ?Natural insect repellant. Biofinest's Citronella Oil Top Benefits: ? Relieve anxiety & dizziness ? Relieve menstrual cramps & muscle spasm ? Insect & bug repellant (best: mosquitoes) ? Keep ticks away from livestock and pets ? As massage oil to relieve muscle ache & arthritis ? Alleviate bacterial infections ? Alleviate inflammation in the liver, stomach and digestive tract ? Alleviate colds, fevers, and headaches ? And much more! How to Use Biofinest's Citronella Oil: ?Burners, diffusers & vaporizers for aromatherapy ?Diffuse in the classroom, home or work ?As food and beverage flavoring: gelatin, puddings, alcoholic drinks, frozen dairy. ?Pain Reducer - Add 2-3 drops with a carrier oil like coconut oil and massage it into swollen joints, tissue and muscles. ?Detoxification Enhancer - Add 1-2 drops, raw honey and lemon with hot water. ?Apply 1-2 drops in warm water for foot soak (good for sweaty foot). ?As insect repellent - reapply every 30-60 minutes. OUR 100% Satisfaction Guarantee: Love our Citronella Oil or get a full refund or a free unit! Order Biofinest Citronella Oil Essential Oil Today! You'll enjoy: ? 100% Pure Essential Oil - Premium Therapeutic Grade ? FREE Premium E-Book Guide (worth $37) ? FREE VIP Club (Special Promotion, Discount, Free Gifts!) ? 24/7 Dedicated Customer Support Click the "Add To Cart" button to Buy with Confidence!
$17.08
Aromatherapy Properties: (Uses) Used as an insecticide and antidepressant. Its most useful quality seems to be as an insect repellant and may also help pets get rid of fleas. Also known to clear the mind so may be useful against headaches and migraines. Its deodorant and stimulating properties always refresh sweaty tired feet activating the whole body. Blends well with: Citrus oils Cedarwood Atlas Eucalyptus Globulus Peppermint and Eucalyptus Radiata. 100% Pure Essential Oil Capacity - 10 ml.
$22.95
What our Customers are saying: " It started to work immediately and my headache was gone in about 15 minutes" -rdg " The oil is very high quality and probably one of the top quality blends I've used" -A. Drewes "Very high quality product and I simply love this blend!!" -Jeanie You are going to love this oil! With a wide variety of uses and the highest grade oil available, Ovvio Oils Ease Blend will not let you down! This blend contains 100% Pure Therapeutic Grade Peppermint, Lavender, Grapefruit, Roman Chamomile, Marjoram, Coriander, and Ravensara Limited Time Offer: Buy more and SAVE. Scroll up to see our money saving coupons when you buy multiple Ovvio Oils products today! Large size 15ml bottle! Our oils come in a full size 15ml bottle, and when coupled with the strength of our oil translates into the best value on the market! Other oils are diluted, meaning much more is needed to get the same benefits. One of our oils may equal up to 3-5 of a diluted brand! 100% Guaranteed with a Lifetime replacement policy! Try our oils risk free, and receive a no-questions-asked refund if you aren't satisfied! How to use: Diffuse: Add 4-5 drops to your diffuser Physical application: Add 1-2 drops to one tablespoon of carrier oil. Apply this to forehead, temples, nape, and massage gently Only premium blends, no cheap, diluted oils. Next time you have a headache, reach for Ease instead of a painkiller. Natural, safe, and effective relief for headaches and migraines.