Silky Scents EO211-15ML 100 Percent Pure Therapeutic Grade Cumin Essential Oil - 15 ml.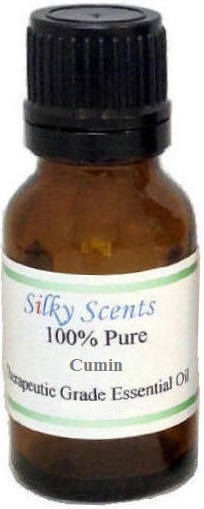 FeaturesCumin Essential Oil Blends well with - This oil blends well Angelica Root Caraway Lavender 40/42 Rosemary Chamomile Blue. 100% Pure Essential Oil 100% Pure Therapeutic Grade Capacity - 15 ml. Aromatherapy PropertiesThe chemical properties of Cumin includes being an antioxidant antiseptic anti-spasmodic anti-toxic relief bactericidal carminative depurative digestive emmenagogue larvicidal nervine stimulant and as a tonic. In the past Cumin Essential Oil was found to be useful as a warming oil that helps relieve muscular pains and osteoarthritis; for the digestive system it was used as a stimulant that helps with colic dyspepsia flatulence bloating and indigestion; and ...
Buy Now
$30.81

Related Products
$29.95
Natural Headache Treatment AlternativeChronic headaches and migraines are debilitating. Unfortunately, there is no long term cure for a headache. After numerous home remedies for headaches and prescription pill after pill, many individuals may have given up on relieving their agony and are forced to tough through their pain.If you suffer from headaches or migraines, don't give up on finding relief: H-Headaches Formula is a safe, gentle and natural product that is formulated from essential oils and homeopathic remedies. The product quickly gives relief from all types of headaches and migraines. This remedy is used at home. We have sold over 500,000 products since 2001. Purchase H-Headaches Formula risk free today!Order Today, Ships Today! Order before 5pm EST and it ships today!
$23.27
FeaturesLavandin Organic Essential Oil Perfumery Note - Top/Middle Blends well with - Bergamot Clary Sage and Lemon 100% Pure Essential Oil 100% Pure Therapeutic Grade Capacity - 5 ml. Aromatic DescriptionLavandin Organic has a softer smell than the conventional type. It is somewhat piercing camphor like smell with some light floral undertones characteristic of Lavender. Aromatherapy PropertiesLavandin is an aromatic evergreen shrub that is much larger than true Lavender. The flowering heads are more compressed with a dull gray blue color. It is a hybrid developed by crossing true lavender with spike lavender which grows wild in areas where true lavender is cultivated or grows wild. It is a good addition to cold and flu remedies with its germ killing ability as well as its ability to stimulate the respiratory system and ease breathing. Lavandin should be used as an inhalation for colds sinusitis and other respiratory problems. May clear headaches good for muscular stiffness. It can also be very effective against non-tubercular opportunistic mycobacteria (NTM) which is common in AIDS. Lavandin is used for treating headaches migraine. HistoryThis hybrid apparently evolved naturally near the seas in Spain Italy and France. It is now commercially produced in these same countries.
$18.59
Ahhhhthe refreshing and stimulating scent of peppermint! artnaturals Peppermint Essential Oil, used as directed, can calm indigestion, relieve sinus congestion and headaches, and rev up energy levels. Its anti-inflammatory properties make it excellent for use with a carrier oil to massage tired, achy muscles. And bugs and insects don't like it, so it's also a powerful, toxin-free deterrent. We bring the healing powers of peppermint to you in a 100-percent all-natural oil. Mixed with carrier oils and topically applied, peppermint oil aids in soothing headaches and migraines, sore muscles and indigestion. Used in a diffuser, vaporizer or humidifier, its aromatherapy benefits help relieve colds and congestion, along with calming stress and anxiety and supporting a healthy immune system. The fragrant aroma, so appealing to humans, naturally repels insect invaders. Peppermint's unique healing and soothing properties are due in part to its unique genetic makeup. A cross between watermint and spearmint, peppermint is historically native to Europe, but has been used all over the world for centuries as a popular treatment for a variety of ailments. This impressively long list of healing powers has given peppermint the title of "world's oldest medicine.