Silky Scents EO211-1OZ-30ML 100 Percent Pure Therapeutic Grade Cumin Essential Oil - 30 ml.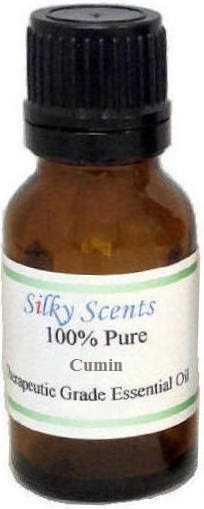 FeaturesCumin Essential Oil Blends well with - This oil blends well Angelica Root Caraway Lavender 40/42 Rosemary Chamomile Blue. 100% Pure Essential Oil 100% Pure Therapeutic Grade Capacity - 30 ml. Aromatherapy PropertiesThe chemical properties of Cumin includes being an antioxidant antiseptic anti-spasmodic anti-toxic relief bactericidal carminative depurative digestive emmenagogue larvicidal nervine stimulant and as a tonic. In the past Cumin Essential Oil was found to be useful as a warming oil that helps relieve muscular pains and osteoarthritis; for the digestive system it was used as a stimulant that helps with colic dyspepsia flatulence bloating and indigestion; and ...
Buy Now
$28.23

Related Products
$223.21
Aromatherapy Properties: (Uses). Catnip is most often used to treat anxiety insomnia and nervousness. Due to this ability to promote relaxation catnip may also be used to help lessen migraine headaches. Because chemicals in it may have antispasmodic (muscle-relaxing) effects catnip has also been taken to relieve stomach complaints such as colic cramps gas and indigestion. Although isolated studies in animals and numerous case reports from humans seem to confirm these effects no clinical studies of humans have been conducted to prove or disprove any medicinal properties of catnip. According to the 2001 report of the American Chemical Society the world's largest scientific society the essential oil in catnip that gives the plant its characteristic odor is about ten times more effective at repelling mosquitoes than DEET (The compound used in most commercial insect repellents). In 1999 an Iowa State University research group discovered that catnip also repels cockroaches as well. Blends well with: Grapefruit White Lavandin Lavender French Lemon Marjoram Sweet Orange Sweet other mints and Rosemary. 100% Pure Essential Oil Capacity - 30 ml.
$19.95
Botanical Name: Anthemis nobilis L Origin: United Kingdom Extraction Method: Steam Distilled Common Uses: Chamomile Roman essential oil has a long tradition in herbal medicine. The flowers were used in many cures including an herbal tea to cure insomnia. During the Second World War chamomile was also used as a disinfectant. The essential oil is useful in the treatment of aches and pains in muscles and joints. Treatment of symptoms of PMS with Chamomile is also beneficial especially when the symptoms are related to stress. Strength of Aroma: Strong Blends well with: Bergamot, Clary Sage, Lavender, Geranium, Jasmine, Neroli, Patchouli, Tea Tree, Rose, Lemon and Ylang-ylang. Aromatic Scent: The relaxing aroma of this essential oil, sometimes described as like 'apples and straw' is an exotic and rich scent. It is commonly accepted as the best smelling of the Chamomiles. Cautions: None known. Suggested Uses: Diffuse Chamomile Roman essential oil into the air to help with stress, migraines and headaches. Add a few drops into a bath, lotion or cream to assist with insomnia, muscle aches, arthritis, depression and anything stress related. Please Note : The International Federation of Aromatherapists does not recommend that Essential Oils be taken internally unless under the supervision of a Medical Doctor who is also qualified in clinical Aromatherapy.
$3.95
We may pop pills or schedule a weekly massage but painful headaches can linger. That nagging pain can make even the most simple excursion into an exhaustive exercise. Head Ease was blended to provide an all-natural solution to headaches that can actually relax the muscles so you can feel your best. With a minty and earthy aroma, Head Ease is made up of complex oils to relieve pain. By applying diluted Head Ease to your temples and forehead, you can relax and regain your energy. A therapeutic blend of Basil, Chamomile, Frankincense, Lavender, Peppermint, Rosemary, Sweet Marjoram and Wintergreen. Made with care from our top quality oils and, as always, Edens Garden essential oils are never diluted or mixed with additives. CONTAINS: Basil, Chamomile, Frankincense, Lavender, Peppermint, Rosemary, Sweet Marjoram and Wintergreen. BE INSPIRED: Place a few drops on your temples or behind the ears and gently massage in circles. Or place 3-5 drops on a warm towel and let it rest on your forehead.