Silky Scents EO211-1OZ-30ML 100 Percent Pure Therapeutic Grade Cumin Essential Oil - 30 ml.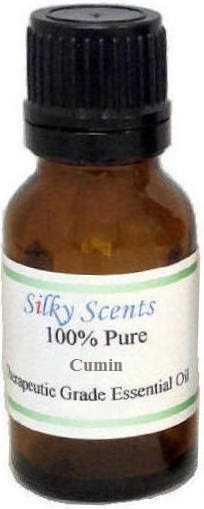 FeaturesCumin Essential Oil Blends well with - This oil blends well Angelica Root Caraway Lavender 40/42 Rosemary Chamomile Blue. 100% Pure Essential Oil 100% Pure Therapeutic Grade Capacity - 30 ml. Aromatherapy PropertiesThe chemical properties of Cumin includes being an antioxidant antiseptic anti-spasmodic anti-toxic relief bactericidal carminative depurative digestive emmenagogue larvicidal nervine stimulant and as a tonic. In the past Cumin Essential Oil was found to be useful as a warming oil that helps relieve muscular pains and osteoarthritis; for the digestive system it was used as a stimulant that helps with colic dyspepsia flatulence bloating and indigestion; and ...
Buy Now
$28.23

Related Products
$12.34
Aromatherapy Properties: (Uses) Used as an insecticide and antidepressant. Its most useful quality seems to be as an insect repellant and may also help pets get rid of fleas. Also known to clear the mind so may be useful against headaches and migraines. Its deodorant and stimulating properties always refresh sweaty tired feet activating the whole body. Blends well with: Citrus oils Cedarwood Atlas Eucalyptus Globulus Peppermint and Eucalyptus Radiata. 100% Pure Essential Oil Capacity - 5 ml.
$98.75
Aromatherapy Properties: (Uses). Catnip is most often used to treat anxiety insomnia and nervousness. Due to this ability to promote relaxation catnip may also be used to help lessen migraine headaches. Because chemicals in it may have antispasmodic (muscle-relaxing) effects catnip has also been taken to relieve stomach complaints such as colic cramps gas and indigestion. Although isolated studies in animals and numerous case reports from humans seem to confirm these effects no clinical studies of humans have been conducted to prove or disprove any medicinal properties of catnip. According to the 2001 report of the American Chemical Society the world's largest scientific society the essential oil in catnip that gives the plant its characteristic odor is about ten times more effective at repelling mosquitoes than DEET (The compound used in most commercial insect repellents). In 1999 an Iowa State University research group discovered that catnip also repels cockroaches as well. Blends well with: Grapefruit White Lavandin Lavender French Lemon Marjoram Sweet Orange Sweet other mints and Rosemary. 100% Pure Essential Oil Capacity - 10 ml.
$16.95
You are going to love this naturally powerful and potent Holistic Essential Oil! Take a look at some customer reviews: "As a Lifestyle Wellness doctor I use oils to support what i am doing in the office. I love this product! It is clean. I see a lot of sick patients who are sensitive to many things and all so far have been able to use this oil. I am excited to share this with my patients. Got my approval" -Dr Justin T Hammon "This peppermint oil organic is the best. I have used YL, Doterra but they are not certified. I like to know for sure my oils are totally free from toxins and GMO's. Easy to tell that these oils are a great value" -Trista W. "I use Peppermint Oil for congestion, headache relief, fevers, muscle pain, and indigestion. Peppermint oil also repels mice and insects. This is a high quality product for the price" -Julie A. INGREDIENTS: 100% Pure Organic Peppermint Oil. NO FILLERS, CHEMICALS, TOXINS, GMO's OR SYNTHETIC INGREDIENTS! OUR 'SECRET SAUCE' PROCESS: Just organically certified seeds and plants, natural nutrient rich soil, harvested by farmers who know when to harvest at the right time of day and season, distilled at low temperatures, batch tested by chromatographic mass spectrometer to assure optimal purity levels, bottled by hand, and then we go through the process of USDA Organic certification. The best Peppermint Oil ever! BONUS: Free Peppermint Essential Oil Use E-Guide e-mail sent a couple days after item has shipped. Limited Time Supply and Price Notice: Due to the timing and nature of the farming seasons we cannot guarantee stock or price. 100% Guaranteed with a 30 day money back guarantee!