Silky Scents EO211-1OZ-30ML 100 Percent Pure Therapeutic Grade Cumin Essential Oil - 30 ml.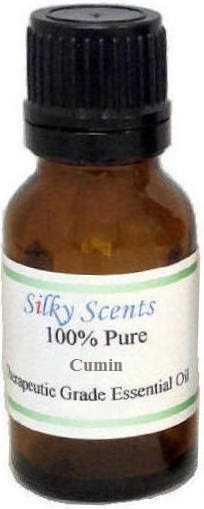 FeaturesCumin Essential Oil Blends well with - This oil blends well Angelica Root Caraway Lavender 40/42 Rosemary Chamomile Blue. 100% Pure Essential Oil 100% Pure Therapeutic Grade Capacity - 30 ml. Aromatherapy PropertiesThe chemical properties of Cumin includes being an antioxidant antiseptic anti-spasmodic anti-toxic relief bactericidal carminative depurative digestive emmenagogue larvicidal nervine stimulant and as a tonic. In the past Cumin Essential Oil was found to be useful as a warming oil that helps relieve muscular pains and osteoarthritis; for the digestive system it was used as a stimulant that helps with colic dyspepsia flatulence bloating and indigestion; and ...
Buy Now
$29.69

Related Products
$15.89
Aromatherapy Properties: (Uses) It is a strong germicide a powerful antiseptic a feeble local anesthetic applied to decayed teeth and has been used with success as a stimulating expectorant in phthisis and bronchial troubles. It is effective for antiseptic arthritis bad breath bronchitis colds deodorant diarrhea emmenagogue febrifuge headaches hernias influenza insect repellent migraines moth repellent minor infections neuralgia oily skin rheumatism. Blends well with: Rose Absolute (Morocco) Lavender 40/42 Vanilla 10 Fold Clary Sage Bergamot Bay Rum (Leaf) Lavandin Allspice and Ylang Ylang I. History: The word clove comes from the Latin word clavus meaning nail since the shaft and head of the clove bud resembles a nail. Cloves and nutmeg were among the most precious of items of Europe of the 16th and 17th centuries and they were worth more than their weight in gold. 100% Pure Essential Oil Capacity - 10 ml.
$23.95
Biofinest 100% Pure Ylang Ylang Oil - Experience The Therapeutic Aroma of Ylang Ylang Oil Today! ?Sweet, floral scent ?Boost heart health, moods & energy. ?Reduce stress & anxiety. ?For aromatherapy, cosmetics, soaps, household cleansers, hair products. Biofinest's Ylang Ylang Oil Top Benefits: ?Heart Health Booster - improve blood flow and fight inflammation. ?Mood Enhancer - bring on feelings of awareness, confidence, peace and self-love. ?Skin Health - slow down aging or irritation, protection against skin cancer cells. ?Natural Energizer - energizing and useful for fighting fatigue or body aches. ? PMS Remedy to cramps, tension and stress. ?Natural Hair Care Product - preventing tangles and dandruff. ?Aphrodisiac and Social Enhancer How to Use Biofinest's Ylang Ylang Oil: ?Burners, diffusers & vaporizers. ?Add 5 drops, diffuse and inhale to reduce stress and anxiety. ?For building confidence - add 2 drops to 2 drops bergamot. ?For a natural tropical home freshener - add 2 drops to 2 drops jasmine. ?To release tension: 2 drops to 2 drops frankincense. ?To give you an energy boost: add 2 drops to 2 drops of citrus oil ?For an aphrodisiac massage rub: add 2 drops to 2 drops sandalwood oil. ?Dilute 1:1 with a carrier oil before apply. OUR 100% Satisfaction Guarantee: Love our Ylang Ylang Oil or get a full refund or a free unit! Order Biofinest Ylang Ylang Oil Essential Oil Today! You'll enjoy: ? 100% Pure Essential Oil - Premium Therapeutic Grade ? FREE Premium E-Book Guide (worth $37) ? FREE VIP Club (Special Promotion, Discount, Free Gifts!) ? 24/7 Dedicated Customer Support Click the "Add To Cart" button to Buy with Confidence!
$15.00
Our Lavender Oil is extracted from French lavender and used for aromatherapy, relaxation, uplifting mood, massage oils and bath salts. This relaxing, therapeutic oil has a soothing and rich aromatic scent to refresh and cleanse the surrounding air. What it does: Ideally used to uplift the spirit and provide a calming environment, it is also ideal for incorporating into your daily healthcare routine. Lavender oil can reduce anxious behaviors, provide reduction in pain relief, help disinfect the skin, and aid in healing both respiratory and circulatory issues.* For effective results and maximum absorption to the skin, use with a carrier oil*. Ideal for: Relaxation, better sleep Headaches, migraines Respiratory issues, cough Repelling insects Household freshness * Individual results may vary. We cannot accept returns on this product.