Silky Scents EO211-1OZ-30ML 100 Percent Pure Therapeutic Grade Cumin Essential Oil - 30 ml.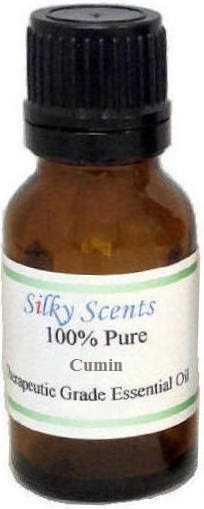 FeaturesCumin Essential Oil Blends well with - This oil blends well Angelica Root Caraway Lavender 40/42 Rosemary Chamomile Blue. 100% Pure Essential Oil 100% Pure Therapeutic Grade Capacity - 30 ml. Aromatherapy PropertiesThe chemical properties of Cumin includes being an antioxidant antiseptic anti-spasmodic anti-toxic relief bactericidal carminative depurative digestive emmenagogue larvicidal nervine stimulant and as a tonic. In the past Cumin Essential Oil was found to be useful as a warming oil that helps relieve muscular pains and osteoarthritis; for the digestive system it was used as a stimulant that helps with colic dyspepsia flatulence bloating and indigestion; and ...
Buy Now
$35.36

Related Products
$23.21
Aromatherapy Properties: (Uses) Used as an insecticide and antidepressant. Its most useful quality seems to be as an insect repellant and may also help pets get rid of fleas. Also known to clear the mind so may be useful against headaches and migraines. Its deodorant and stimulating properties always refresh sweaty tired feet activating the whole body. Blends well with: Citrus oils Cedarwood Atlas Eucalyptus Globulus Peppermint and Eucalyptus Radiata. 100% Pure Essential Oil Capacity - 10 ml.
$18.95
Biofinest 100% Pure Bergamot Oil - Experience The Therapeutic Aroma of Bergamot Oil Today! ?Create a feeling of joy, freshness and energy ?Reduce pain from headaches and muscle tension ?Useful for respiratory problems, cold or flu. Biofinest's Bergamot Oil Top Benefits: ? Relieve anxiety & depression ? Reduce stress & chronic fatigue ? Rejuvenate the skin ? Alleviate oily skin, acne, psoriasis, eczema ? Enhance digestive system ? Alleviate bacterial infections ? Improve skin condition from fungal infections ? Speed up the healing process for cold sores, mouth ulcers, and herpes ? And much more! How to Use Biofinest's Bergamot Oil: ?Burners, diffusers & vaporizers for aromatherapy ?Antidepressant - Rubbing 2-3 drops into hands and cupping mouth and nose. ?Cures infections - drink Earl Grey tea or rub the oil onto throat, abdomen & feet. ?Reduces pain - rub 5 drops of the oil on sore muscles. ?Heals acne - put 5 drops on a cotton ball or pad and rub it on the infected area. ?Promote digestion - Rub 5 drops onto your stomach to ease digestive issues. ?Deodorant - add 2-3 drops to deodorant or air freshener to remove odor. OUR 100% Satisfaction Guarantee: Love our Bergamot Oil or get a full refund or a free unit! Order Biofinest Bergamot Oil Essential Oil Today! You'll enjoy: ? 100% Pure Essential Oil - Premium Therapeutic Grade ? FREE Premium E-Book Guide (worth $37) ? FREE VIP Club (Special Promotion, Discount, Free Gifts!) ? 24/7 Dedicated Customer Support Click the "Add To Cart" button to Buy with Confidence!
$27.76
FeaturesCoriander Seed Essential Oil Blends well with - Bergamot Lemon and Jasmine Absolute. 100% Pure Essential Oil 100% Pure Therapeutic Grade Capacity - 30 ml. Aromatherapy PropertiesCoriander essential oil and Cilantro essential oil are both made from the same plant the difference is that the Coriander essential oil is made from the leaf and the Cilantro essential oil is from the seed. Coriander also know as Chinese Parsley is considered anti-inflammatory and sedative. It's indicated for stress anxiety and insomnia. May help memory stimulates the mind. Used as a massage oil to ease arthritis pain and migraine headaches. Can also be applied to clear blackheads and for oily skin.