Silky Scents EO211-1OZ-30ML 100 Percent Pure Therapeutic Grade Cumin Essential Oil - 30 ml.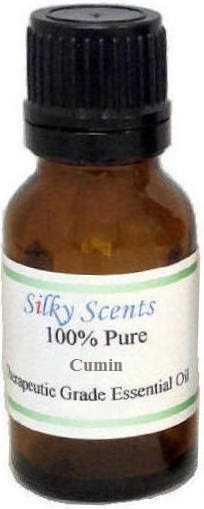 FeaturesCumin Essential Oil Blends well with - This oil blends well Angelica Root Caraway Lavender 40/42 Rosemary Chamomile Blue. 100% Pure Essential Oil 100% Pure Therapeutic Grade Capacity - 30 ml. Aromatherapy PropertiesThe chemical properties of Cumin includes being an antioxidant antiseptic anti-spasmodic anti-toxic relief bactericidal carminative depurative digestive emmenagogue larvicidal nervine stimulant and as a tonic. In the past Cumin Essential Oil was found to be useful as a warming oil that helps relieve muscular pains and osteoarthritis; for the digestive system it was used as a stimulant that helps with colic dyspepsia flatulence bloating and indigestion; and ...
Buy Now
$29.69

Related Products
$9.95
This is an all natural headache relief formulated with pure organic oils that help ease migraine headache pain and discomfort. This natural ointment uses aromatherapy to relieve stress induced headaches. The organic aromatherapy healing oils have other properties that are beneficial to your overall health.
$10.17
Why do I consider my 100% Pure Peppermint Oil the best? In my search several years ago for the best made Peppermint Oil product for my wife's massage therapy practice I kept coming up short in what we were looking for from a quality standpoint. We kept finding and having to use inferior products that didn't hold up to our standards that we have in place today. So we sought out to make our own...and now an amazing family run business has arisen and been growing ever since! Our Peppermint Oil is a 100% Pure Essential Oil made directly from the flowers of the Mentha Piperata Plant. Only the finest Peppermint Oil comes from India, Peppermint from anywhere else in the world can not compare to the quality we achieve with our product. Our product does not contain any additives, anything synthetic, no filler product, no base carrier oils, just plain old 100% pure Peppermint Oil which should be diluted down if you have more sensitive skin. So your search for the best Peppermint Oil is over, when you purchase from AromaOils today here are some of the things you can look forward too: Most customers report no side effects with this product however if you do have sensitive skin it is best to dilute the Peppermint Oil down with a carrier oil like our Castor Oil or Rosehip Oil. The most important thing with any purchase is the assurance that you will receive the finest customer service you have ever experienced. Keep in mind we do not offer a miracle cure-all for every ailment, we do however offer a natural product that can aid you in many ways. All we ask is that you try our product and if it isn't for you, simply let us know and we will take care of you! Many customers ask us if it's ok to buy more then 1 bottle and we always say with "yes that is perfectly fine".
$34.80
Aromatherapy Properties: (Uses). Cilantro essential oil and Coriander essential oil are both made from the same plant the difference is that the Coriander essential oil is made from the leaf and the Cilantro essential oil is from the seed. Cilantro Oil also known as Chinese Parsley helps to relieve common flu symptoms such as nausea fever headache migraines colds diarrhea hernias and exhaustion. Because of the calming effects on the stomach it is a great additive to a blend. Cilantro Oil is a carminative helping to relieve gas. Also aiding in muscular pain relief. Being an anti-inflammatory it reduces aches stiffness and muscle soreness. Soothing discomfort caused from arthritis rheumatism and circulation problems. Cilantro Oil is recommended to those suffering anorexia because of its ability to increase appetite in a healthy and natural manner. Also known for being an relief increasing the libido. Cilantro Oil has been used as a flavoring agent in digestive blends for culinary purposes as a natural pain reliever deodorants and in natural dental products. Blends well with: Ginger Clary sage Cinnamon Bergamot Pine. 100% Pure Essential Oil Capacity - 15 ml.