Silky Scents EO211-1OZ-30ML 100 Percent Pure Therapeutic Grade Cumin Essential Oil - 30 ml.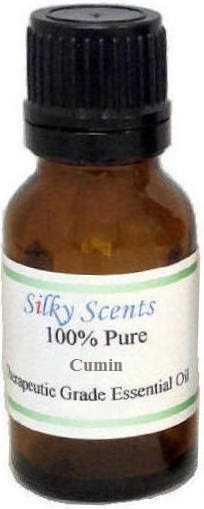 FeaturesCumin Essential Oil Blends well with - This oil blends well Angelica Root Caraway Lavender 40/42 Rosemary Chamomile Blue. 100% Pure Essential Oil 100% Pure Therapeutic Grade Capacity - 30 ml. Aromatherapy PropertiesThe chemical properties of Cumin includes being an antioxidant antiseptic anti-spasmodic anti-toxic relief bactericidal carminative depurative digestive emmenagogue larvicidal nervine stimulant and as a tonic. In the past Cumin Essential Oil was found to be useful as a warming oil that helps relieve muscular pains and osteoarthritis; for the digestive system it was used as a stimulant that helps with colic dyspepsia flatulence bloating and indigestion; and ...
Buy Now
$35.36

Related Products
$21.00
Biosource Naturals Headache Relief Essential Oil Blend combines a proprietary blend of Peppermint, Lavender, Eucalyptus, Rosewood and Rosemary in a 0.5 fl oz (15 ml) concentrate bottle which can be diluted with carrier oil for direct skin contact, such as Sweet Almond Oil. Do not use if pregnant or epileptic. Statements made have not been evaluated by the FDA, and are not intended to diagnose, treat, or prevent any disease. Biosource Naturals is founded by a naturopath, aromatherapist, EFT practitioner, Reiki Master. Therapeutic Quality.
$18.95
Let the essence of these combined botanical extracts calm and refresh you as they take your headache away. Our formula has been perfected to assure a relaxing and comforting experience. With all natural ingredients, chemical free, there are little to no side effects compared to the damages pills can cause in you body. Our potent muscle stimulating balm is made with a special blend of essential oils including olive and castor oils, it also has menthol, lemongrass, cardamom and vetiver that will bring an instant and long lasting relief to your body. Non addictive toxic free and totally handcrafted and organic. Why buy from us ?Moxie inspires greatness with MIG Soap.Their journey of growing a grass roots company started a few years ago when Jaime's passion for business and wellness converged with a dream to build a brand that would help people everywhere. Nathan is a three time all American wrestler, with a background in finance which lends to the day to day operations and work behind MIG. Nathan & Jaime along with their team now craft unique and sophisticated herbal body products in the beautiful mountains of Colorado and they continue to create a culture of family and philanthropy in everything they do. "Find your spark, put action to passion, and fan the flame. Do that and you'll be unstoppable"- Jaime Cross Every purchase fuels efforts to end child trafficking. What to expect when you buy ?Once your item arrives you can expect headaches to be a part of the past. We can assure you that our customer service representatives will be here to help you to answer any questions or concerns about the buying process or product. We won't give you a headache.
$23.21
Aromatherapy Properties: (Uses) Used as an insecticide and antidepressant. Its most useful quality seems to be as an insect repellant and may also help pets get rid of fleas. Also known to clear the mind so may be useful against headaches and migraines. Its deodorant and stimulating properties always refresh sweaty tired feet activating the whole body. Blends well with: Citrus oils Cedarwood Atlas Eucalyptus Globulus Peppermint and Eucalyptus Radiata. 100% Pure Essential Oil Capacity - 10 ml.