Silky Scents EO78-15ML 100 Percent Pure Therapeutic Grade Coriander Seed Essential Oil - 15 ml.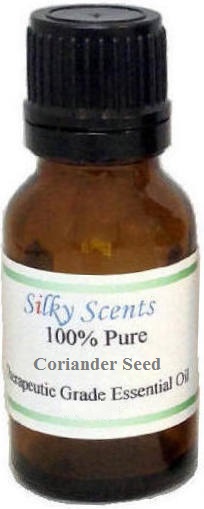 FeaturesCoriander Seed Essential Oil Blends well with - Bergamot Lemon and Jasmine Absolute. 100% Pure Essential Oil 100% Pure Therapeutic Grade Capacity - 15 ml. Aromatherapy PropertiesCoriander essential oil and Cilantro essential oil are both made from the same plant the difference is that the Coriander essential oil is made from the leaf and the Cilantro essential oil is from the seed. Coriander also know as Chinese Parsley is considered anti-inflammatory and sedative. It's indicated for stress anxiety and insomnia. May help memory stimulates the mind. Used as a massage oil to ease arthritis pain and migraine headaches. Can also ...
Buy Now
$18.44

Related Products
$18.77
FeaturesLavandin Essential Oil Aromatic Description - The essential oil's aroma is powdery sweet floral Fresh and more herbaceous than lavender. Perfumery Note - Top/Middle Blends well with - Bergamot Clary Sage and Lemon 100% Pure Essential Oil 100% Pure Therapeutic Grade Capacity - 15 ml. Aromatherapy PropertiesLavandin is an aromatic evergreen shrub that is much larger than true Lavender. The flowering heads are more compressed with a dull gray blue color. It is a hybrid developed by crossing true lavender with spike lavender which grows wild in areas where true lavender is cultivated or grows wild. It is a good addition to cold and flu remedies with its germ killing ability as well as its ability to stimulate the respiratory system and ease breathing. Lavandin should be used as an inhalation for colds sinusitis and other respiratory problems. May clear headaches good for muscular stiffness. It can also be very effective against non-tubercular opportunistic mycobacteria (NTM) which is common in AIDS. Lavandin is used for treating headaches migraine. HistoryThis hybrid apparently evolved naturally near the seas in Spain Italy and France. It is now commercially produced in these same countries.
$22.42
FeaturesCumin Essential Oil Blends well with - This oil blends well Angelica Root Caraway Lavender 40/42 Rosemary Chamomile Blue. 100% Pure Essential Oil 100% Pure Therapeutic Grade Capacity - 15 ml. Aromatherapy PropertiesThe chemical properties of Cumin includes being an antioxidant antiseptic anti-spasmodic anti-toxic relief bactericidal carminative depurative digestive emmenagogue larvicidal nervine stimulant and as a tonic. In the past Cumin Essential Oil was found to be useful as a warming oil that helps relieve muscular pains and osteoarthritis; for the digestive system it was used as a stimulant that helps with colic dyspepsia flatulence bloating and indigestion; and for the nervous system Cumin was used as a tonic with beneficial effect on headaches migraine pain and nervous exhaustion.
$15.00
Our Lavender Oil is extracted from French lavender and used for aromatherapy, relaxation, uplifting mood, massage oils and bath salts. This relaxing, therapeutic oil has a soothing and rich aromatic scent to refresh and cleanse the surrounding air. What it does: Ideally used to uplift the spirit and provide a calming environment, it is also ideal for incorporating into your daily healthcare routine. Lavender oil can reduce anxious behaviors, provide reduction in pain relief, help disinfect the skin, and aid in healing both respiratory and circulatory issues.* For effective results and maximum absorption to the skin, use with a carrier oil*. Ideal for: Relaxation, better sleep Headaches, migraines Respiratory issues, cough Repelling insects Household freshness * Individual results may vary. We cannot accept returns on this product.