Silky Scents EO78-15ML 100 Percent Pure Therapeutic Grade Coriander Seed Essential Oil - 15 ml.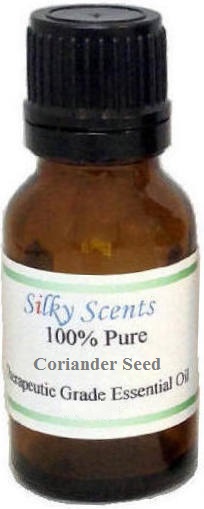 FeaturesCoriander Seed Essential Oil Blends well with - Bergamot Lemon and Jasmine Absolute. 100% Pure Essential Oil 100% Pure Therapeutic Grade Capacity - 15 ml. Aromatherapy PropertiesCoriander essential oil and Cilantro essential oil are both made from the same plant the difference is that the Coriander essential oil is made from the leaf and the Cilantro essential oil is from the seed. Coriander also know as Chinese Parsley is considered anti-inflammatory and sedative. It's indicated for stress anxiety and insomnia. May help memory stimulates the mind. Used as a massage oil to ease arthritis pain and migraine headaches. Can also ...
Buy Now
$16.97

Related Products
$25.00
It is a blend of oils that synergistically provide you with nearly miraculous relief from inflammation and associated pain. It is calming as it eases nervous tension, stress, and poor circulation. Migraine Relief is uplifting, stimulates the regeneration of new cells, and eases anxiety, worries, and fear. It assists with headaches and migraines, balances extremes in emotions, and provides comfort during times of grief. It is beneficial for lowering blood pressure, relaxes the mind, and assists with muscular aches, pain and stiffness. Migraine Relief assists with spasms, fatigue, infections, fluid retention, sprains, cramps, depression, and acts as a sedative. Apply a few drops topically to the back of the neck, across the forehead, and on the temples.
$17.29
FeaturesLavandin Essential Oil Aromatic Description - The essential oil's aroma is powdery sweet floral Fresh and more herbaceous than lavender. Perfumery Note - Top/Middle Blends well with - Bergamot Clary Sage and Lemon 100% Pure Essential Oil 100% Pure Therapeutic Grade Capacity - 15 ml. Aromatherapy PropertiesLavandin is an aromatic evergreen shrub that is much larger than true Lavender. The flowering heads are more compressed with a dull gray blue color. It is a hybrid developed by crossing true lavender with spike lavender which grows wild in areas where true lavender is cultivated or grows wild. It is a good addition to cold and flu remedies with its germ killing ability as well as its ability to stimulate the respiratory system and ease breathing. Lavandin should be used as an inhalation for colds sinusitis and other respiratory problems. May clear headaches good for muscular stiffness. It can also be very effective against non-tubercular opportunistic mycobacteria (NTM) which is common in AIDS. Lavandin is used for treating headaches migraine. HistoryThis hybrid apparently evolved naturally near the seas in Spain Italy and France. It is now commercially produced in these same countries.
$10.00
Migrastil Migraine Stick brings safe relief for migraines and headaches. A small amount applied to the temples, forehead and back of the neck at the first signs of pain can bring quick relief - faster acting than pills and capsules. Migraine Stick can also bring relief for the nausea that often accompanies migraines.