Silky Scents EO78-1OZ-30ML 100 Percent Pure Therapeutic Grade Coriander Seed Essential Oil - 30 ml.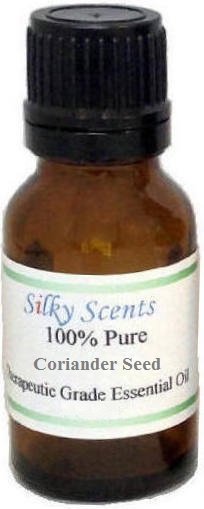 FeaturesCoriander Seed Essential Oil Blends well with - Bergamot Lemon and Jasmine Absolute. 100% Pure Essential Oil 100% Pure Therapeutic Grade Capacity - 30 ml. Aromatherapy PropertiesCoriander essential oil and Cilantro essential oil are both made from the same plant the difference is that the Coriander essential oil is made from the leaf and the Cilantro essential oil is from the seed. Coriander also know as Chinese Parsley is considered anti-inflammatory and sedative. It's indicated for stress anxiety and insomnia. May help memory stimulates the mind. Used as a massage oil to ease arthritis pain and migraine headaches. Can also ...
Buy Now
$18.81

Related Products
$15.95
Biofinest 100% Pure Marjoram Oil - Experience The Therapeutic Aroma of Marjoram Oil Today! ?Warm, spicy, woody scent, ?For long and restful sleep. ?Antiseptic and anti-viral. ?Calm stress and anxiety. Biofinest's Marjoram Oil Top Benefits: ?Alleviate pain related to colds, fevers, inflammation, toothache, and headache. ?Relieve intestines to muscular spasms spasms. ?Curbing and controlling abnormal and excessive sexual urges. ?Antiseptic, preventing both internal and external wounds from becoming infection. ?Antibacterial, killing bacteria and protect against food poisoning, typhoid, malaria, and infection on skin, colon, and digestive system. ?Regulate irregular and painful menstrual period. How to Use Biofinest's Marjoram Oil: ?Burners, diffusers & vaporizers for aromatherapy ?Skin Care - Use 1-2 drops mixed with a carrier oil as a gentle astringent or moisturizer after washing your face. ?Cold and Flu -Diffuse the oil, add few drops to a steam bath, or make a homemade vapor rub using eucalyptus oil ?Relaxant - diffuse at home, or add few drops to your laundry detergent mix. ?Antibacterial - remove bacteria from kitchens and bathrooms with spray bottle ?Homemade personal care products like deodorant, cleaner and toothpaste. ?Sore Muscle Soother - Massage on skin. OUR 100% Satisfaction Guarantee: Love our Marjoram Oil or get a full refund or a free unit! Order Biofinest Marjoram Oil Essential Oil Today! You'll enjoy: ? 100% Pure Essential Oil - Premium Therapeutic Grade ? FREE Premium E-Book Guide (worth $37) ? FREE VIP Club (Special Promotion, Discount, Free Gifts!) ? 24/7 Dedicated Customer Support Click the "Add To Cart" button to Buy with Confidence!
$223.21
Aromatherapy Properties: (Uses). Catnip is most often used to treat anxiety insomnia and nervousness. Due to this ability to promote relaxation catnip may also be used to help lessen migraine headaches. Because chemicals in it may have antispasmodic (muscle-relaxing) effects catnip has also been taken to relieve stomach complaints such as colic cramps gas and indigestion. Although isolated studies in animals and numerous case reports from humans seem to confirm these effects no clinical studies of humans have been conducted to prove or disprove any medicinal properties of catnip. According to the 2001 report of the American Chemical Society the world's largest scientific society the essential oil in catnip that gives the plant its characteristic odor is about ten times more effective at repelling mosquitoes than DEET (The compound used in most commercial insect repellents). In 1999 an Iowa State University research group discovered that catnip also repels cockroaches as well. Blends well with: Grapefruit White Lavandin Lavender French Lemon Marjoram Sweet Orange Sweet other mints and Rosemary. 100% Pure Essential Oil Capacity - 30 ml.
$25.00
It is a blend of oils that synergistically provide you with nearly miraculous relief from inflammation and associated pain. It is calming as it eases nervous tension, stress, and poor circulation. Migraine Relief is uplifting, stimulates the regeneration of new cells, and eases anxiety, worries, and fear. It assists with headaches and migraines, balances extremes in emotions, and provides comfort during times of grief. It is beneficial for lowering blood pressure, relaxes the mind, and assists with muscular aches, pain and stiffness. Migraine Relief assists with spasms, fatigue, infections, fluid retention, sprains, cramps, depression, and acts as a sedative. Apply a few drops topically to the back of the neck, across the forehead, and on the temples.