Carrier Oil Hemp Seed, 4 oz, Nature's Alchemy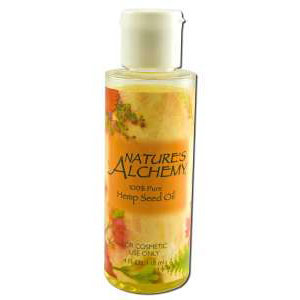 Buy Now
$11.97

Related Products
$21.79
One of Nature?s Perfect Oils One of the earliest known domesticated plants, hemp has been cultivated for over 12,000 years. The seeds of this plant, with their mild nutty flavor, have long made hemp a part of many cuisines across cultures, and hemp?s nourishing properties has made it a staple in wellness traditions as well! Cold-pressed from the seeds of this tall, versatile herb, hemp seed oil boasts an impressive nutritional profile, rich in omega-3 and omega-6 essential fatty acids as well as amino acids. These health-supportive nutrients help to support your body?s cardiovascular and immune systems, in addition to encouraging skin health when applied topically.** Piping Rock?s own cold pressed Hemp Seed Oil is unrefined and can be used topically or in place of olive oil in many recipes! Nutritionally supplement your diet by using one (1) to two (2) tablespoons daily in pasta, salad dressings, marinades, smoothies? feel free to get creative! This oil is not suitable for frying and shouldn?t be used at temperatures over 150°C.
$24.99
Nutiva's raw, unrefined, expeller cold-pressed Canadian hemp oil is light green, lighter in flavor, and has more GLA content compared to other hemp oils.
$11.75
100% PURE ORGANIC HEMP SEED OIL Product Name: Hempseed Carrier Oil - Organic (Unrefined) Botanical Name: Cannabis sativa Synonyms: Cannabis chinense, Cannabis indica INCI Name: Cannabis sativa seed oil County of Origin: Canada Product Use: Direct food ingredient, Salad oil, Dietary supplement Exceptionally rich oil high in essential omega fatty acids and proteins. This oil has a pleasant nutty smell, deep green color, and absorbs well into the skin. It makes a marvelous cosmetic grade oil and because of its high nutritional value, it makes a superior quality dietary oil and one that can be used as a base ingredient for skin care recipes which require healing and regenerative ingredients Hemp seed oil is highly emollient and can be used directly on the skin to nourish and regenerate. Hemp seed oil is capable of deeply penetrating the skin, rather than just sitting on top of the skin. This action works to prevent the aging of the skin, by allowing the essential fatty acids to fully penetrate the outer layer of skin, and encouraging a healthy moisture balance.