Silky Scents EO6-10ML Cardamom Essential Oil 100 Percent Pure Therapeutic Grade - 10 ml.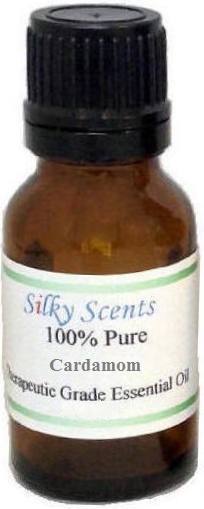 Aromatherapy Properties: (Uses) Its properties indicate it is good for the stomach (settles it) eases gas pains and nausea digestive neuron-muscular antispasmodic expectorant and warming. Good inhaled for the bronchial system; assists in stimulating the lungs expelling phlegm and can be used for easing coughs and bronchitis. It is also used as an relief mixture. Cardamom the plant has long been used as a condiment and medicine in India for digestive complaints. The Romans and Arabs both used it to settle gastrointestinal problems. The uplifting refreshing and invigorating aroma of cardamom warms the senses and is ideal when there ...
Buy Now
$38.95

Related Products
$15.55
100% Pure Essential Oil. Pure Aromatherapy..
$28.13
Health care has gained a lot more importance than it ever had. People are resorting to anything and everything in order to stay healthy. Monitoring health personally has become easier with our wide range of Health Care Products. Browse through our extensive collection of healthcare products which are safe and reliable. FeaturesOur organic cardamom is certified Well Earth to support the grower community in Guatemala Single botanicalNo synthetics SpecificationsOrgin: Guatemala Capacity: 0.25 fl.oz Weight: 0.08 lbs
$31.98
Essential Oil Cardamom Seed - Aura Cacia - 0.5 oz - EssOil