Plant Therapy Organic Cedarwood Atlas Essential Oil 100 mL (3.3 fl. oz.) 100% Pure, Undiluted, Therapeutic Grade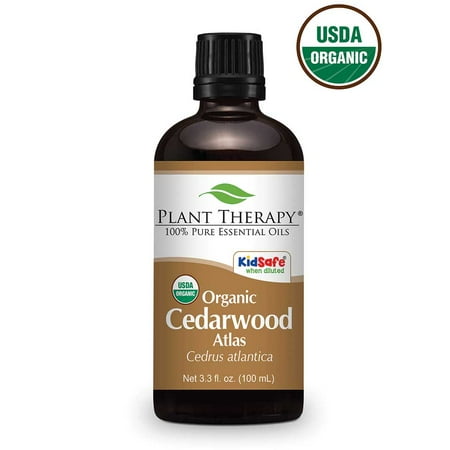 Plant Therapy Organic Cedarwood Atlas Essential Oil 100 mL (3.3 fl. oz.) 100% Pure, Undiluted, Therapeutic ...
Buy Now
$39.95

Related Products
$22.95
Aromatherapy Properties: (Uses) Its properties are an arterial regenerative and a lymphotonic. It aids in the removal of body fat and is used externally for cellulite and the retention of fluid in the tissue. Atlas Cedar, as its also known, is also used for the respiratory system, a drop in a half cup of water to gargle for sore throat or with a few drops of Eucalyptus in a steaming bowl of water to reduce nasal and lung congestion. Its main benefits are on the respiratory system due to its expectorant properties, easing conditions such as bronchitis, coughs and colds. The oil may be beneficial in the treatment of kidney and bladder disorders. Its antiseptic properties make it an ideal remedy for bladder and kidney infections and for cystitis. The oil may be added to a sitz bath and to compresses. It can be added to shampoos or facial washes to reduce oily secretions. The oil helps to clear chronic conditions such as dermatitis and psoriasis. It would make a good hair tonic and effective for treating seborrhoea of the scalp, hair loss, dandruff and alopecia. It is also used as a fixative in the perfume industry. Cedarwood Atlas is calming and soothing with effects similar to Sandalwood. This oil is considered neurotoxic and abortive and should not be used on children and pregnant women. Blends well with: Bergamot, Clary Sage, Frankincense, Oakmoss Absolute, and Rosemary. 100% Pure Essential Oil Capacity - 10 ml.
$14.95
Certified Organics: All of our Certified Organic Essential Oils are certified for the USDA Organic Standard. * Botanical Name: Cedrus atlantica * Plant Part: Wood * Extraction Method: Steam Distilled * Origin: Morocco * Description: Cedarwood is a pyramid-shaped majestic evergreen tree, which grows up to 131 ft. high. The wood itself is hard and strongly aromatic because of the high percentage of essential oil it contains, and the essential oil is obtained by steam distillation. * Color: Golden yellow to orange-brown liquid. * Common Uses: Warming, uplifting, and toning, Organic Cedarwood Oil is a calming and soothing oil that is beneficial for all states of tension and anxiety, instilling feelings of peace. This oil is beneficial for oily skin, acne, cellulite, chronic skin conditions and respiratory problems. It is considered an aphrodisiac in that it is grounding and inspiring at the same time. * Consistency: Thin * Note: Middle * Strength of Aroma: Strong * Blends well with: Rosewood, Bergamot, Cypress, Cassia, Jasmine, Juniper, Neroli, Labdanum, Frankincense, Clary Sage, Vetiver, Rosemary, Ylang-ylang. * Aromatic Scent: Cedarwood Atlas Oil has a woody, sweet, sharper note than Virginian Cedarwood, slight aroma reminiscent of artificial mothballs, balsamic. * History: This Cedarwood originated in the Atlas Mountains in North Africa. In former times, linen chests were frequently crafted from this wood to keep moths out. To date, clothes hangers are frequently crafted from this wood. The ancient Egyptians already used this oil, namely to embalm, for cosmetics and perfumery. * Cautions: Non-toxic, non-irritant. Avoid during pregnancy.
$14.00
10mL Botanical source: Cedrus atlantica Plant part used: The heartwood Origin: The Atlas Mountains of Northern Morocco Production: Sustainably wild harvested and certified organic Extraction method: Steam distillation of the dried wood chips Fragrance profile: Warm, deep sweet-woody notes with just a hint of fresh-camphor top notes Fragrance energy: Woody-Sweet Calming, centering and strengthening, restoring Complementary blending: Rosewood, Bergamot, Cypress, Neroli, Clary sage, Vetiver, Rosemary, Ylang ylang For external use only. Properly dilute all essential oils in lotion or vegetable carrier oil before massage or other topical use. Keep out of reach of children. If you are pregnant, nursing, have any health conditions, or are taking medications, please consult your healthcare provider prior to using essential oils.