Plant Therapy Garlic Essential Oil 100 mL (3.3 fl. oz.) 100% Pure, Undiluted, Therapeutic Grade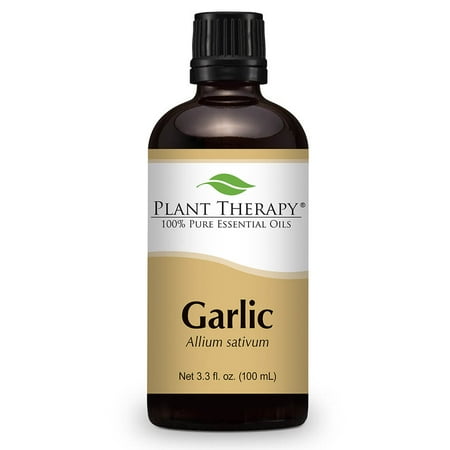 Plant Therapy Garlic Essential Oil 100 mL (3.3 fl. oz.) 100% Pure, Undiluted, Therapeutic ...
Buy Now
$34.92

Related Products
$19.99
100% Pure Therapeutic Grade Garlic Essential Oil Comes in a 30ml amber glass essential oil bottle. European Dropper Cap included. What sets Healing Solutions Essential Oils apart is superior cultivation of ingredients that are the best in the world. Combined with superior distillation and bottling care process, We GUARANTEE that our oils are aromatically superior and more effective than any other oils - if you disagree we will refund your money! The Leading Aromatherapy Associations (Alliance of International Aromatherapists (AIA), International Aromatherapy and Aromatic Medicine Association, Aromatherapy Trade Council, and others) all state that essential oils should not be taken internally (regardless of purity or organic origin) unless under the guidance of a health care practitioner trained at an appropriate level . As such, all of our oils carry a label warning that the product is NOT FOR INTERNAL USE.
$12.95
Botanical Name: Allium sativum * Plant Part: Bulb * Extraction Method: Steam Distilled * Origin: China * Description: Garlic is a bulb that grows 12-16 inches tall. Each bulb has somewhere around 5-15 cloves depending on the variety. * Color: Yellow to orange red clear liquid. * Common Uses: Garlic Essential Oil is reputed to have antibacterial, antiseptic and anti-hypertensive properties and has been used to prevent infections and to treat colds and bronchitis symptoms. It is also believed to be a powerful detoxifier and is regarded to rejuvenate the body and relieve tiredness. * Consistency: Thin * Note: Top * Strength of Aroma: Strong * Aromatic Scent: Garlic Essential Oil has a very strong and pungent garlic aroma. * History: Garlic was worshipped by the ancient Egyptians, chewed by Greek Olympian athletes and thought to be essential for keeping vampires at bay. The plant has been used over many centuries in different countries as a protection against evil. * Cautions: A few drops of the pure oil can fill a house with its strong almost nauseating aroma. Use extremely well diluted and avoid during pregnancy.
$16.95
Silky Scents EO188-5ML 100 Percent Pure Therapeutic Grade Garlic Essential Oil - 5 ml.