Natures Alchemy 0821074 Essential Oil - Lime 0.5 oz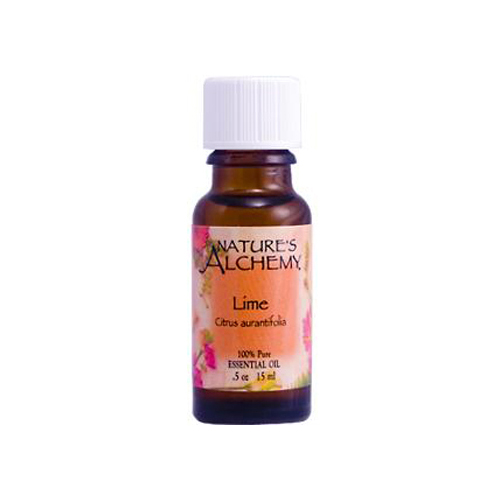 SpecificationsSize: 0.5 oz Flavour: Lime Weight: 0....
Buy Now
$14.59

Related Products
$5.33
Nature's Alchemy Essential Oil, Lime, 0.5 Oz
$22.10
It is antiseptic antiviral astringent disinfectant insecticide restorative. Very stimulating in cases of apathy depression and anxiety. Eases coughs and chest congestion. Encourages appetite may assist in anorexia. Assists in treating alcoholism because of its disinfecting and detoxifying properties. Lime oil has extensive use in the body-care industry and forms along with Lavender oil a great deal of men's fragrances. Blends well with Bergamot Geranium Lavender 40/42 Rose Otto (Bulgarian) and Ylang Ylang I. Capacity - 30 ml.
$9.95
You may be more familiar with Lime's culinary uses as a citrusy delight. As an essential oil, it offers a wave of therapeutic recipes. Lime can enhance the body's natural healing capacity and improve overall vitality with its tropical and citrusy aroma. In one study, Lime peel was shown to increase the antioxidant strength in rabbits, which can prevent atherogenesis. It supports and cools the immune system, while promoting a healthy inflammatory response and reinforcing the circulatory system and smoothing of adipose tissues. It can be especially useful in helping with bronchitis or congestion. Native to India, Lime trees produce white flowers and citrus fruit and was first carried to the Mediterranean in the 19th Century. Today, Limes are grown throughout the West Indies, Central America and Italy. The entire peel is put through a steam distillation method to extract the essential oil. Try blending it with Bergamot or a bright floral and diffuse it a space needing an uplift. BOTANICAL NAME: Citrus aurantifolia ORIGIN: Mexico EXTRACTION METHOD: Steam Distillation PLANT PART: Peel NOTE: Top FAMILY: Rutaceae BLENDS WELL WITH: Bergamot, and other citrus; Geranium, and other florals AROMA: Sweet, tropical, citrusy, rounded, and true to Lime aroma CONSISTENCY: Thin COLOR: Clear **Euro droppers are not included with 100 & 250 ml bottles** SAFETY: Dilute to 0.7% when using topically. Using more than the recommended dilution can cause adverse reactions such as phototoxicity and sensitization SHELF LIFE: 2 Years