Lavender (Bulgarian) Essential Oil American Supplements 1 oz Oil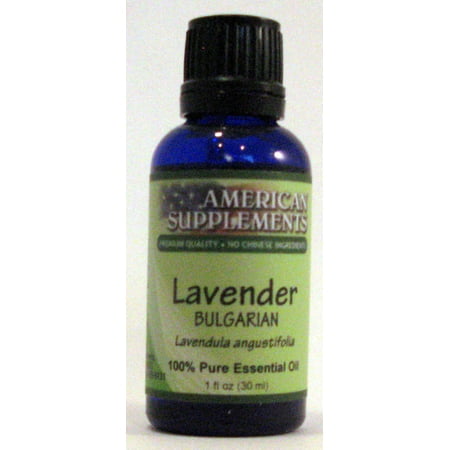 Lavender (Bulgarian) Essential Oil by American Supplements 1 oz Oil Lavender (Bulgarian) Essential Oil No Chinese Ingredients 1 oz Oil Ingredients 100 pure lavender Oil Extraction Method Steam distilled from the flowering tops Country of Origin Bulgaria Cultivation Method Sustainably farmed Aroma Floral herbaceous Properties Calming relaxing cleansing Soothing This product does not contain Chinese ingredients Directions For Aromatherapy. Can be used diluted in a carrier oil for topical use. Warnings Keep out of reach of children. As with all dietary supplements consult your healthcare professional before use. See product label for more information.
Buy Now
$29.90

Related Products
$31.77
Natures Alchemy 100% Pue Essential Oil French Lavender Description: 100% Pue Natural Essential Oils Aromatherapy grade No Alcohol Use for personal fragrancing potpourri bath or body oils and more These 100% natural essential oils are meticulously extracted from plants by cold pressing or steam distillation using the same techniques developed by the medieval Persian physician Acicenna. All Natures Alchemy high-quality botanical oils are scientifically tested for Puity and contain no chemical solvents added alcohol or other extenders. We feature high quality Pue oils at competitive prices. Natures Alchemy Oils are all aromatherapy grade. Disclaimer These statements have not been evaluated by the FDA. These products are not intended to diagnose treat cure or prevent any disease. Product Features: Ingredients: 100% Natural Lavender. Warnings Not for internal use.(Note: This Product Description Is Informational Only. Always Check The Actual Product Label In Your Possession For The Most Accurate Ingredient Information Before Use. For Any Health Or Dietary Related Matter Always Consult Your Doctor Before Use.) UPC: 079565008899 S
$16.81
Calming lavender essential oil for use in the AIRCARE Ultrasonic Humidifiers Aurora Series and the Spire or for other aromatherapy usage. Its comforting scent is wonderful for diffusing. This scent is a classic and a must-have staple for every essential oil enthusiast. FeaturesAircare Lavender Essential Oil Use full strength for aromatherapy purposes For all other uses consult an essential oil reference book Keep out of reach of children Do not ingest & Avoid contact with eyes Pregnant or lactating women should consult their doctor before using SpecificationsSize: 30 ml Weight: 0.25 lbs
$23.50
Silky Scents EO60-10ML 100 Percent Pure Therapeutic Grade Lavender Bulgarian Essential Oil - 10 ml.