Minimax I-LEM 1.6 oz. Concentrated Lemon Essential Oil Based Fragrance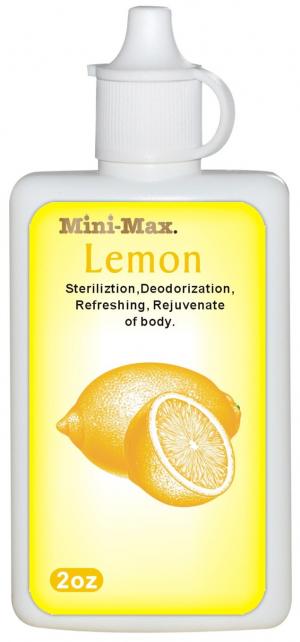 FeaturesAn oil based solution used for leaving an aromatizing scent behind. Medicating the air with fragrances so that you can breathe freely and get the necessary rest you need. Antibacterial & anti-fungal properties used in this fragrance allows it to deodorize & santize the air along with aromatizing the air. Calming Refreshing and Relaxing. Flavor - Lemon Size - 1.6 oz.
Buy Now
$18.98

Related Products
$14.99
Lemon in a 8oz plastic essential oil bottle. Comes with pipette for your convenience.
$12.87
To celebrate our 200th review we are offering a One Day sale of 12.97 77% off our normal pricing. WHILE SUPPLIES LAST!! 5X EXTRA STRENGTH (5X FOLD) Our Lemon essential oil is the most powerful concentrate in the market with stronger anti bacterial, antiseptic and astringent qualities. It is refreshing and soothing for the skin. It brightens a dull looking skin almost instantly. It is detoxifying and it helps to lighten the skin tone, thus improving complexion and texture of the skin. Our Lemon oil is 5X stronger taken from the peel of ripe fruit via cold expression. This means less drops are needed per use because of the higher concentration, LONGER LASTING AROMATHERAPY, purify and cleanses your body with more VITAMIN C, LIGHTENS FRECKLES AND BLEMISHES, and can be used in formula for SOAP or NATURAL DISINFECTANT. Lemon Oil has a variety of uses including a natural and CHEMICAL FREE DISINFECTANT for bathrooms, sinks, and tables. Apply on freckles, scars, and age spots to lighten. Drink with a glass of water to DETOX and PURIFY the body. Some of the purported benefits of using lemon oil are that it can prevent cancer, free up the lymphatic system and respiratory system, and can be used to reduce inflammation in the body. You can start using lemon oil in baths or using it in a detox shake to add this to your lifestyle. Our Extra Strength concentration allows for fewer drops to obtain maximum efficiency. FREE 30 DAY TRIAL, if your not satisfied just return!
$15.84
Essential OIl Organic Lemon - Nature's Answer - 0.5 oz - Liquid