Plant Therapy Spring Cleaning Essential Oil Set 10 mL (1/3 fl. oz.) 100% Pure, Undiluted, Therapeutic Grade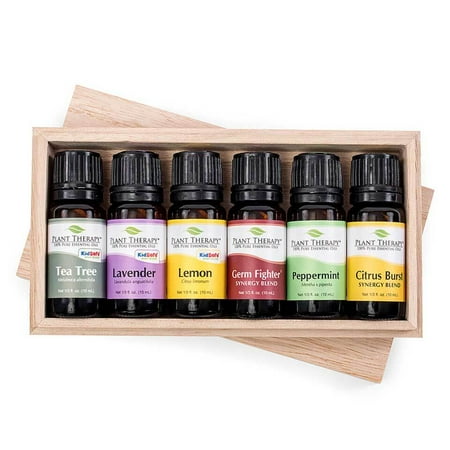 Plant Therapy Spring Cleaning Essential Oil Set 10 mL (1/3 fl. oz.) 100% Pure, Undiluted, Therapeutic ...
Buy Now
$34.95

Related Products
$6.99
Botanical Name: Lavandula officinalis Main Constituents: Linalool: 31.97% Linalyl Acetate: 31.56% Plant Part: Flowers Origin: France Processing Method: Steam Distillation Description / Color / Consistency: A thin, clear, colourless to pale yellow liquid. Aromatic Summary / Note / Strength of Aroma: A top note of strong aroma, Lavender 40/42 has a fresh, herbaceous, floral scent with a woody, balsamic undertone. Blends With: Bay, Bergamot, Chamomile, Citronella, Clary Sage, Geranium, Jasmine, Lemon, Mandarin, Orange, Palmarosa, Patchouli, Pine, Thyme, Rosemary, Rosewood and Ylang-ylang. Product Abstract: The Lavender plant grows to about one meter in height and produces long thin purple- blue flowers. The entire plant is covered with oil glands, which are in the star shaped hairs that cover the plant. Lavender has been used since ancient times, and the Romans added lavender to their bath water, hence the name from the Latin lavare, 'to wash'. Lavender 40/42 Essential Oil has the most floral scent of all the Lavenders and is a blend of various lavenders to achieve an economical product. While the vast majority of Lavender 40/42 in the market is synthetically compounded, our Lavender 40/42 is comprised of 100% natural constituents and is blended to match the ideal percentage of Linalool and Linalyl acetate esters, to release the best of Lavender's floral notes. Though this oil is generally not used for therapeutic applications, it is often the Lavender of choice for soaps, candles, perfumes and cosmetics.
$12.99
1 Set of (12) 2 ounce Amber glass bottles with black fine mist sprayers for many uses around your home. The set includes 12 non BPA plastic Pipettes for easy mixing of your essential oils or other products. Also, 12 reusable chalk labels are included to easily label the contents of your bottles. These labels can be easily reused by wiping the chalk market off with water or solvent. The bottles come packaged securely in a sturdy cardboard packaging box to assure maximum protection during shipping. Reusable and eco-friendly glass spray bottle can be used over and over again and are ideal for essential oils or any other house hold products for which a fine mist sprayer useful. The amber glass helps to keep out deteriorating sunlight that would otherwise damage your oils or other light sensitive products. The fine mist sprayers come topped with clear plastic (no BPAs) protective hoods. The amber glass bottles with fine mist sprayers could be an excellent choice for containing or storing products that need to be applied by misting, such as perfumes, aromatherapy products or air fresheners.
$24.99
New & Improved Loving Essential Oils 20 PC Kit! Good quality essential oils can have amazing benefits on your health and wellness. Essential oils can be damaged by harmful UV lights, these amber and blue glass bottles keep your oils safe. This 20 piece kit gives you key supplies that you need to start utilizing your essential oils for aromatherapy, homemade beauty products and natural home remedies. Forget costly spa visits or aromatherapy sessions, save money and pamper yourself at home or on the go. Also great for DIY natural household cleaners. Kit Includes: * 2 Cobalt Blue Glass Spray Bottles (size 4 oz)~Great for making any spray creations * 2 Amber Glass Spray Bottles (size 2 oz)~Wonderful for all natural body sprays, room air fresheners, health and wellness essential oil sprays or beauty creations * 4 Blue Cobalt Glass Roll On Bottles (size 10 ml)~Handy bottles to apply essential oils, blends and massage oils-simply roll them on! * 2 Cobalt Blue Spray Bottles (size 2 oz)~Make DIY essential oil sprays * 2 Plastic Funnels~Prevent oil spills, perfect to use with small bottle openings * 5 Plastic Pipettes (size 3 ml)~Use to easily transfer oils between bottles * Essential Oil Guide: Health Benefits of Essential Oils~Learn how to improve your health naturally * Essential Oil Guide: Lavender~Find out why this is a must have oil for every home * BONUS: 50+ Essential Oil Sprays Recipe Guide Buy this kit today and start utilizing your essential oils! Perfect to give to friends, family or keep for yourself. Purchase NOW-kits are selling out fast!