Plant Therapy Spring Cleaning Essential Oil Set 10 mL (1/3 fl. oz.) 100% Pure, Undiluted, Therapeutic Grade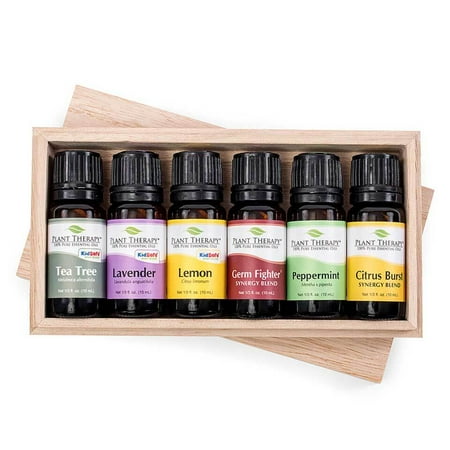 Plant Therapy Spring Cleaning Essential Oil Set 10 mL (1/3 fl. oz.) 100% Pure, Undiluted, Therapeutic ...
Buy Now
$34.95

Related Products
$24.95
*INCLUDES: 6/ 10 ml of Cleaning, Fighting Five, Lavender (Bulgarian), Lemon, Peppermint and Tea Tree. *ABOUT THE EDENS GARDEN CLEANING SET: Don't be discouraged by the many aisles of chemical cleaners at the local market. Instead of filling your living space with weird toxins and dizzying additives, give the oils in our Cleaning set a try at those stubborn stains and messy smudges. Each oil in the set includes potent levels of antibacterial, antifungal and antiviral properties so that your surfaces stay clean from icky germs. Beyond cleansing spaces, the oils in the Cleaning set can purify the body of dangerous toxins while eliminating the spread of illness. You can enjoy your living space and enhance your overall health with all-natural remedies. Plus, the Cleaning set oils all have refreshing and gorgeous aromas. *HERE'S THE DEAL: We are so savings-crazy at Edens Garden that you save 40% buying this set, than buying each oil individually. Not only will your set include 6 oils but it will also include a handy insert to help you make the most of your oils. We want you to be fully informed about all of the dynamic uses. Improve your overall health by taking advantage of the oils' many medicinal and therapeutic benefits. Enhance your everyday with these all-natural and entirely pure synergy blends and essential oils. When this set arrives at your house, apartment, mansion or secret mailbox, expect to find a little gift from us. With every set, we include a gorgeous "150 Ways to Use Essential Oils" brochure so you can learn more about your essential oils and show off your knowledge to beloved friends and family.
$10.99
Botanical Name: Citrus Sinensis Plant Part: Fruit Peel Extraction Method: Cold Pressed Origin: USA It has also been applied to combat colds, constipation, dull skin, flatulence, the flu, gums, slow digestion, and stress. Consistency: Thin Note: Middle Strength of Aroma: Medium Aromatic Scent: Sweet Orange Essential Oil has a sweet, citrus smell much like the orange peels it is derived from, only more intense and concentrated. Cautions: Some aromatherapists have reported that a small percentage of few people have experienced dermatitis from the limonene content of sweet orange. Orange Essential Oil is considered photo-toxic and exposure to sunlight should be avoided. Do not use if pregnant.
$11.95
Greensentials All Purpose Household Cleaner. THE NATURAL alternative to chemical based cleaners. Are you tired of:- Chemical Based Toxic Products? - Horrible Smelling Sprays? - Exposing your child, family, and pets health to these toxins? Isn't it time for a better alternative? Greensentials is the Simple Greener Method:- Leaves a streak free shine on all types of surfaces - Uses Plant Based Ingredients and the power of Essential Oils Eucalyptus and Lemon (no masks needed, smells AMAZING) - Contains ZERO: SLS, SLES, AMMONIA, DYES, and is NON TOXIC Order Now and Start to Experience a better, safer, and refreshing way to clean.