Now Foods 1-ounce Essential Oils Pack of 5 (Eucalyptus, Lavender, Peppermint, Orange, and Tea Tree Oil)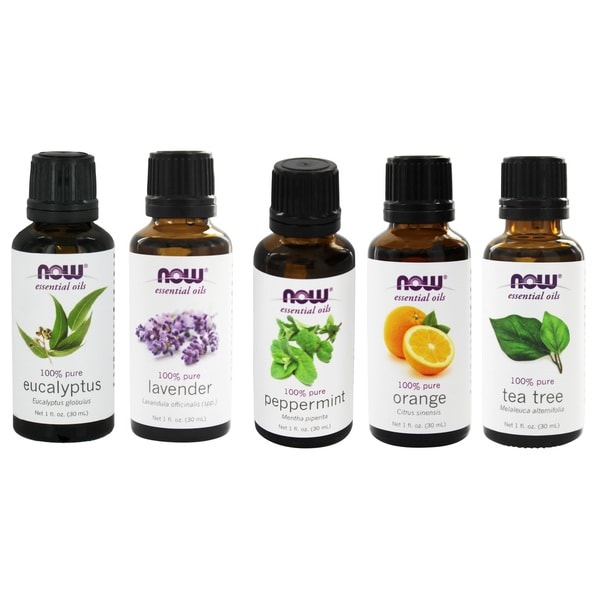 Elevate your spirit, promote mental clarity, and restore harmonic balance with these uplifting essential oils. Made from eucalyptus, lavender, peppermint, orange, and tea tree oils, these botanical essences deliver to you a therapeutic scent that will soothe, enliven and balance your body and mind. These oils are perfect to use in a diffuser to make the room smell heavenly, or as massage oil. Set includes: One (1) eucalyptus essential oil, one (1) lavender essential oil, one (1) peppermint essential oil, one (1) orange essential oil, and one (1) tea tree essential oil For Aromatherapy Use Active ingredients: 100-percent Natural ...
Buy Now
£25.84

Related Products
£15.29
Enjoy the versatile cleansing, cosmetic and beauty applications of pure tea tree oil by Now Foods. This all natural tea tree oil is steam distilled from Melaleuca alternifolia leaves and is perfect for use in aromatherapy or as part of a blend of other natural oils. This product contains 100-percent pure tea tree oil for a delightful, natural experience. Aroma: Potent, warm, spicy Benefits: Cleansing, purifying, renewing Extraction method: Steam distilled from leaves Size: 4 ounces Active ingredients: 100-percent tea tree oil We cannot accept returns on this product.
$5.18
Native to southern India, the use of Neem Oil dates back to 4000 B.C. where it was often referred to as Sarva Roga Nivarini, or "the curer of all ailments".  Mild, nourishing, and naturally rich in fatty acids, Neem Oil has been known to help relieve dry, itchy skin and serves as a wonderful addition to moisturizing creams, lotions, shampoos & conditioners and body wash formulas.  It has similar therapeutic properties as tea tree.  NOW® Neem Oil is 100% Pure, cold-pressed and solvent-free.  This pure oil is derived from wildcrafted Neem seeds.
£11.25
Nature's Shield has been formulated to help support your immune system and increase good health. It is a great addition to your aromatherapy diffuser - at home, at work, and even in your car. It can also be used as a room mister. Simply add 30 drops of Nature's Shield to 1 oz of water in a spray bottle to have the wonderful effects of Now Foods Nature's Shield wherever you need a boost of immune support or fresh air. Aroma: Sweet, invigorating and camphoraceous. Ingredients: Clove Bud Oil (Syzygium aromaticum), Organic Lemon Oil (Citrus limon), Cinnamon Bark Oil (Cinnamomum zeylanicum), Eucalyptus Oil (Eucalyptus radiata), Organic Rosemary Oil (Rosmarinus officinalis). We cannot accept returns on this product.