Now Foods 1-ounce Essential Oils Pack of 5 (Eucalyptus, Lavender, Peppermint, Orange, and Tea Tree Oil)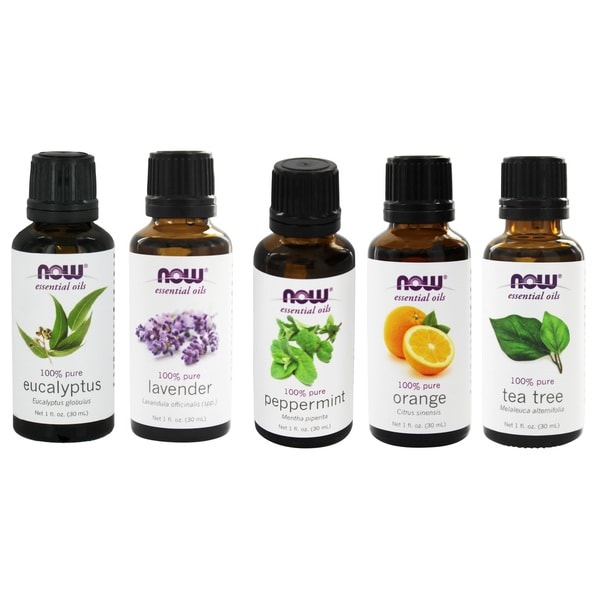 Elevate your spirit, promote mental clarity, and restore harmonic balance with these uplifting essential oils. Made from eucalyptus, lavender, peppermint, orange, and tea tree oils, these botanical essences deliver to you a therapeutic scent that will soothe, enliven and balance your body and mind. These oils are perfect to use in a diffuser to make the room smell heavenly, or as massage oil. Set includes: One (1) eucalyptus essential oil, one (1) lavender essential oil, one (1) peppermint essential oil, one (1) orange essential oil, and one (1) tea tree essential oil For Aromatherapy Use Active ingredients: 100-percent Natural ...
Buy Now
£19.59

Related Products
$15.09
Set the right mood in your home with jasmine essential oils from Now Foods. Jasmine oil has several remedial benefits and works well as an antidepressant, antiseptic and sedative. Enjoy the warm, sweet aroma of this wonderful floral essential oil, and create a romantic, calm and relaxing atmosphere in your living space as you benefit from the therapeutic properties of jasmine. Aroma:Warm, sweet floral Benefits:Romantic, relaxing, calming Extraction Method:Steam distillation and blending Set includs: Two (2) packs Size: 1 fluid ounce Active ingredients: Jasmine oil and other fragrance We cannot accept returns on this product.
$49.49
'NOW Solutions Dual Mist Ultrasonic Oil Diffuser unites aromatherapy with modern scientific innovation to create an essential oil diffuser that's the perfect complement to your home or office. This attractive diffuser is BPA-free and has dual directional mist nozzles, which utilize high-frequency ultrasonic electrical vibrations to create an ultra-fine mist. This diffusion method doesn't utilize heat, which maintains essential oil integrity and holistic properties every time you use it. It diffuses up to eight hours on continuous or sixteen hours on intermittent, then shuts off automatically. Choose your desired time: 1 Hr, 2 Hr or 3 Hr Mode: Intermittent or continuous. Add 250 ml (8.45 fl. oz.) of water/ 5 drops of your favorite essential oils and enjoy. I