Now Foods Essential Oils Energizing 3-piece Set (Peppermint, Rosemary, Cinnamon Casia)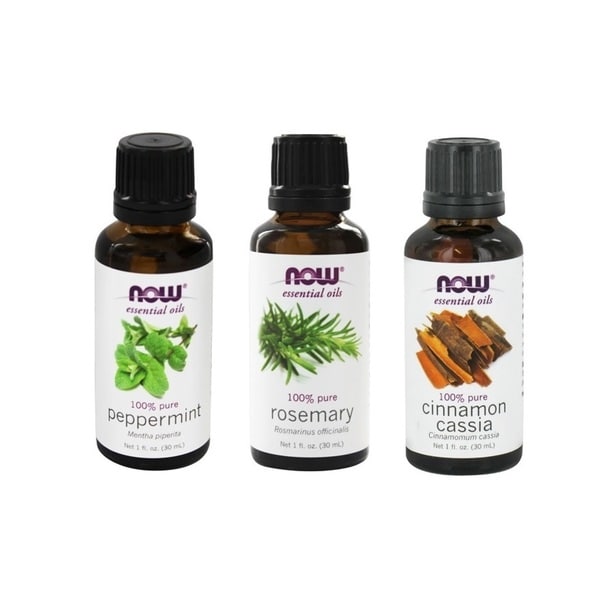 100-percent pure Rosemary, Cinnamon Cassia, and Peppermint oils take you on a sensory journey that can instantly soothe, enliven, or balance both body and mind. Packed within these pure, botanical essences, youll discover rich therapeutic properties that cannot be found elsewhere. These essential oils elevates your spirit, promotes mental clarity, or can be used as a massage oil to restores harmonic balance. Set includes: Three (3) essential oils Ingredients: 100-percent pure Rosemary, Cinnamon Cassia, and Peppermint oil We cannot accept returns on this product.
Buy Now
£15.51

Related Products
$8.99
The citrusy aroma of orange oil has made it a favorite among aromatherapists and everyday users.  In addition to its ability to inspire feelings of warmth and cleanliness, NOW® Orange Oil is cold-pressed and mixes well with other NOW essential oils.
$14.09
Create a calming oasis with this Now Foods pure lavender 2-ounce essential oil. Use this versatile, long-lasting lavender oil in a diffuser, add it to your favorite skincare products, or place it on your pillow for a soothing effect. Soothing floral aroma is known to balance and normalize mood Oil is extracted by steam distillation from flowering tops of lavender Calming aroma promotes a feeling of well being This versatile oil has a clean and light scent Great for use in a diffuser or in a warm bath for aromatherapy purposes Concentrated 100-percent pure steam distilled oil has a long-lasting scent Two ounce bottle Active ingredient is 100-percent pure lavender oil The content on this site is not intended to substitute for the advice of a qualified physician, pharmacist, or other licensed health-care professional. The products may have additional information and instructions on or inside the packaging that you should carefully read and follow. Contact your health-care provider immediately if you suspect that you have a medical problem. This product may not have been evaluated by the Food and Drug Administration and is not intended to diagnose, treat, cure, or prevent any disease or health condition. Due to the personal nature of this product we do not accept returns. We cannot accept returns on this product.
$43.07
These popular essential oils are ideal for aromatherapy and homeopathic treatments. A few drops of oil poured into a diffuser can fill a room with the lush, relaxing scent of lavender, or the smell of eucalyptus, which is linked to aiding decongestion. To use the oils as a personal fragrance or as massage oils, these scents should be mixed with a carrier oil to make it safe for contact with the skin.