Now Foods Ultrasonic USB Essential Oil Diffuser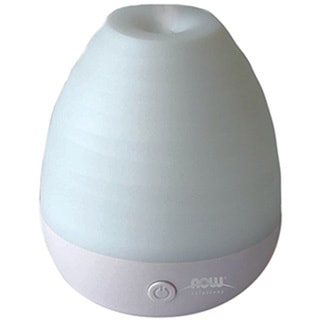 NOW Solutions Ultrasonic USB Oil Diffuser unites aromatherapy with modern scientific innovation to create a diffuser that plugs into your laptop with a USB cable. This mobile diffuser is BPA-free and diffuses essential oils for up to 4 hours. It utilizes high-frequency ultrasonic electrical vibrations to create an ultra-fine mist. This diffusion method doesn't utilize heat, which maintains essential oil integrity and holistic properties every time you use it. Just add 70 ml (2.37 fl. oz.) of water and 5 drops of your favorite essential oils and enjoy. When it's out of water it ...
Buy Now
$29.49

Related Products
$17.49
Packed within these pure, botanical essences, youll discover rich therapeutic properties within the orange, clove, and lemon oils that cannot be found elsewhere. These essential oils elevates your spirit, promotes mental clarity, or can be used as a massage oil to restores harmonic balance. Set includes: Orange oil, Clove oil, and Lemon oil Active ingredients: 100-percent pure orange, clove, and lemon oil We cannot accept returns on this product.
£12.57
Neroli oil is heady, sweet, and floral, and is made from the aromatic blossoms of the orange tree. It's rare to find a pure 100-percent neroli oil, as it's impossible for companies to be able to offer it for a low cost. It takes approximately 1,000 pounds of orange blossoms to make one pound of neroli oil. Therefore, it is not unusual to find it cut with another oil. This is perfectly acceptable, and does not reduce neroli's benefits at all. Used for centuries to combat plague, fever, and nervousness, neroli is a one of the most user-friendly oils there is. It helps regenerate skin cells, improves skin elasticity, and even helps with acne, scarring, and stretch marks. Internally, neroli acts as a natural tranquilizer, and can relieve chronic anxiety, depression, and stress. Besides being a beloved oil by aromatherapists all over the globe, neroli is also often used in bridal bouquets, both as a symbol of purity, and for its ability to calm the bride's nerves. We cannot accept returns on this product.
$26.49
Restore yourself with the scent of Now Foods oregano essential oil. This cleansing essential oil is steam distilled from dried oregano plants and is 100 percent natural and pure. Perfect for crafts and beauty treatments, use oregano oil for soap making or cleansing. It's available in a generous one-ounce bottle. 100-percent pure oregano oil Aroma: Spicy, camphoraceous Benefits: Purifying, comforting, invigorating Extraction Method: Steam distilled from dried flowering herb Size: 1 ounce Active ingredients: 100% pure oregano oil We cannot accept returns on this product The content on this site is not intended to substitute for the advice of a qualified physician, pharmacist, or other licensed health-care professional. The products may have additional information and instructions on or inside the packaging that you should carefully read and follow. Contact your health-care provider immediately if you suspect that you have a medical problem. This product may not have been evaluated by the Food and Drug Administration and is not intended to diagnose, treat, cure, or prevent any disease or health condition