Silky Scents EO106-1OZ-30ML Oakmoss Absolute Essential Oil Evernia Prunastri 100 Percent Pure Therapeutic Grade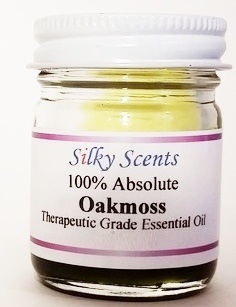 Floral rich sweet and warm exquisitely exotic. Perfumery Note: Middle/Base You need to soak the bottle of the undiluted oil in warm water to make the content liquid enough to be dispensed. The potency and incredible fragrance power of this Essential Oil make it a great investment even though it is one of the pricier oils. Add 1-2 drops to a diffuser for a relaxing warm aroma climate. Add 1-2 drops to a hot bath for a blissful retreat.Blends well with - It blends with most oils and it is very suitable to make an aroma more ...
Buy Now
$89.14

Related Products
$28.99
Found growing on the oak trees, firs and pines of the mountainous temperate forests in the Northern Hemisphere, oakmoss is a fungus rich with beneficial properties. This short, bushy lichen has the distinct shape of deer antlers, boasting a pleasant minty green color when dry, a dark yellow-green olive color when wet. Popular in aromatherapy, it evokes the scent of the wet forest, truly connecting you with the earth when used in meditation. Plant Part Used Lichen Extraction Method Solvent extracted Aroma Medium. Rich and earthy. Benefits Grounding and consolidating. Instills spirituality and belief in oneself. Encourages prosperity. Blends Well With Anise, Bay, Bergamot, Clary Sage, Eucalyptus, Ginger, Lavender, Lime, Orange, Palmarosa, Tea Tree, Vetiver, Ylang Ylang History of Oakmoss Oakmoss and its precious essential oil have been used for hundreds of years. It has seen a rich history in perfumery, dating back as early as the 16th century thanks to its natural fixative properties. Basketfuls of oakmoss have been found in ancient royal Egyptian tombs, though their use in that regard is not well known. Oakmoss oil is notorious for sensitizing the skin of some when applied directly, so be sure to dilute in a carrier oil well and test on a small spot of skin before use. Using Oakmoss Oil All essential oil blends are for aromatherapy use only and are not for ingesting! One with the Earth Feel the ground beneath you, and connect. 1 drop Oakmoss Absolute Oil 3 drops Pine Oil 3 drop Frankincense Oil In The Woods Wander from the trail, the forest is calling you. 1 drop Oakmoss Absolute Oil 2 drops Cedarwood Oil 2 drops Fir Needle Oil 1 drop Vetiver Oil Aromatherapy Uses Bath & Shower Add 5-10 drops to hot bath water, or sprinkle into shower steam before getting in for an at-home spa experience. Massage 8-10 drops of
$14.87
Essential Oil Oakmoss Absolute by Simplers Botanicals 5 ml Liquid Essential Oil Oakmoss Absolute 5 ml Liquid Evernia prunasti Deep tenacious green scent used in perfumery for its fixative properties. An absolute is a solvent extraction - a method used to extract essential oils from plants too delicate for steam distillation or to extract more aromatic molecules from precious flowers. Absolutes typically have a higher odor intensity are more viscous and provide rich lasting aromas excellent for perfumery. Warnings Keep out of reach of children. As with all dietary supplements consult your healthcare professional before use. See product label for more information.
$34.05
Oakmoss (Evernia prunastri) Pure Essential Oil: Intense aroma that is both calming and uplifting. Smells of flowers, wet woods, and soft earth. Oakmoss, a moss/lichen that grows on the branches of oak trees, appears all over Europe and North America. Oakmoss is anti-inflammatory and anti-aging, and great for use in soaps and other beauty products, as it is both soothing as well as an antiseptic. Blends nicely with Patchouli, Neroli, Lavender, Rose Geranium, and Cypress. Pregnant women and those with epilepsy should avoid Oakmoss essential oil. Oakmoss oil is created through a solvent extraction of the moss. Originates from France. Packaged Amber glass bottle with Euro plug, tamper proof safety seal and safety shrink wrap. Biosource Naturals is founded by a naturopath, aromatherapist, EFT practitioner, Reiki Master. Therapeutic Quality. We supply pure essential oils verified by GC and/or other QC testing.