Silky Scents EO106-1OZ-30ML Oakmoss Absolute Essential Oil Evernia Prunastri 100 Percent Pure Therapeutic Grade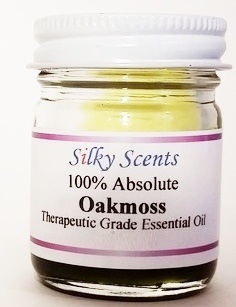 Floral rich sweet and warm exquisitely exotic. Perfumery Note: Middle/Base You need to soak the bottle of the undiluted oil in warm water to make the content liquid enough to be dispensed. The potency and incredible fragrance power of this Essential Oil make it a great investment even though it is one of the pricier oils. Add 1-2 drops to a diffuser for a relaxing warm aroma climate. Add 1-2 drops to a hot bath for a blissful retreat.Blends well with - It blends with most oils and it is very suitable to make an aroma more ...
Buy Now
$85.71

Related Products
$19.50
Oakmoss absolute is derived from the fungus & Algae growing on oak trees. It is a viscous oil with a robust, deep aromatic scent commonly used in perfumery because of it's fixative qualities. A very pleasing scent with unique consistency. Highly recommended. Oakmoss absolute is wonderful to incorporate in cosmetic applications, personal care formulations, soaps, perfume, and aromatherapy. Solvent extracted. Product of France. The botanical name is Evernia prunastri . Bottled in California
$9.95
OAKMOSS SANDALWOOD Beard Oil. All Natural Luxury Handcrafted Beard Conditioner. Sensual, Seductive and Earthy fragrance features the aroma of oakmoss and sandalwood with tonka bean, cedarwood, lemon and petitgrain. This mysterious oriental fragrance is carried in an Organic Avocado, Argan, Safflower, Fractionated Coconut, Castor and Vitamin E Oils, that have been used for centuries to soften skin and encourage hair growth. This beard oil is formulated to be very lightweight and will help keep your beard conditioned and shiny. It won't weigh down your beard or feel greasy. The only thing left behind is the intoxicating fragrance. In addition to smelling great, the Beard oil also help to moisturize surface skin and condition follicles. Can be used as a beard oil or as an oil based cologne. Great for all skin-types. ? RICH IN VITAMINS THAT PROMOTE HEALTHY HAIR GROWTH ? HANDMADE FROM 100% NATURAL INGREDIENTS ? LOCKS IN MOISTURE FOR AN ITCH-FREE BEARD. INGREDIENTS: Argan Oil*, Avocado Oil*, Fractionated Coconut Oil, Safflower Oil*, Cator Oil*, a proprietary blend of Essential and Fragrance Oils. Tocopherol (Vitamin E) *indicates organic ingredients. The listing is for 1 fl.oz (30 ml) OAKMOSS SANDALWOOD Beard Oil in a recyclable amber glass bottle with a black bulb glass dropper. Directions: After showering, apply 5-7 drops to palm and distribute evenly throughout a slightly damp beard. Use comb for more uniform distribution. 1oz bottle should last 6-8 weeks. *Do a small skin test first. Discontinue use if irritation or rash occurs. Thank you so much for supporting Handmade!
$12.00
Oakmoss absolute is derived from the fungus & Algae growing on oak trees. It is a viscous oil with a robust, deep aromatic scent commonly used in perfumery because of it's fixative qualities. A very pleasing scent with unique consistency. Highly recommended. Oakmoss absolute is wonderful to incorporate in cosmetic applications, personal care formulations, soaps, perfume, and aromatherapy. Solvent extracted. Product of France. The botanical name is Evernia prunastri . Bottled in California