Silky Scents EO106-1OZ-30ML Oakmoss Absolute Essential Oil Evernia Prunastri 100 Percent Pure Therapeutic Grade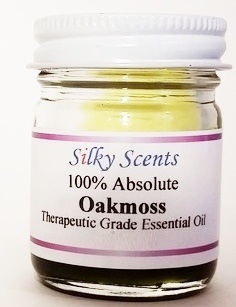 Floral rich sweet and warm exquisitely exotic. Perfumery Note: Middle/Base You need to soak the bottle of the undiluted oil in warm water to make the content liquid enough to be dispensed. The potency and incredible fragrance power of this Essential Oil make it a great investment even though it is one of the pricier oils. Add 1-2 drops to a diffuser for a relaxing warm aroma climate. Add 1-2 drops to a hot bath for a blissful retreat.Blends well with - It blends with most oils and it is very suitable to make an aroma more ...
Buy Now
$89.14

Related Products
$34.05
Oakmoss (Evernia prunastri) Pure Essential Oil: Intense aroma that is both calming and uplifting. Smells of flowers, wet woods, and soft earth. Oakmoss, a moss/lichen that grows on the branches of oak trees, appears all over Europe and North America. Oakmoss is anti-inflammatory and anti-aging, and great for use in soaps and other beauty products, as it is both soothing as well as an antiseptic. Blends nicely with Patchouli, Neroli, Lavender, Rose Geranium, and Cypress. Pregnant women and those with epilepsy should avoid Oakmoss essential oil. Oakmoss oil is created through a solvent extraction of the moss. Originates from France. Packaged Amber glass bottle with Euro plug, tamper proof safety seal and safety shrink wrap. Biosource Naturals is founded by a naturopath, aromatherapist, EFT practitioner, Reiki Master. Therapeutic Quality. We supply pure essential oils verified by GC and/or other QC testing.
$9.99
Highest Premium grade quality oils. Our Fragrance Oils are specifically formulated to be used for Burning, candle making and soap making or they can be used to scent incense and toiletry products. They are even perfect for direct application. Premium grade oils are the best and most popular all around oils to use. The premium grade is an enhanced formula, providing additional strenght. This is the best oil to use for burning, scenting candle wax, melt and pour soap bases, cold process soap recipes and bath & body products. WARNING: For external use only ! If irritation occurs, discontinue use. Avoid contact with eyes. Keep out of reach of children.
$12.00
Oakmoss absolute is derived from the fungus & Algae growing on oak trees. It is a viscous oil with a robust, deep aromatic scent commonly used in perfumery because of it's fixative qualities. A very pleasing scent with unique consistency. Highly recommended. Oakmoss absolute is wonderful to incorporate in cosmetic applications, personal care formulations, soaps, perfume, and aromatherapy. Solvent extracted. Product of France. The botanical name is Evernia prunastri . Bottled in California