Silky Scents EO69-15ML 100 Percent Pure Therapeutic Grade Orange 5 Fold Essential Oil - 15 ml.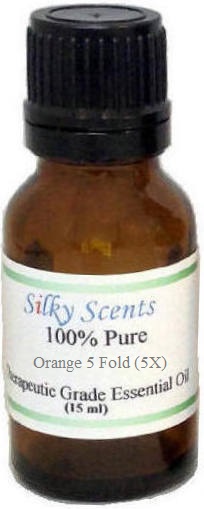 Aromatherapy Properties: (Uses) Five fold essential oils are more concentrated than regular essential oils. They offer several benefits. Through distillation the turpenes are removed thereby rendering the folded oil safe for use in leave-on products such as lotions. The five Fold (5X) Orange Essential Oil will allow you to put less of a volume in your soap recipe and still get more of a scent. . a longer lasting scent. If you normally use 1 oz. of citrus oil per lb. of fat the intensity would be similar to using 5 oz. of citrus oil per lb. of fat. You'...
Buy Now
$27.43

Related Products
$5.99
100% Pure,Therapeutic Grade 10ml Sweet Orange Essential Oil Botanical Name: Citrus sinensis European Dropper Cap included Sweet Orange Essential Oil has an intensely sweet, citrus aroma like oranges. What sets Healing Solutions Essential Oils apart is superior cultivation of ingredients that are the best in the world. Combined with superior distillation and bottling care process, We GUARANTEE that our oils are aromatically superior and more effective than any other oils - if you disagree we will refund your money! The Leading Aromatherapy Associations (Alliance of International Aromatherapists (AIA), International Aromatherapy and Aromatic Medicine Association, Aromatherapy Trade Council, and others) all state that essential oils should not be taken internally (regardless of purity or organic origin) unless under the guidance of a health care practitioner trained at an appropriate level . As such, all of our oils carry a label warning that the product is NOT FOR INTERNAL USE.
$23.00
Silky Scents EO69-1OZ-30ML 100 Percent Pure Therapeutic Grade Orange 5 Fold Essential Oil - 30 ml.
$9.95
Certified Organics: This Certified Organic Oil is QAI Certified. The National Organic Program develops, implements, and administers national production, handling, and labeling standards for Organic agricultural products. The QAI also accredits the certifying agents (foreign and domestic) who inspect Organic production and handling operations to certify that they meet USDA standards. * Botanical Name: Citrus sinensis * Plant Part: Fruit Peel * Extraction Method: Cold Pressed * Origin: USA * Description: Sweet Orange is derived from an evergreen tree. It is smaller than the bitter orange tree, and less hardy with fewer or no spines. The fruit itself has a sweet pulp with no bitter membrane. * Color: Yellowish orange to dark orange liquid. * Common Uses: Properties for Organic Sweet Orange Essential Oil are as follows: antidepressant, antiseptic, antispasmodic, aphrodisiac, carminative, cordial, deodorant, digestive, stimulant (nervous) and tonic (cardiac, circulatory). It has also been applied to combat colds, constipation, dull skin, flatulence, the flu, gums, slow digestion, and stress. * Consistency: Thin * Note: Middle * Strength of Aroma: Medium * Blends well with: Lavender, Bergamot, Lemon, Clary Sage, Myrrh, Sandalwood, Nutmeg, Cinnamon Bark and Clove Bud. * Aromatic Scent: Organic Sweet Orange Essential Oil has a sweet, citrus smell much like the orange peels it is derived from, only more intense and concentrated. * History: There is some argument, but it is believed that sweet orange was brought to Europe by the Arabs in the First century along with the bitter orange. * Cautions: Some aromatherapists have reported that a small percentage of few people have experienced dermatitis from the limonene content of sweet orange. Orange Essential Oil is considered photo-toxic and exposure to sunlight should be avoided. Do not use if pregnant.