Badger Sore Joint Rub 2 Oz Tin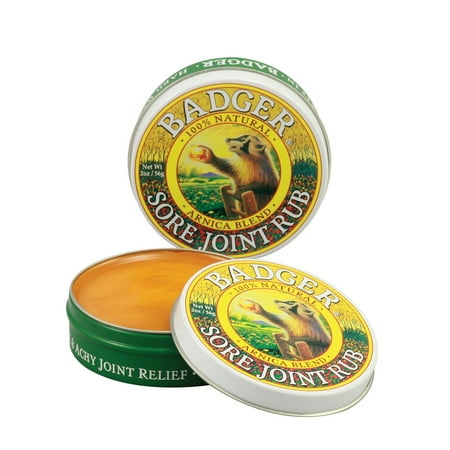 USDA Certified OrganicContains super critical CO2 extracts of Arnica Montana and Black Pepper, traditional joint soothers that exhibit anti-inflammatory properties. Cayenne extract gently warms as it stimulates circulation in achy joints. It has a fabulous fragrance & is good for your skin. Hardworking, Hardplaying, Sore & Achy Joint Relief. When formulating our Sore Joint Rub, we started with our original Sore Muscle Rub, and more than doubled the Cayenne extract to give extra warmth and circulatory support. Sore Joint Rub contains powerful CO2 Extracts of Arnica Montana and Black Pepper, traditional joint soothers that exhibit anti-inflammatory properties. The Arnica flower ...
Buy Now
$10.19

Related Products
$120.95
*Comparable to Young Living's PanAway blend! You don't have to run a triathlon to know what sore muscles feel like. Sometimes we strain our backs, legs, or necks during periods of stress or sleepless nights. Other times, we push our bodies too hard and end up feeling tweaked. With a minty and powerful aroma, Muscle Relief can loosen tight muscles and soothe away pain. It has a cooling effect on the body and can help decrease inflammation and swelling. Rubbing Muscle Relief into a knot or tight spot on your body can release tension so you can regain your strength. Muscle Relief is a restorative blend of Clove, Helichrysum, Peppermint and Wintergreen. Made with care from our top quality oils and, as always, Edens Garden essential oils are never diluted or mixed with additives. CONTAINS: Clove, Helichrysum, Peppermint and Wintergreen BE INSPIRED: Place 5 drops of Muscle Relief on a cold compress and place on the tired or strained muscle. Breathe deeply and let your muscles relax.
$23.99
Are you experiencing sleep problems? You can wake up rested and energized! Imagine yourself feeling fit and healthy without your usual pains or discomfort. This natural sleep aid that combines Magnesium Oil with Lavender and Mandarin Essentials Oils will help you! Our customers love our Magnesium Oil! They reported better sleep, reduced stress levels and relief for sore muscles, headaches and migraines. Read the exceptional reviews from satisfied customers below. The story of our product started two years ago when we learned about all the benefits of Magnesium. Many other brands of Magnesium Oil source from the Dead Sea or the Great Salt Lake. This type of Magnesium is subject to pollution and contamination and has to undergo several processes to clean it. We rely on the Zechstein source which has never been touched by modern day pollution because it is 2 miles under the earths surface! It is the most pure Magnesium Oil known of today in its untouched energetic state. Our vision is to share this Magical Mineral with the world. We think it's important that you understand the benefits of Magnesium, that's why we include a comprehensive eBook with every purchase, where you will learn more about the effects of Magnesium on our body and mind. Our Pure Magnesium Oil offers migraine relief, natural anxiety relief and is one of the best muscle relaxers. It improves the condition of your nails, hair, teeth and gums. For many it has decreased eczema and psoriasis. We understand you want to experience our Magnesium Oil for yourself. Please be sure that when you're not satisfied we will refund your product immediately, no questions asked! All the best, Laura - MAG Essentials Limited supply! Click the Add to Cart button now and immediately enjoy all the benefits.
$18.85
Reduce arthritis & back pain and muscle pain so you can stay more mobile and avoid struggling with an aching body! When you are suffering from painful arthritis, sports injuries, or general muscle soreness, it can be difficult to go about your day without feeling consistent discomfort. That is why you need a proper pain relief cream that treats your ailments right down to the muscles and tendons that surround your aching bones. Kerah Lane has created the best pain relief and anti-inflammatory cream available today because we use all-natural based ingredients to help you attack pain where it bothers you most - your back, knees, elbows, feet and hands. And whether you are an athlete suffering from golfers elbow or tennis elbow, a gardener with rheumatoid arthritis, or just pulled a muscle while taking on a CrossFit challenge, our premium formula can help you find relief, fast. Non-greasy and fast absorbing, you will not find a better cream to help you feel better, or your money back. Key benefits of Kerah Lane Pain Relief Cream:All Natural, Organic Formula Works Quickly, Lasts Longer Penetrates Sore Muscles and Joints Provides Arthritis Relief Great for Knees, Back, Hands, and other Joints Click Add to Cart above and start alleviating painful arthritis in your hands, back, knees and joints.