Essential Oils for Muscle Ache and Pain Relief Gift Set with Birch, Lemongrass, and Tangerine by Destination Oils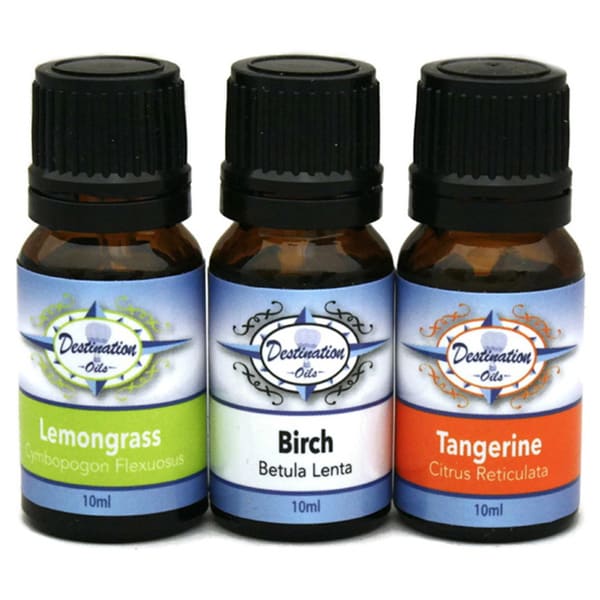 Use this oil topically with dilution to improve your achy legs or sore joint symptoms. This oil is great for age-related issues or growing pains. Great quality at a great price, these essential oils are incredibly concentrated and powerful to help you in multiple ways. Because of their strong concentration, ensure safe use by properly diluting with a carrier oil. Always test for skin sensitivity prior to widespread use. Keep out of eyes, ears, or nose. Keep oils tightly closed and out of the reach of children. Do not ingest essential oils unless guided by a trained professional. The ...
Buy Now
£26.34

Related Products
$14.79
The dual temperature Neck and Shoulder Wrap by Bluestone is ideal for pain relief and comfort! This hot and cold wrap is designed to fit the contours of your neck, back and shoulders to ease everyday pain and tension. Place the pack in the microwave to melt away aches or for extra comfort on chilly nights; place it in the freezer to ease muscle tension or cool down after exercise. The reusable, all-natural, unscented buckwheat filling holds temperatures for lasting relief! The 22x 19 hot or cold pack is perfect for providing pain relief over a large area, especially in hard to reach places like the upper and mid-back. Easily foldable for travel, you can bring the wrap with you on road trips, airplanes or hotels for a soothing spa treatment wherever you go! SATISFACTION GUARANTEED: Bluestone is committed to providing the consumer with the absolute best price and value on all our products, which we ensure by applying a rigorous quality control process. NOTE: This is an exclusive product of Bluestone and ONLY Neck and Shoulder Wraps by Bluestone are GUARANTEED to be genuine IMPORTANT: Avoid buying counterfeit products and transacting with unauthorized sellers. Look for our logo on the packaging for every one of our products. Bluestone is a registered trademark protected by U.S. Trademark law and will be vigorously defended. ALL-NATURAL - Buckwheat filling is free of harsh chemicals for 100% all-natural relief of minor everyday aches, pains and tension. Place a drop of your favorite essential oil to the front arms for added aromatherapy! DUAL TEPERATURE THERAPY - This versatile hot or cold pack can be placed in the microwave or freezer to ease pain, relax tense and sore muscles, stay extra cozy on chilly nights, or cool down after a workout. DESIGNED FOR COMFORT - The freezable or microwavable pad adjusts to your bodys contours for comfortable use. Simply drape over your shoulders for fast and easy pain relief. The wrap stays in place while walking, standing or sitting. REUSABLE AND PORTABLE - The smooth-woven outer cover is designed for multiple uses. To clean the wrap, simply spot clean with a damp cloth and lay flat to air dry. Foldable for easy travel, this soothing pack can travel with you for comfort on the go. PRODUCT DETAILS - Dimensions: 22 inches x 19 inches Materials: 100% all-natural buckwheat filling NOT INTENDED FOR TREATMENT OF SERIOUS OR SPORTS-RELATED INJURIES
$19.95
Outback uses four key natural oils to penetrate your skin instead of tricking the pain with menthol or other cheap treatment.You can use it as often as necessary. We recommend applying it for 7 to 10 consecutive days, and then on an as needed basis.If for any reason you don't absolutely love Outback, you'll get a full refund. No questions asked. No time limit. You are protected by this guarantee even if you used the whole bottle. That's how confident we are that you will be happy and keep coming back for more.So click 'add to cart' and get yours now.
$19.95
Our Muscle Relief Essential Oil Blend combines powerful analgesic oils designed to mitigate pain and discomfort. Not only does this blend have an amazing scent, it also has a unique blueish green color. USE A CARRIER OIL OR LOTION WITH THIS BLEND. This blend should be used with a carrier oil as it contains a variety of minty oils, known as "hot oils," and can irritate the skin when applied directly. Some good carrier oils are: olive, coconut, jojoba, etc. You don't need anything fancy, just use what you already have available at home. Directions: Dilute 5 drops of Muscle Relief with each Tbsp of carrier oil or lotion. Use more/less drops to get the desired strength. INGREDIENTS: A blend of 100% pure essential oils: Peppermint (Mentha piperita), Wintergreen (Gaultheria procumbens), Eucalyptus (Eucalyptus globulus), Camphor (Cinnamomum camphora) and German Chamomile (Matricaria chamomilla). DISCLAIMER: The above statements have not been evaluated by the FDA. This information is for educational purposes only, it is not intended to treat, cure, prevent or, diagnose any disease or condition. Nor is it intended to prescribe in any way. This information is for educational purposes only and may not be complete, nor may its data be accurate. SAFETY PRECAUTIONS: All products are for external use only. Consult a professional reference for correct dilution ratios prior to application. Avoid in pregnancy and lactation. Keep away from eye area. Keep out of reach of children.