Essential Oils for Muscle Ache and Pain Relief Gift Set with Birch, Lemongrass, and Tangerine by Destination Oils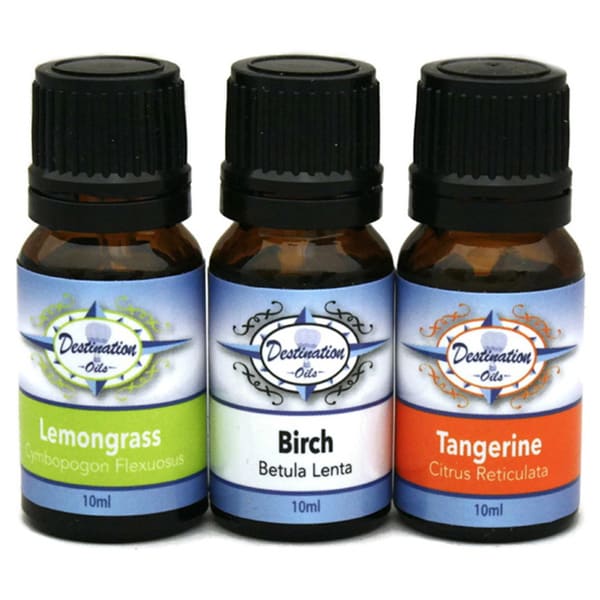 Use this oil topically with dilution to improve your achy legs or sore joint symptoms. This oil is great for age-related issues or growing pains. Great quality at a great price, these essential oils are incredibly concentrated and powerful to help you in multiple ways. Because of their strong concentration, ensure safe use by properly diluting with a carrier oil. Always test for skin sensitivity prior to widespread use. Keep out of eyes, ears, or nose. Keep oils tightly closed and out of the reach of children. Do not ingest essential oils unless guided by a trained professional. The ...
Buy Now
£27.11

Related Products
$18.85
Reduce arthritis & back pain and muscle pain so you can stay more mobile and avoid struggling with an aching body! When you are suffering from painful arthritis, sports injuries, or general muscle soreness, it can be difficult to go about your day without feeling consistent discomfort. That is why you need a proper pain relief cream that treats your ailments right down to the muscles and tendons that surround your aching bones. Kerah Lane has created the best pain relief and anti-inflammatory cream available today because we use all-natural based ingredients to help you attack pain where it bothers you most - your back, knees, elbows, feet and hands. And whether you are an athlete suffering from golfers elbow or tennis elbow, a gardener with rheumatoid arthritis, or just pulled a muscle while taking on a CrossFit challenge, our premium formula can help you find relief, fast. Non-greasy and fast absorbing, you will not find a better cream to help you feel better, or your money back. Key benefits of Kerah Lane Pain Relief Cream:All Natural, Organic Formula Works Quickly, Lasts Longer Penetrates Sore Muscles and Joints Provides Arthritis Relief Great for Knees, Back, Hands, and other Joints Click Add to Cart above and start alleviating painful arthritis in your hands, back, knees and joints.
$7.95
Botanical Name: Mentha arvensis * Plant Part: Herb * Extraction Method: Steam Distilled * Origin: India * Description: There are several species of the mentha arvensis perennial herb that can grow to 3 feet in height, spreading due to their underground 'runners'. Peppermint plant has hairy leaves with serrated edges and purple spiked flowers. Peppermint Japanese is known for its high menthol content. It is so high in fact that menthol crystals sometimes form right on the leaves. * Color: Colorless to pale yellow liquid. * Common Uses: Peppermint Japanese Essential Oil has long been credited as being useful in combating stomach ailments. It is also viewed as an antispasmodic and antimicrobial agent. Of course, most people will associate it with being a flavoring or scenting agent in foods, beverages, skin and hair care products (where it has a cooling effect by constricting capillaries and helping with bruises and sore joints), as well as soaps and candles. This is largely due to its menthol content - typically 85%. * Consistency: Thin * Note: Top * Strength of Aroma: Strong * Blends well with: Basil, Bergamot, Cajeput, Cedarwood, Eucalyptus, Lemon, Lime, Mandarin, Marjoram, Niaouli, Pine, Rosemary, Spearmintand Thyme. * Aromatic Scent: Peppermint Japanese Essential Oil has a sharp, penetrating mint scent based on its high menthol content. The sweetness of the vapor makes it easy to see why it is such a common flavoring and scenting agent. * History: Peppermint and its name has its roots in Greek mythology. Pluto - god of the dead - fell in love with Minthe, a beautiful nymph. Pluto's goddess wife Persephone became jealous and turned Minthe into a plant. Pluto could not bring her back to life but ensured that she would have a wonderful and fragrant aroma. * Cautions: Peppermint Japanese Essential Oil can be sensitizing due to the menthol content. Avoid use during pregnancy.
$7.95
This synergy was created to help ease the tension and soreness in your muscles after a good work out. You can massage on your muscles before and after you work out. This synergy can also be great for any muscle tension. * Massage this blend directly into the sore muscles and feel the tension drain away. * This pre-diluted roll on contains the 100% pure therapeutic grade essential oils of: Wintergreen, Camphor and Pine blended into a base of fractionated coconut oil.