Essential Oils for Muscle Ache and Pain Relief Gift Set with Birch, Lemongrass, and Tangerine by Destination Oils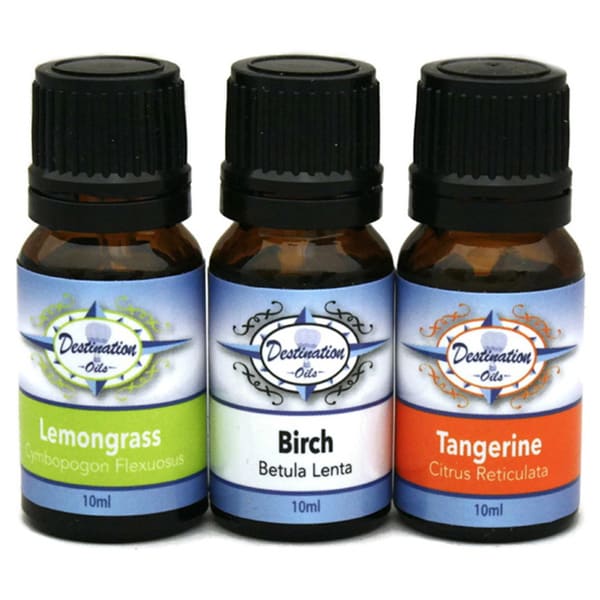 Use this oil topically with dilution to improve your achy legs or sore joint symptoms. This oil is great for age-related issues or growing pains. Great quality at a great price, these essential oils are incredibly concentrated and powerful to help you in multiple ways. Because of their strong concentration, ensure safe use by properly diluting with a carrier oil. Always test for skin sensitivity prior to widespread use. Keep out of eyes, ears, or nose. Keep oils tightly closed and out of the reach of children. Do not ingest essential oils unless guided by a trained professional. The ...
Buy Now
$34.49

Related Products
$11.95
Characteristics: This Rapid Relief blend is a combination of oils to help reduce aches by creating heat and increasing circulation.* Usage: This Synergy Blend is 100% Pure Essential Oils. We recommend a 3 to 5% dilution for topical body applications. Apply directly to the point of pain. * Cautions: It is possible that this blend may cause sensitivities; users are recommended to use this blend only in dilution and not as a replacement for traditional medicine. Blend of: Peppermint, Clove Bud, Laurel Leaf, Black Pepper, Cinnamon, Ginger Root, Roman Chamomile, Juniper and Thyme.
$128.97
Aromatic Description: You will find this oil provides a woody sweet and exotic aroma. Sandalwood Essential Oil is Rich sweet fragrant yet delicate and floral. Perfumery Note: Base. Aromatherapy Properties: (Uses) Antiseptic antispasmodic relief astringent expectorant and . Its lingering aroma often persists in clothing after washing. Alleviates cystitis (massage in the kidney region where it has a purifying and anti-inflammatory action). Its relief properties can relieve fragrance problems such as frigidity and impotence. Its antispasmodic action on the body should encourage relaxation. Could be useful in promoting secretions and helps with pelvic congestion. This oil has a pronounced action on the mucous membranes of the genito-urinary tract and the pulmonary tracts and is often used for chronic infections of these areas. Helpful with chest infections and sore throats. Will relieve a dry cough; aids sleep during colds and flu. Particularly good for dry eczema as well as ageing and dehydrated skins. Relieves itching and inflammation. Good for arthritic conditions and muscle injuries premenstrual pain insect bites and stings inflammatory conditions of the skin including psoriasis and diaper rash inflammatory conditions of the such as mastitis and abscesses. Blends well with: Basil Holy Black Pepper Frankincense Geranium Lavender Absolute Lemon Neroli Rose Absolute (Morocco) and Vetiver. 100% Pure Essential Oil Capacity - 10 ml.
$120.95
*Comparable to Young Living's PanAway blend! You don't have to run a triathlon to know what sore muscles feel like. Sometimes we strain our backs, legs, or necks during periods of stress or sleepless nights. Other times, we push our bodies too hard and end up feeling tweaked. With a minty and powerful aroma, Muscle Relief can loosen tight muscles and soothe away pain. It has a cooling effect on the body and can help decrease inflammation and swelling. Rubbing Muscle Relief into a knot or tight spot on your body can release tension so you can regain your strength. Muscle Relief is a restorative blend of Clove, Helichrysum, Peppermint and Wintergreen. Made with care from our top quality oils and, as always, Edens Garden essential oils are never diluted or mixed with additives. CONTAINS: Clove, Helichrysum, Peppermint and Wintergreen BE INSPIRED: Place 5 drops of Muscle Relief on a cold compress and place on the tired or strained muscle. Breathe deeply and let your muscles relax.